Korean War veteran, 82, granted dying wish to walk deck of old ship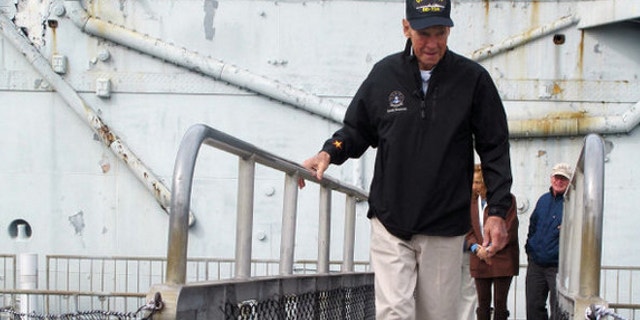 MOUNT PLEASANT, S.C. – Korean War veteran Gerald Bowman gamely walked up the gangplank to board the ship he had not seen in almost six decades. The 82-year-old is suffering from congestive heart failure with only about a year to live and his dying wish was to walk the decks of the USS Laffey on which he served four years, including three tours off Korea.
Wearing a USS Laffey hat, he led reporters through the ship at the Patriots Point Naval and Maritime Museum on Charleston Harbor Friday, stopping by his old bunk and then into the engine room where as a machinist mate he worked, sometimes in sweltering temperatures of more than 120 degrees.
He choked up and paused when asked how it felt to be back.
"I just wanted to come back and see actually what happened to me in my early 20s," the Elkins, Ark., man said. "I think the bottom line was the four years changed me. I was a different person when I left."
His Navy experiences included a 28-day stretch when, from off the Korean coast, the Laffey poured shells at targets on the mainland.
He described how the ship would roll from side to side when the guns were fired and how he would go out with a couple other sailors in small wooden boats to clear mines. It had to be done at night, with no lights and no weapons except for knives. The metal from the guns might have exploded the floating mines, he said.
"I asked him why he volunteered to do something so dangerous. He said it was because he was 20 years old," his daughter Kim Bowman Billings said.
Father and daughter were watching television coverage of the Laffey being brought back to the museum just over a year ago after undergoing $9 million in repairs.
"It just came on and he said that's my ship. He said how he wished he could walk her one more time and he could even show me the bunk where he slept," Billings said.
Bowman said he didn't know what had become of the ship until he saw the TV coverage.
The Laffey got its nickname "The Ship That Would not Die" in World War II when it was attacked in 1945 off Japan. It suffered 103 casualties when hit by four bombs and five kamikaze planes. The vessel and was mothballed after the war but reactivated for Korea.
Bowman's trip was arranged after Billings contacted the Dream Foundation, a California-based organization granting wishes for adults and their families facing life-threatening illnesses. Hardees also help arrange the trip.
"This is my gift to him," Billings said. "I think it's the most wonderful thing in the world."