Knife-wielding suspect killed by police in Southern California mall, authorities say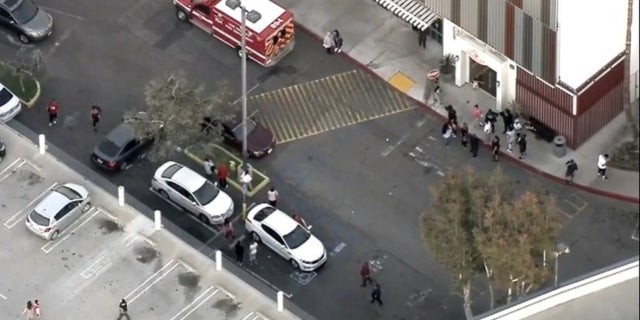 NEWYou can now listen to Fox News articles!
Police shot and killed a suspect who was wielding a knife at a South Los Angeles shopping mall Tuesday evening, authorities said.
Footage from the Baldwin Hills Crenshaw Plaza, around 7.5 miles southwest of downtown Los Angeles, indicates at least four shots were fired.
The mall was locked down for several hours after police responded to the scene, Fox 11 Los Angeles reported. Witnesses told the station the suspect had been threatening shoppers with the knife, and one witness said the suspect did not comply when officers told him to drop the weapon.
Officers first responded to the scene around 5:40 p.m., a Los Angeles Police Department official told KTLA-TV.
Police fired at the suspect shortly after arriving at the scene, the report said. His body reportedly remained inside the plaza late Tuesday night.
Witness Juan Zepedathe told KTLA the suspect was trying to run away when he was shot.
"They shot toward his back, yeah," he said. "I saw the smoke coming out of the guns and everything."
One video that appeared online showed the suspect lying on his back inside the mall, with blood staining his shirt in the chest area.
Paula Reed, who works at the mall, told KTLA she heard seven shots, which created a panic as patrons and employees ran for cover.
"Everybody was scared, running in," Reed said. "I ran to the door to lock our door up."
Another witness, Tim Williams, told KABC-TV that the suspect appeared to be moving toward people with a "long knife or machete."
Williams said police "patiently and repeatedly" told the man to put down the blade, but for several minutes, he kept gesturing with the weapon and moving towards officers, then back.
He said police finally opened fire when the man "took off" toward some people.
LAPD reportedly confirmed that a knife was recovered from the scene.
The name of the suspect and further details were not immediately available.
The suspect was the eighth person shot by on-duty LAPD police this year, and sixth to be killed, the Los Angeles Times reported.
No officers were injured Tuesday, the Times reported.
Numerous patrol vehicles were reportedly stationed outside several entrances, and an ambulance was seen outside the Sears store.
Officers taped off the mall's entrances, portions of the parking lot, and two benches outside the entrance near the T.J. Maxx store, KTLA reported.
Police evacuated mall patrons still inside, Fox 11 Los Angeles reported, as the mall was on lock down for several hours.
The Associated Press contributed to this report.