Kentucky justices struggle with mentally incompetent divorce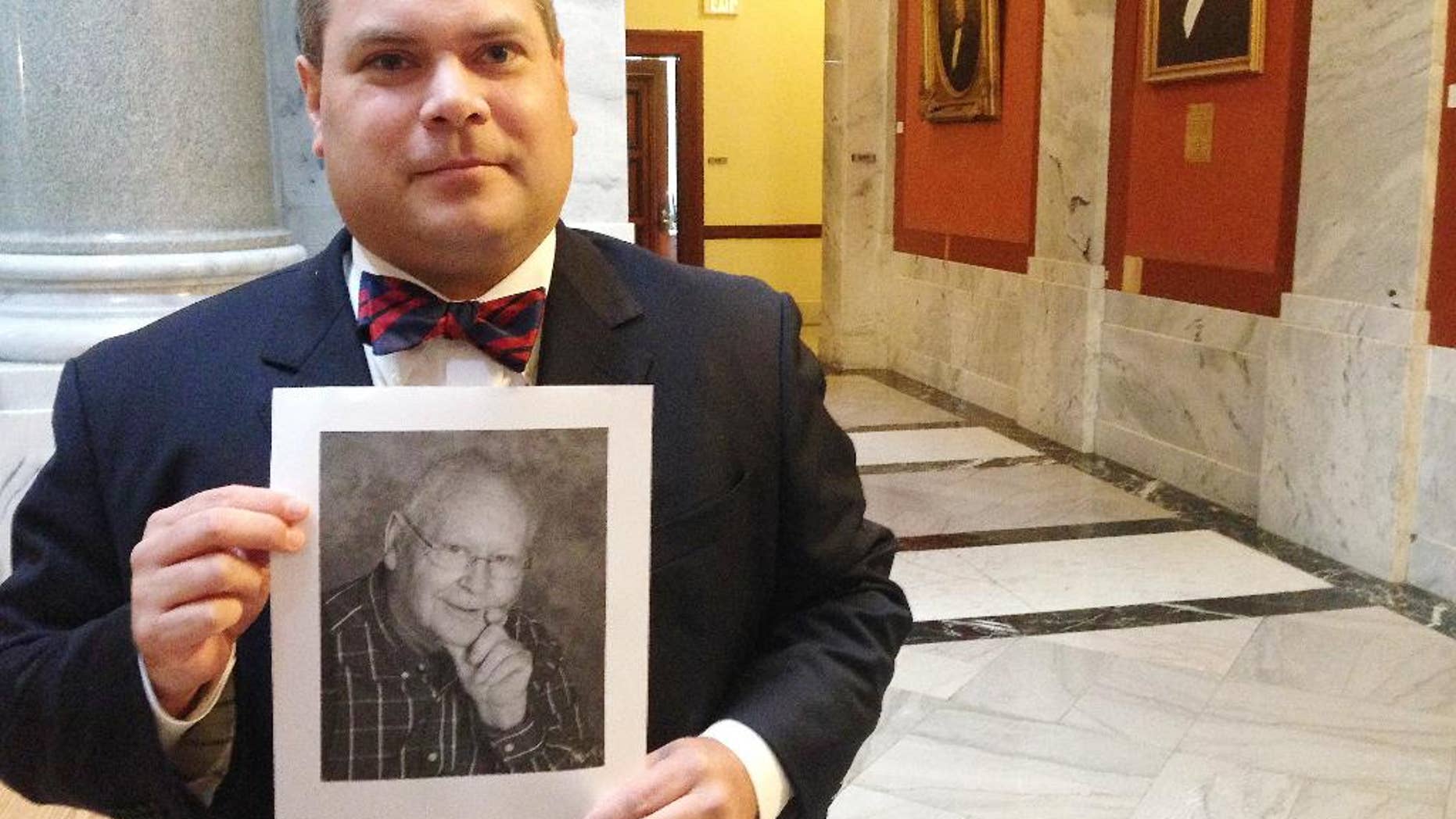 FRANKFORT, Ky. – In 2008, then 80-year-old Elmer Riehle was convinced someone was bringing him $23 million.
The former Jesuit brother had been sending thousands of dollars oversees to someone he believed to be "a Nigerian royal prince," according to an attorney for Elmer's wife, Carolyn. Once she cut off his access to their money, he would find other ways to make the monthly wire transfers, including selling their lawnmower.
Carolyn convinced a Kentucky jury to declare Elmer mentally incompetent over his objections, and the court named her his guardian. With his income restricted to $200 a month, Elmer sought a divorce, setting up a showdown Friday before the state Supreme Court.
The justices appeared to struggle over Elmer's situation. On one hand, he has sent thousands of dollars to scammers. But until a year ago, he had a car and could drive wherever he wanted to go. Today, Carolyn works full time as a nurse and pays for a taxi service to take him anywhere he wants to go at any time.
"For somebody who is totally mentally incompetent, that seems a little absurd," Justice Mary Noble said.
But Kentucky law has not allowed a mentally incompetent person to divorce since 1943, when a precedent was set by the state's highest court. Elmer's attorney asked the justices to overturn Kentucky's ban — one of 10 states where it is still in place — and let Elmer divorce his wife.
"A person can be deemed disabled but I believe that if they can show what their true feelings and intentions are, I don't think that they should be locked up by their guardian," Steven Megerle, Elmer's attorney, told the Associated Press.
Carolyn says she cares deeply for Elmer and he needs a guardian to stop him from wasting the family's money on "internet overseas pyramid schemes." She says Elmer does not understand what he is doing, and is most likely unaware he is seeking a divorce.
Carolyn says Elmer is now subject to another scammer: his attorney, who is helping him get a divorce so he can spend money "without the oversight of Carolyn."
"In such a scenario, the worst fears of Carolyn would be realized as Elmer is fleeced and drained by his enablers, and left out on the street when he has no longer has any ability to support himself," Carolyn's attorney Michael McKinney wrote in court documents.
The attorney said he didn't know if Elmer was "totally mentally incompetent."
"I would submit to you there are areas of his life he still functions fairly well," McKinney said.
The justices asked about the couple's relationship and how they were getting along while living together for the past eight years in a relationship marred by court hearings and a divorce filing.
"My concern about this kind of situation is where do you split the hair?" Noble said. "At what point does the guardianship prohibit a person from making very personal decisions?"
If the court rules the divorce can go forward, it would not change Carolyn's status as Elmer's legal guardian, although Megerle said Elmer would likely ask the court to appoint a new guardian. And, Megerle said, Elmer would not be able to marry someone else.
Neither Carolyn nor Elmer attended Friday's hearing. McKinney said the case has been difficult for her.
"But she knows that Elmer always loved her, always cared for her," he said. "But we don't really have the real Elmer anymore."