Jared Fogle compares case to Larry Nassar's crimes as argument for early prison release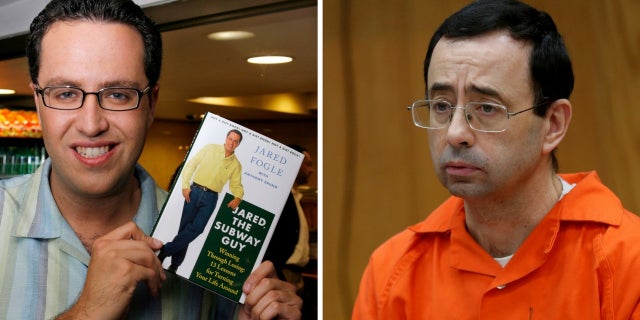 NEWYou can now listen to Fox News articles!
Disgraced Subway spokesman Jared Fogle says he wants his guilty pleas withdrawn, arguing former USA Gymnastics doctor and serial sexual abuser Larry Nassar did not face the same charges.
Fogle filed documents claiming he should not have been "charged with traveling for the purpose of engaging in illicit sex" because Nassar was not despite the fact that he "clearly engaged in unlawful conducts with young women" while traveling with the young athletes, The Blast reported.
Fogle would also like to withdraw his 2015 guilty pleas of "charges of distribution and receipt of child pornography and traveling to engage in illicit sexual conduct with a minor."
JARED FOGLE CLAIMS JUDGE WAS BIASED BECAUSE SHE HAS TEEN DAUGHTERS, REPORT SAYS
The disgraced spokesperson accused prosecutors of "tinkering with a charge to create crime." He also claims he was made to plead guilty or declare bankruptcy. Fogle blamed his "high priced" legal counsel for reportedly coercing him into a guilty plea.
Fogle tried to place most of the blame for his crimes on his "alcohol and sex addictions." He said he is sure the courts were in "grave error of the law."
The former face of the sandwich chain, who is two years into serving a 15-year sentence, has reportedly gained weight and been attacked in prison.
DAD WHO TRIED ATTACKING LARRY NASSAR IN COURT WON'T BE CHARGED
Fogle was sentenced in November 2015 after he pleaded guilty to paying for sex with underage girls and receiving child pornography from Russell Taylor, the former executive director of The Jared Foundation, an organization which raised funds and awareness to combat childhood obesity.
According to prosecutors, Fogle received photos or videos of eight of minors and some of the images were of girls as young as 12.
Nassar, 54, has been accused by more than 250 girls of sexual abuse. The disgraced doctor faces two long prison sentences in Michigan for molestation but he must first serve 60 years in federal prison for child pornography crimes.
Fox News' Elizabeth Zwirz and the Associated Press contributed to this report.