'Jackson Pollock' found in Arizona garage could fetch $15 million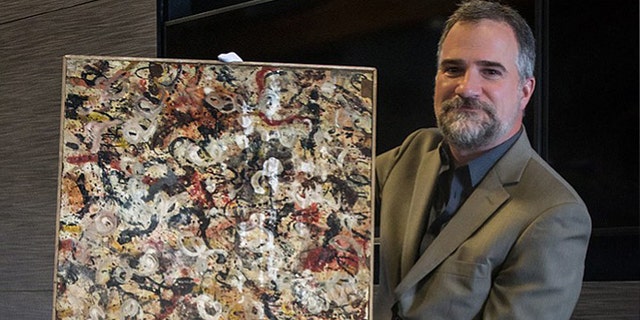 NEWYou can now listen to Fox News articles!
A mystery painting found in a cluttered Arizona garage -- and believed to be the work of Jackson Pollock -- may fetch $15 million at auction next week, it was reported Tuesday.
The painting belonged to the estate of a Sun City retiree who was related to a New York City art collector, the Phoenix New Times reports.
It goes up for auction next Tuesday at J. Levine Auction & Appraisal in Scottsdale.
"I'm convinced it's a Jackson Pollock, but nobody will attest that it's by Jackson Pollock," Levine told the news weekly.
The painting could easily fetch millions more if authenticated.
A foundation connected to Pollock's widow no longer authenticates the abstract expressionist's works.
WARREN BUFFETT CHARITY LUNCH SOLD TO HIGHEST BIDDER
What's more, there have been many high-profile disputes in the past over the authenticity of Pollock paintings, according to the Prescott Daily Courier.
Levine said he hired private investigators and forensic experts to establish that the painting is a Pollock original, the paper reported Monday.
REYNOLDS, FISHER COLLECTIBLES HIT AUCTION BLOCK
"Based on their work and findings, I believe this painting was one of Pollock's missing gouaches in his catalogue raisonné or from the period of 1945 to 1949," he said.
The painting which measures 22 ½ by 32 inches is being sold "as is."
Levine told the New Times the painting has visible damage caused by moisture, heat and smoke.
The Associated Press contributed to this report.