Is putting a cop in every school even possible, or wise?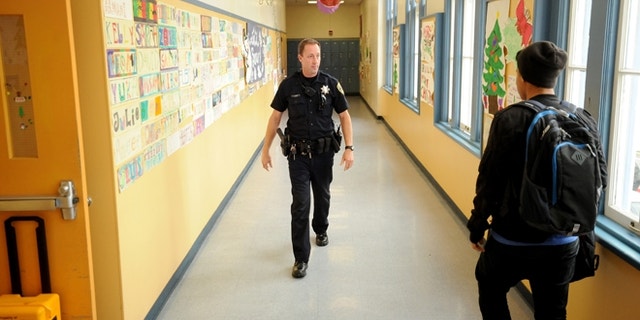 NEWYou can now listen to Fox News articles!
Well before the National Rifle Association's Wayne LaPierre called for an armed police officer at every school in America, Jon Hayden had given the recommendation long and serious thought.
As a former detective and current sheriff of Kentucky's McCracken County, Hayden remembers the 1997 school shooting at Heath High School in Paducah, a tragic precursor of the school shooting in Connecticut last week that prompted the NRA's call. The scene Hayden responded to is still fresh in his mind, and as sheriff, he makes sure every school in his jurisdiction is guarded by an armed police officer.
"I saw parents of the wounded and of the dead. I just remember their grief – their unbearable grief," Hayden said. Putting an officer in every school "would certainly amount to a cost increase, but when you spread those costs out over the entire tax base of a district, it seems a small price to pay for the safety of our children and the peace of mind of the parents."
LaPierre's call was echoed by a group that may never have previously agreed with him on anything. Even before he spoke, left-wing activist group MoveOn.org was circulating a petition for federal lawmakers to implement the same idea following the Dec. 14 attack, in which 20 first-graders and six adults were gunned down in an elementary school in an affluent and bucolic New England town an hour north of New York.
[pullquote]
Law enforcement experts are divided on the idea, with some saying no price is too high in the wake of the Connecticut horror and others saying it would be a rash overreaction and that the decision to deploy police officers is best left to local professionals.
There are about 100,000 public schools in the U.S. Assuming an average annual salary of $50,000 for each police officer, the cost of stationing a cop in every school would be somewhere around $5 billion. That wouldn't include pension and benefits, but it also would not take into account schools that already host police officers or jurisdictions where schools might be covered with no additional hiring.
In Jefferson County, Colo., where the the 1999 school shooting by two students at Columbine High School left the pair and 13 others dead, the presence of police at local schools is testament to the community's determination not to relive the horror of 13 years ago.
"We have a cop in every high school in unincorporated Jefferson County," said Mark Techmeyer, a spokesman for the Jefferson County Sheriff's Office. "Two deputies are assigned to Columbine. And our regular patrol deputies act as liaisons to each elementary school. They are not physically there at all times but have a relationship with them and check in at least once a week."
However, Ray Hayduca, president of the New Jersey State Association of Chiefs, said instituting such a practice in the Garden State could prove problematic.
"In reality, we just can't afford it," said Hayduca, who is police chief in South Brunswick. "There's a 2 percent cap levy on property tax increases in any given year in any given town, so I don't know where the money would come from.
"We have 11 schools in South Brunswick. I would have to hire 10 officers at a total cost of more than $1 million to put a cop in every school. It's just not realistic. I mean, the concept is great, but financially, you can't do it."
John Shane, professor of criminal justice at New York City's John Jay College, said the measure might provide peace of mind but it would require study to determine whether or not it actually enhanced safety.
"It's a little too early to determine the wisdom of such a move, but I certainly agree it's one of many situational prevention measures we should be considering," Shane said. "The sad reality is that we're at that point. We didn't have one school shooting. We didn't have two. We've had several across the country."