Iowa plane crash kills four after pilot suffers heart attack, police say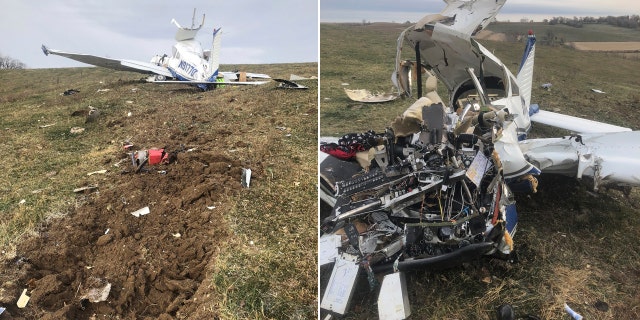 A single-engine plane crashed this weekend in Iowa, killing all four passengers, after the pilot reportedly suffered a heart attack and a student pilot was forced to attempt an emergency landing, officials said.
The Guthrie County Sheriff's Office said that the 1979 Piper aircraft fell off the radar Friday night after taking off from Le Mars. The plane was found the following morning in a cow pasture about 115 miles from its departure point.
According to a news release from the sheriff's office, the plane requested an emergency landing at Guthrie Center Airport. The pilot had apparently suffered a heart attack and the student pilot was attempting to land the aircraft.
The victims, 49-year-old Edward Ralph Anderson, 36-year-old Patrick Kellen, 15-year-old Samantha Clark and 28-year-old Tyler Douvia, were found dead at the scene, officials said.
The group was headed to Osceola for a hunting trip.
Their bodies were taken to the Iowa Medical Examiner's Office for autopsy. The Federal Aviation Administration will investigate the cause of the crash.
The Associated Press contributed to this report.