Iowa city braces as flood levels soar; National Guard ready to help
Thousands of people evacuated Cedar Rapids as the river running through Iowa's largest city reached its second-highest peak ever on Tuesday.
City officials said a 9.8-mile system of Hesco barriers and earthen berms that contractors erected over the weekend was holding back the rain-swollen Cedar River. It crested Tuesday morning at 22.1 feet -- a foot lower than predicted Monday.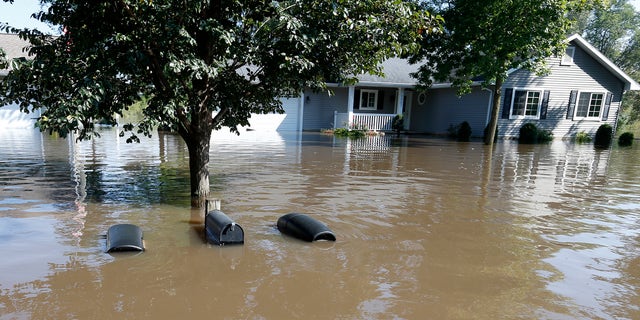 City crews turned their focus underground to the pressure-packed sewer system, which officials worried could send water shooting onto streets in the coming hours and create dangerous conditions for any bystanders. "The enemy now is what we don't see," city manager Pomeranz said.
The National Guard has been activated to help, and Police Chief Wayne Jerman said Monday the troops would patrol the evacuation zone and help out at traffic control checkpoints to keep out unwanted visitors. Jerman also said the Iowa State Patrol and other law enforcement agencies have sent officers to help.
While the barrier system was working, city officials said that many homes and businesses near the river will likely have water in their basements. They warned about the prospect of residential sewer backups and structural damage.
Thousands of residents had heeded the city's call to evacuate low-lying areas. It will likely be a few more days before they are allowed to return to their homes and businesses. Classes at public schools remained cancelled Tuesday and Wednesday.
Firefighters and police officers rescued a woman Monday afternoon who had been swept away by the river north of the city's downtown. She was able to cling to a tree until emergency responders reached her and got her to safety.
"Several officers and firefighters put their lives at risk and in great, great danger," said Cedar Rapids fire chief Mark English, who urged residents to stay out of low-lying areas that had been evacuated.
The Hesco barriers used to hold back the floodwaters are comprised of steel mesh panels, lined with a thick polypropylene material that can be quickly filled with sand or dirt, usually using a front-loader. The barriers, which have been used extensively by the military in Iraq and Afghanistan, keep water from seeping through to the other side, but allow moisture to drain out the bottom.
City crews had worked through the night to patch any weaknesses in the protection system and pump out water that seeped through the barriers or came up through the saturated ground.
"City employees and contractors worked in really heroic ways to make sure the temporary system we put in place was fully functional," Pomeranz added.
The Associated Press contributed to this report.