Indiana inmate who escaped hospital after swallowing pens likely had help, cops say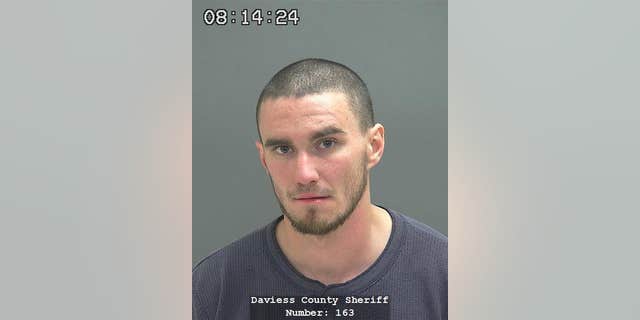 NEWYou can now listen to Fox News articles!
Authorities searching for a southern Indiana inmate who escaped a hospital where he was being treated for swallowing two pens believe he had an accomplice to assist him in the scheme.
Shane Cates, 23, escaped from a second story window at Daviess Community Hospital in the city of Washington on Monday night, the Daviess County Sheriff's office said. He had been taken into custody in December for allegedly violating probation and he also faces two felony charges of assault and aggravated battery.
Cates was transferred to the hospital from jail last week after swallowing two pens, although it's unclear whether doing so was part of his breakout plan, Daviess County Sheriff Jerry Harbstreit told CBS News.
"We don't know if he had planned that or if he planned all this afterwards," Harbstreit said. "He had not really been a problem so far as that goes, up to that point."
Surgeons at the hospital were letting the pens flow through Cates' system when he broke through a window in his room, ran down a hallway, and then broke another second floor window, Harbstreit said. From there, Cates was likely able to jump down to a roof and descend a ladder attached to a large air conditioning unit, he added.
Officers scoured the area after he escaped, but could not find him, and now believe another person was involved with the breakout plan.
"We really believe at that point a vehicle came and picked him up," Harbstreit told CBS News. "We've had a light snow. We can see the tracks, and it appears he walked over to a spot, and then there are no more tracks."
Police K-9 units tracked Cates' scent for several blocks before it went cold.
Cates was last seen wearing, a white top, green jail pants and blue shoes, according to WTHI. He is 5 feet 8 inches tall, weighing 160 pounds with brown hair and hazel eyes.
The two felony charges of assault and aggravated battery come from a December incident in which he allegedly hit his wife and other, court records showed.
Washington, Ind. is 100 miles southwest of Indianapolis.