Michael Blair has one of the dirtiest jobs in Ohio: Cleaning the filthy nets of one of a dozen tributaries to the Cuyahoga River in Cleveland.
"It's a lot of gross material," Blair said as he pointed to the trapped garbage. "We've got a lot of wood in here. We've got a lot of what we call 'floatables.' You can see somebody's flip flop in there. We get hygiene products in here."
Blair's job title is infrastructure support specialist for the North East Ohio Regional Sewer District, and his ultimate goal is to prevent the disgusting mess from making its way to Lake Erie at the mouth of the Cuyahoga.
MAN BEHIND TRUMP'S TRILLION-DOLLAR INFRASTRUCTURE BILL SAYS IT WILL CREATE JOBS
"What we basically do," he explained, "is we have 10 of these netting facilities throughout our regional district, and what they're basically designed to do is channel all this material into this netting facility where we have four nets set up on this floating structure."
The floating structure is at the Kingsbury Run netting facility and is a 10-foot dock that props up the ends of the 50-foot net stretching across the tributary. When it's full, a crane raises it and puts the waste in a truck that carts it to a landfill.
Blair has an almost impossible task: Four-and-a-half billion gallons of raw sewage seep into Lake Erie every year.
"There's just a lot of organic materials," he said. "Anything that could fit in a storm sewer,"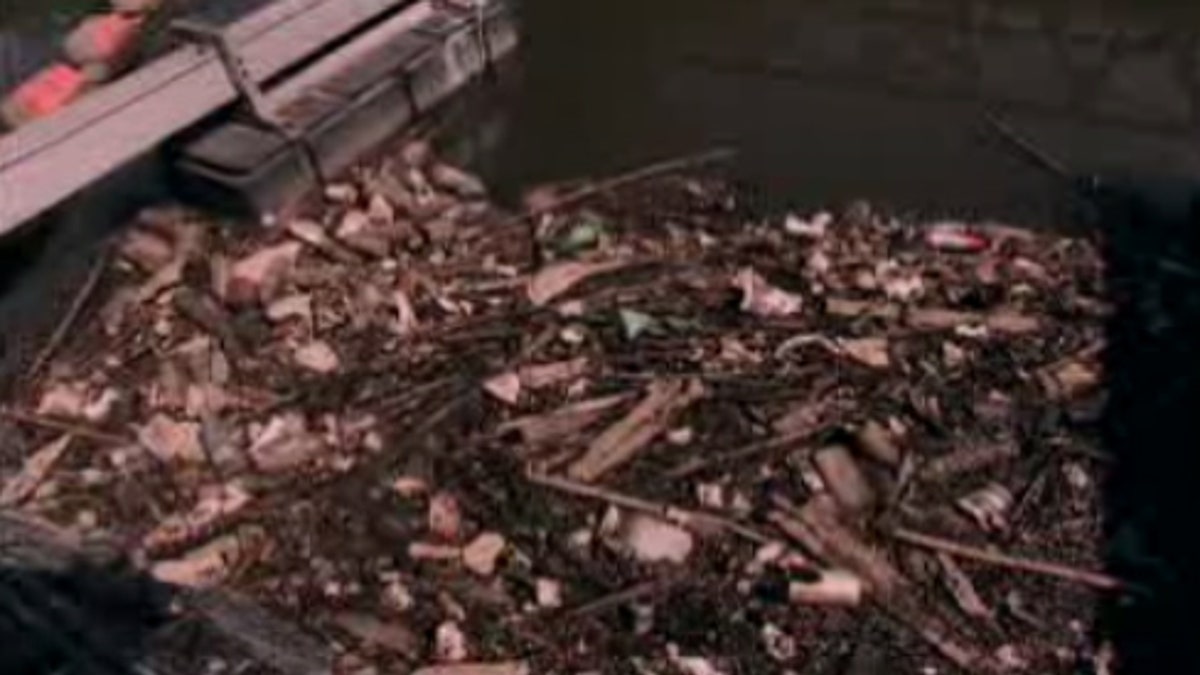 TRUMP'S INFRASTRUCTURE PUSH COULD CUT HIGHWAY TRAFFIC BY IMPROVING WATERWAYS
In fact, it's Cleveland's storm sewers that are causing the garbage glut.
Every time there's a major storm in the Midwest, Cleveland's outdated storm drains overflow – mixing rain water with household waste. The unfortunate sewer infrastructure has been polluting the lake for decades. It's a massive pollution problem the Trump administration is now considering addressing as part of its $1 trillion infrastructure bill.
"We're very excited about that," said Kyle Dreyfuss-Wells, head of North East Ohio Regional Sewer District in Cleveland. "Obviously, this is a very significant problem for Cleveland."
Dreyfuss-Wells is overseeing the construction of seven large tunnels that would capture polluted storm water before it makes its way into Lake Erie.
Recently, Dreyfuss-Wells stepped into a metal cage and was lowered by a crane to inspect one of the tunnels being dug below Cleveland's streets.
MILLIONS NEEDED TO RESTORE HISTORIC BRIDGE CONNECTING WASHINGTON D.C. TO VIRGINIA
"This one is 220 feet below," she said as the cage dropped into a massive hole in the ground, swaying as it made its way down. "Two hundred seventy would be our deepest."
Each tunnel is going to be up to five miles long and up to 24 feet in diameter – wide enough to fit a tractor trailer. It's a 25-year project that's going to cost $3 billion.
"And it's all borne by the rate payers of north east Ohio," she says, meaning that without assistance from the Trump Administration, water rates in Ohio could increase dramatically.
"Federal assistance would be very significant to our customers," she said. "We're very much looking forward to any relief for the ratepayers of northeast Ohio."