Illinois schools set up 'active shooter' boxes that look like fire alarms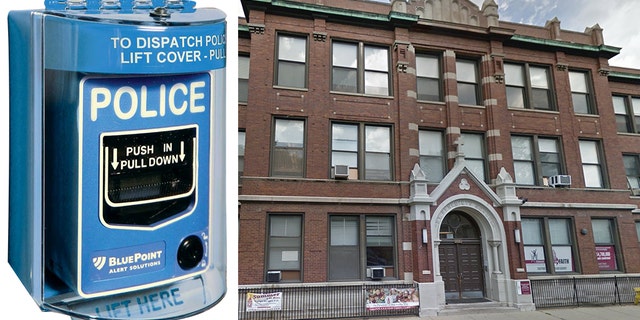 More than 20 schools in Illinois reportedly have installed emergency response alarms on campuses in preparation for possible active shooter situations.
The schools, many in the Chicago area, now have BluePoint systems installed, the Chicago Tribune reported. A spokesperson for the company told the newspaper that more than 150 schools throughout the U.S. have had the alert systems implemented.
Each pull box, which looks similar to a fire alarm, is designed for "discreetly" protecting people in "an escalating situation," according to the product's website.
When the alarm is pulled, police are alerted and the system will text, email or send a voice alert to specific groups, according to the company.
One school in particular — St. Benedict's Preparatory School on Chicago's North Side with a student body of roughly 700 — has set up 30 of the alarms throughout its campus and reportedly spent $40,000 on security cameras.
Rachel Gemo, head of school at the private institution, said that students, who have been trained to use the alarm system, "really, sadly, are aware of [the] possibility" that a school shooting could happen. She said they're "not immune to what they hear on TV."
One mother, whose son attends St. Benedict's, told the Tribune that while it's "nice" to know the alert system will be there in case of an emergency, "it's sad that we do have to think about this."
"With all these examples across the country, you hope and pray it doesn't happen to you and your school," the mother, Molly Klucznik said. "I really hope we never have to use (the alarm system), but it's nice to be prepared."