Illegal immigrant who sneaked into US 7 times was drunk during deadly crash, prosecutor says
NEWYou can now listen to Fox News articles!
An illegal immigrant who sneaked into the United States from Mexico seven times was driving drunk and speeding down a Nebraska highway when he crashed his van last week, killing a passenger sitting in the back of the vehicle, prosecutors said.
Douglas County prosecutors said in court Tuesday Nemias Garcia-Velasco, 32, was deported in 2009 and 2011 and "voluntarily returned" to Mexico five times in 2005, the Omaha World-Herald reported. He was convicted of making a false claim to U.S. citizenship in 2005.
Garcia-Velasco's bail was set at $2 million. Prosecutor Ryan Lindberg in court on Tuesday requested a high bail for the illegal immigrant because he feared the man might flee the country -- again.
"If this is someone who bonds out, I don't think we'll see Mr. Garcia-Velasco again," Lindberg said.
Garcia-Velasco was speeding down an interstate in Omaha about 1 p.m. last Wednesday when he lost control of his 2001 Dodge Ram van, slamming into a guard rail before the vehicle rolled over and caught fire, officials said.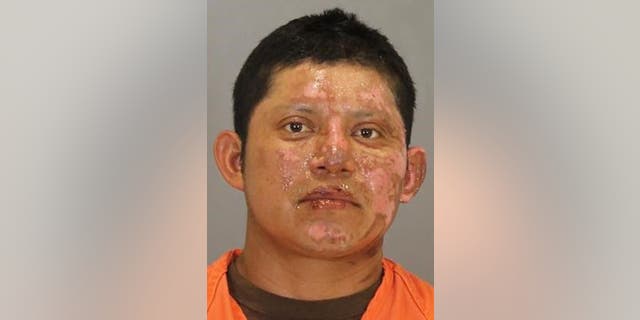 BLACK TEENAGER SAYS CALIFORNIA POLICE WRONGLY ROUGHED HER UP
Silvano Torres, 58, who wasn't wearing a seat belt while riding in the back of the van, died in the crash. Torres' girlfriend told the newspaper her boyfriend had documents to be in the U.S. and he was a father to two girls and a boy.
Another passenger, Jesus I. Gonzalez, 16, was hospitalized and released later that day.
Garcia-Velasco later told police he drank 12 beers the night before and into the morning of the crash. His blood-alcohol level was at .243, three times the legal limit of .08, according to the Omaha World-Herald.
ILLEGAL IMMIGRANT MOM ACCUSED IN STABBING DEATHS OF CHILDREN, HUSBAND SMILES IN COURT
Garcia-Velasco was treated for severe burns, released and booked into jail. He was charged with motor vehicle homicide, driving under the influence and operating without a driver's license, KETV reported. He faces up to 20 years in prison if convicted.