Illegal immigrant found guilty of killing Kansas mom, kidnapping her 6-day old baby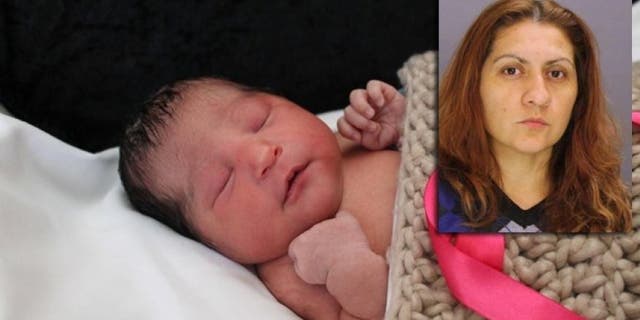 A woman who faked a pregnancy for several months was found guilty on Tuesday of killing her former co-worker and kidnapping the victim's newborn baby with the intent to raise the child as her own.
Yesenia Sesmas, 36, an illegal immigrant who was living in Dallas at the time, drove to Wichita, Kan. to shoot 27-year-old Laura Abarca on Nov. 17, 2016, and kidnap 6-day-old Sophia Gonzales. The baby was found safe two days later in Sesmas' Dallas apartment and was returned to relatives.
Jurors deliberated for less than three hours on Tuesday and found Sesmas guilty of first-degree premeditated and intentional murder, kidnapping and interference with parental custody.
"We really wanted to go through this trial and have justice. And I think that happened today," Jose Abarca, the victim's older brother, told the Wichita Eagle.
During the trial, prosecutors said that Sesmas faked a pregnancy for months after suffering a miscarriage and, when she found out Abarca had given birth, drove to Wichita to kill her and take the baby. The two women had worked together at a Wichita restaurant years earlier.
Sesmas was in the country illegally and was arrested the summer before the killing for threatening another Wichita woman and trying to hold the woman's two daughters for ransom. But she was mistakenly released from custody because of a bureaucratic mix-up.
WOMAN ACCUSED OF KILLING MOTHER AND STEALING HER BABY IS FIGHTING EXTRADITION
U.S. Immigration and Customs Enforcement said at the time it did not receive the July 25 list of arrests from the Sedgwick County sheriff's office showing Yesenia Sesmas' name on it until the following day, and by that time she had already been released from local custody, the Associated Press reported at the time. The agency would have asked that she be detained if Sesmas, a Mexican national, had still been in jail, a spokesman told the AP at the time.
During the six-day trial, prosecutors focused on the 36-year-old's intentions, including how during the faking of her pregnancy Sesmas prepared for a new baby. Sesmas even had a baby shower and had reached a point where she "was either going to have to come home with a baby" or explain her lies to those who knew her, according to the Eagle.
"When she walked into that apartment on Nov. 17, 2016, there were only two ways for this to end," Sedgwick County District Attorney Marc Bennett said. Sesmas went back to Texas thinking "she would wake up and raise that baby and her life would begin," he said.
KANSAS KILLING, BABY ABDUCTION SUSPECT LIVING IN US ILLEGALLY
In a jailhouse interview with KUVN-TV, Sesmas said Abarca had agreed to hand over the baby to her, but during an apparent dispute she said she accidentally shot her. Public defender Jason Smartt called the killing "unplanned and spontaneous," according to the Eagle.
"She didn't know that (the gun) was going to fire, and she was surprised when it did," he said.
Sesmas faces life in prison plus the possibility of additional time when she is sentenced on July 13.
The Associated Press contributed to this report.