Idaho prison halts inmate firefighting after rape accusation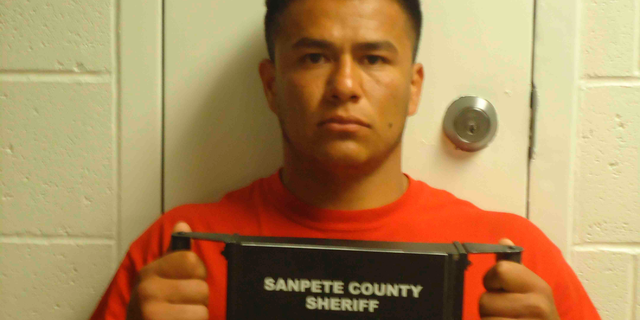 SALT LAKE CITY – Inmates sent to help fight wildfires are back behind bars in Idaho after one inmate was charged with raping a woman working at a base camp in Utah, authorities said Tuesday.
The Idaho Department of Correction is reviewing the way they select, train and deploy those inmates, spokesman Jeff Ray said.
Most Western states have similar programs that allow low-level offenders to be temporarily released to help fight wildfires. In California, hundreds of minimum-security inmates fought on the front lines of the state's largest-ever blaze this year.
Idaho inmate Ruben Hernandez, 27, was charged with felony rape in Utah after a woman reported that he assaulted her Aug. 29 when she rejected his advances in the remote area about 80 miles (129 kilometers) south of Salt Lake City.
He was part of a 10-person crew who did janitorial and cooking duties at base camp, supervised by two Idaho correctional officers.
Inmates are typically allowed to move about fairly freely, said Sanpete County attorney Kevin Daniels. Hernandez doesn't have a history of assault or similar crimes, and was less than a year from a parole date on a drug charge.
"Historically, there's not been a whole lot of problems. This is very, very atypical," the prosecutor said.
No attorney was immediately listed for Hernandez in Utah court records, and a message left for one of his previous attorneys was not immediately returned. He is being held without bail in Utah.
The woman told police Hernandez had been flirting with her and asked for her number. She gave him a friend's husband's contact information to get him to leave her alone, according to charging documents filed Friday.
One morning as she was sitting in a wash trailer watching a movie, Hernandez entered, exposed himself and asked for oral sex, authorities said. He assaulted her after she again rejected him, according to charging documents.
She froze, afraid to scream or stop him because she knew he was a prisoner and didn't want to get hurt, the charges say. She told a friend, who reported the assault to base-camp security guards.
The Associated Press does not typically identify people who say they have been sexually assaulted.
Utah authorities stopped bringing state prisoners to work on wildfires a decade ago after men got injured, Daniels said.
Like many wildfires, the so-called Coal Hollow Fire was managed by a special team of federal and state agencies, so county authorities weren't aware that Idaho inmates were part of the force of about 200 at the time of the assault.
The lightning-sparked blaze started Aug. 4 and torched about 47 square miles (122 square kilometers). It's now about 80 percent contained.