Hurricane Irma leaves millions without power in Florida as evacuees return home
Floridians are returning from their Irma-induced exodus on Tuesday to find wrecked homes, food shortages and widespread power outages -- and now face a long and daunting road to recovery.
Around 15 million people remain without electricity across the state, according to Chris Krebs, Assistant Secretary for Infrastructure Protection at the Department of Homeland Security.
"I do ask that everyone have patience," Krebs said at a news conference Tuesday morning. "This is going to take some time to restore."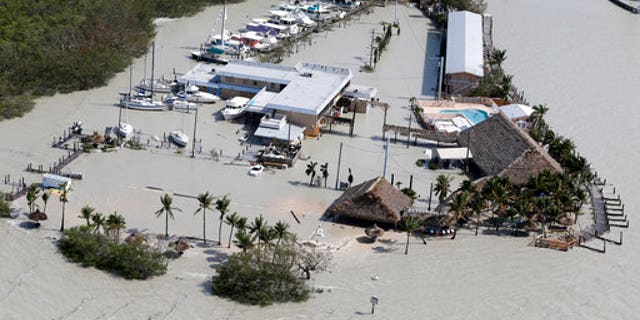 Due to the extent of the damage caused by Irma, Krebs said "this will be a situation about rebuilding," instead of simply repairing damaged power infrastructure.
Communication also remains an issue on some barrier islands, due to cellular disruptions, Krebs said.
Acting Secretary of Homeland Security Elaine Duke said nearly 22,000 federal personnel are in Florida to handle the "long and challenging road ahead."
"A storm of this magnitude needs team effort," she said.
Displaced residents and business owners from Key Largo, Tavernier and Islamorada were allowed to return for their first glimpse of the damage to their homes and offices on Tuesday morning.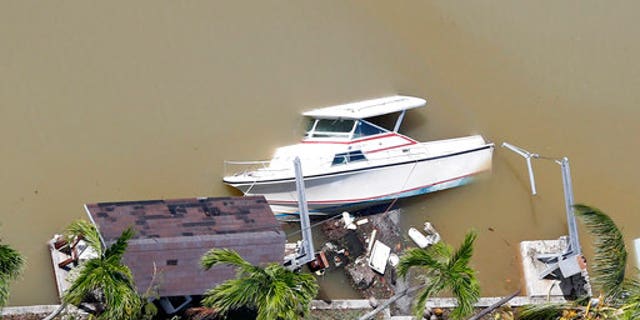 Those people from the Lower Keys, however, faced a longer wait, with a roadblock in place where the highway to farther-away islands was washed out by the storm.
HURRICANE IRMA LEAVES 1 MILLION GEORGIA RESIDENTS WITHOUT ELECTRICITY
Florida Gov. Rick Scott said Tuesday the Florida Keys bridges appeared to escape serious damage from Irma, but more time is needed to finish inspections.
Gov. Rick Scott said officials continue to check the 42 Overseas Highway bridges that link the Florida Keys together. He said none appear seriously damaged but that "we're not sure that on the bridges we should be putting on significant weight."
Key West City Commissioner Sam Kaufman said late Monday two sections of U.S. 1 washed away from Irma will be repaired by the end of the week. The National Guard is expected to arrive in Key West to distribute water and food, which are at "critically low supplies," according to Kaufman.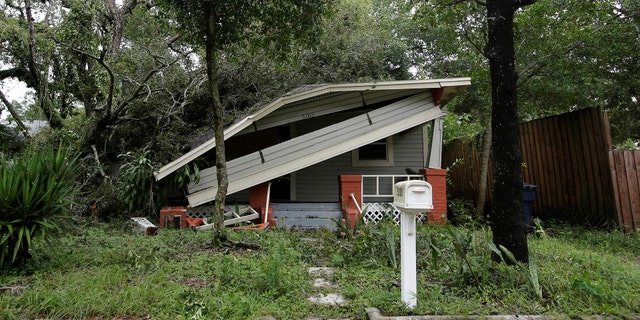 Hungry residents across the state are also looking for whatever restaurants and stores still have power to stock up on supplies, and whose food hasn't spoiled due to a lack of refrigeration.
Miami Beach residents were allowed to return their homes Tuesday to assess damage done by Irma, sparking heavy traffic by 7 a.m. at police blocks.
Among them were Lyle and Lydia Calhoun. The couple, originally from South Carolina, has a condo in the Biscayne Bay area and were eager to return home.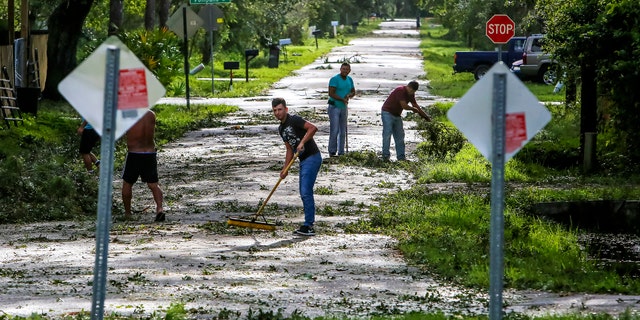 "We've been waiting for an hour," Lydia told Fox News. "We're tired, we're dirty and we want to go home."
A handful of businesses, including several Walgreens and 7-Elevens, had reopened with more stores expected to join throughout the day.
"Miami Beach will be up and running soon," resident Scott Looker, who had taken his dog "Diggie Smalls" for a walk near the Port of Miami, told Fox News. "We've done it before and we'll do it again."
Lack of widespread working air conditioning comes at an inopportune time, as temperatures sit in the mid-80s and feel nearly 10 degrees warmer.
In Key West, Kaufman said the city is also desperately low on fuel, and is working with the military for emergency supplies.
Key West resident Laura Keeney was waiting in a Miami hotel until it was safe to return home, and she was anxious to hear more about her apartment complex. Her building manager told her there was flooding there, but further updates were hard to come by because power and cell phone service have been down on the island.
"They told me there is definitely water in the downstairs apartment, which is me," Keeney told the Associated Press.
As sweltering tropical heat returned across the peninsula as Irma moved northward, people in the Tampa Bay area fired up generators or headed outdoors to sit outside to pass the time awaiting for their lights to come back on.
"It's a luxury right? It's a luxury. Big luxury," Jennifer Blaskvitch told FOX 13 Tampa. "I know we pay for it but when it goes out, you expect it to be back quick. But, I understand the circumstances. It could have been a lot worse. So, you just have to be patient."
FLORIDA LOOTING CRACKDOWN IS 'WHITE SUPREMACY,' CLAIMS AUTHOR SARAH JAFFE
Florida Power and Light said its working to restore power as quickly as possible, staging hundreds of trucks and crews from across the country at South Florida sites, WSVN reported.
"Even though we are restoring power, people need to be prepared for some prolonged and extended outages," FPL President and CEO Eric Silagy said. "There are pockets of some real destruction."'
The power company said Tuesday the East Coast of the state is estimated to have power restored by the end of weekend except in areas hit by tornados, flooding, and severe damage.
On the state's West Coast, Florida Power said power is estimated to be restored by Sept. 22, except in areas hit by tornadoes, flooding, and severe damage.
The remnants of Irma were blowing through Alabama and Mississippi on Tuesday after drenching Georgia.
Six deaths in Florida have been blamed on Irma, along with three in Georgia and one in South Carolina. At least 35 people were killed in the Caribbean.
Around the Tampa-St. Petersburg area, where Irma rolled through early Monday, damage appeared modest, and Florida Gov. Rick Scott said effects on the southwest coast, including in Naples and Fort Myers, was not as bad as feared.
Still, Scott predicted that recovery could take a long time in many areas.
"I know for our entire state, especially the Keys, it's going to be a long road," he said.
Fox News' Barnini Chakraborty and the Associated Press contributed to this report.