Hundreds support Christian florist fined for refusing to work gay wedding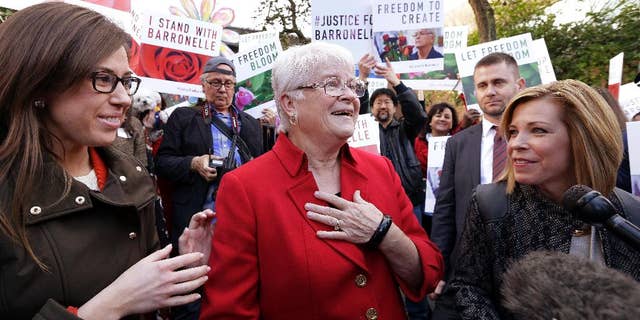 NEWYou can now listen to Fox News articles!
Hundreds of supporters cheered on the Washington Christian grandmother and florist who was fined for declining to make floral arrangements for a same-sex wedding as she appeared before the state's Supreme Court on Tuesday for oral arguments in her appeal of an unfavorable lower court ruling.
OREGON OFFICIAL WHO BULLIED CHRISTIAN BAKERY OWNERS LOSES ELECTION
As previously reported by The Christian Post, Barronelle Stutzman, the owner of Arlene's Flowers in Richland, Washington, was fined $1,001 by the Benton County Superior Court in 2015 because of her objection to making floral arrangements for the same-sex wedding of her longtime customer Robert Ingersoll and his partner Curt Freed in 2013 because she felt it would have violated her Christian beliefs on marriage to do so.
Although Ingersoll and Freed were able to order flowers for their wedding from another florist and Stutzman had served Ingersoll for nearly 10 years, the gay couple decided to file a lawsuit against her with the help of the American Civil Liberties Union.
DEMS, MEDIA SKEWING TRUMP'S RECORD ON LGBT ISSUES?
In addition to the Benton County Court ruling that Stutzman had violated that state's discrimination laws, and ordering her to pay the fine and the couple's expensive legal fees, the state's Attorney General Bob Ferguson also filed a consumer protection lawsuit against Stutzman.
The 70-year-old Stutzman is now at risk of not only losing her business but also losing her life savings and personal retirement assets.
After losing the lower court battle, Stutzman and her lawyers at Alliance Defending Freedom filed an appeal to the Washington Supreme Court and on Tuesday, the nine-justice court held oral arguments in an auditorium at Bellevue College.
According to the Tri-City Herald, hundreds of supporters came out to encourage Stutzman.
Even though the auditorium seats 300 people, the complex was filled to capacity and other supporters had to gather outside the auditorium. The majority of the people gathered outside the auditorium were there in support of Stutzman and her fight for religious freedom. The supporters were holding white roses and signs that read "Let Freedom Bloom," "Freedom to Create," and "Justice for Barronelle."
"I'm here because I believe in religious liberties, and I'm going to stand with Barronelle because I think that we have the freedom to stand for what we believe," Georgene Faries, a resident of Arlington, Washington, told the Tri-City Herald. " It's not hate mongering. I think that is a real confusion and that is a distortion and especially a lie because we don't hate anybody. We don't hate individuals."
After the hearing, Stutzman told the crowd of supporters that her case has bigger implications than her own livelihood.
"The government is telling me there is one choice — either I give up my faith and my freedom or I lose everything I own," Stutzman said. "Rob has the freedom to act on his beliefs and that is all that I am asking, for that same freedom. Our Constitution protects that freedom but it just isn't about my freedom, it is about all of our freedoms."
"When the government can come in and tell you what to do, what to create and what to believe, we do not live in a free America," she added. "Protecting our beliefs isn't a negative thing like some people say it is. It's good things like justice, reason, fairness and respect. However this court rules, it will not effect my faith and my love for all."
Stutzman also said that she was "overwhelmed" and "encouraged" by the amount of support she received.

Click Here to Read the Full Story at ChristianPost.com