Hundreds stranded after Hurricane Florence, worse is yet to come, say officials
As Hurricane Florence made landfall in the Carolinas Friday-- killing at least 17-- hundreds more remain trapped inside their homes and authorities said Sunday that the worst is yet to come.
The storm was downgraded to a tropical depression on Sunday, after three days of unrelenting rain in the Carolinas. But forecasters have warned that Florence is expected to dump as much as 40 inches of rain in southeastern North Carolina and 15 to 20 inches in the state's western region in the coming days, The Wall Street Journal reported.
Other regions remain vulnerable to flash flooding and major river flooding, forecasters said. The North Carolina Department of Transportation has warned drivers to stay away, after flooding has blocked off roads and major highways.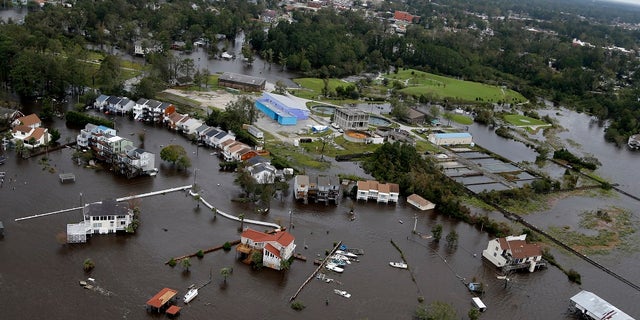 In North Carolina City, a city of 120,000 people, all roads in and out of the city are underwater. Residents of inland communities who thought they were safe from the storm had to find high ground because of the expected flooding. In New Bern, at least 30 roads were left unpassable; 4,200 homes and more than 300 commercial buildings damaged; and 6,000 customers without power and 1,200 residents in shelters, said the city's mayor.
More than 1,000 search-and-rescue personnel with 36 helicopters and over 200 boats were dispatched to North Carolina after hundreds of people were left stranded in their homes,
In total, the emergency-management agencies said nearly 700,000 customers were lacking power in North Carolina and more than 60,000 outages were reported in South Carolina. Meanwhile, roughly 17,000 people have flocked to 190 shelters throughout the Carolinas. Statewide, as many as 1 million people were evacuated, The Asheville Citizen-Times reported.
"[P]eople need to understand that some areas are likely to be without power for a while," said Gov. Roy Cooper during a news conference. "The risk to life is rising with the angry waters."
The Associated Press contributed to this report.