Hundreds of Philadelphia Teachers Storm School Board Meeting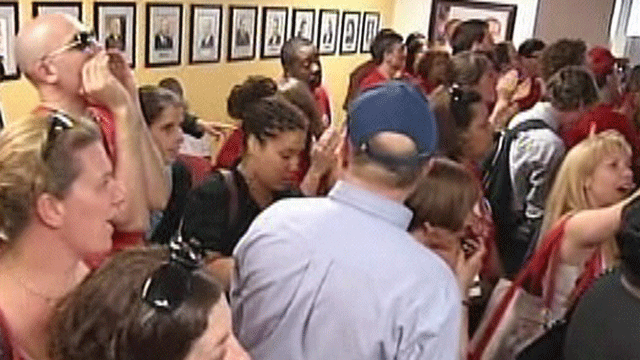 Hundreds of Philadelphia public school teachers flooded a school board meeting on Monday, shouting "let us in" in protest of looming layoffs, MyFoxPhilly.com reports.
Amid chants of "fire Ackerman" and "lay her off" directed toward School Superintendent Arlene Ackerman, teachers pushed their way into school district headquarters. Police were called to guard the doors to the meeting room in order to keep the frenetic teachers from swarming in, according to the station.
Around 1,523 teachers have so far received layoff notices. In response, the Philadelphia Federation of Teachers (PFT) has filed suit in hopes of preventing future layoffs. The case is expected to reach the Philadelphia Supreme Court.
PFT President Jerry Jordan reportedly said the proposed cuts will harm Philadelphia students.
"In a budget crisis largely of your own creation, we are here to urge you to cut programs that affect few children at the expense of many," Jordan told the School Reform Commission. "Dedicate every cent available to maximizing learning for the largest number of students in the district."
Click here to read more on this report from MyFoxPhilly.com.