Homeless encampment relocation plan has California residents outraged
A plan to house hundreds of homeless people in a tent city near a popular Southern California park was met with fierce public resistance, forcing an upcoming vote to rescind the scheme.
The Orange County Board of Supervisors is set to meet Tuesday to figure out where to relocate people, after a federal judge forced the county to come up with a plan to house the homeless population located along the Santa Ana River.
One proposal would place about 400 people near the county-owned Orange County Great Park in Irvine, located 40 miles southeast of Los Angeles. The park, which is home to a farmers market and a hot air balloon ride, is popular with families on weekends.
"I hate to say this but the homeless that are planning to come here really represent the worst of them because they're the ones that aren't following the rules, that don't want to give up the drugs, that don't want to accept services or housing," Irvine Commissioner Anthony Kuo told CBS LA. "And to put those across the street from sports fields and a senior community in my mind is just an incompatible use."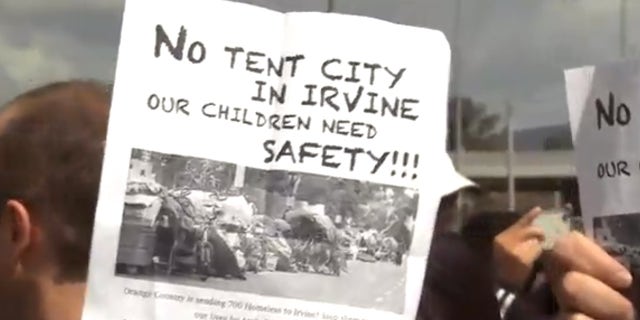 Hundreds of residents held a rally Sunday at the park to voice their opposition to the proposal and implore the county to consider a more permanent solution to the problem.
"I'm OK with helping homeless, but we need to solve the problem, not move the problem from one city to another," one resident told FOX11.
Besides the prospect of having a large homeless population take up space near a park, the land officials want to use is still contaminated from its prior use as Marine Corps Air Station El Toro, residents say.
COMMUNITY FIGHTS BACK AS CALIFORNIA OVERRUN BY HOMELESSNESS, HUMAN WASTE, NEEDLES
"It's not like we're moving them into a shelter, per se. They're basically picking up their tents and putting them on land that's actually contaminated. There's no running water, no electricity and no sewer system," another resident told FOX11.
Homeless advocates also oppose the Santa Ana River plan.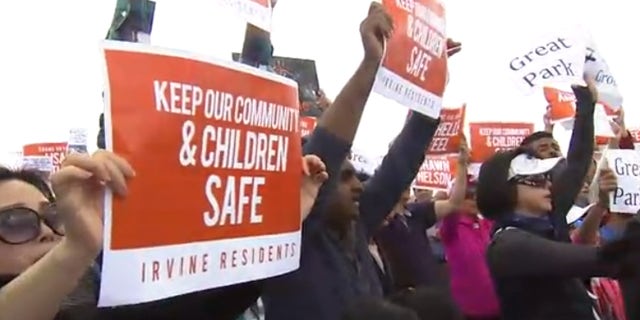 "We certainly wouldn't support anything that didn't include bathrooms and showers," Brooke Weitzman told FOX11. "Without those, no one is better off than they were in the river bed."
Irvine Mayor Donald Wagner said Friday the board has placed an item on the agenda for Tuesday's board meeting to rescind the proposal, after "nonstop efforts by the Irvine community, City Council and staff."
"Fortunately, a majority of the Board of Supervisors appears to recognize that the Irvine location for its tent city is not fit for human habitation and unacceptably close to homes, schools and parks," Wagner said. "The City Council awaits a definitive vote by the Board on Tuesday, and remains as willing as always to help coordinate a collaborative solution to the countywide crisis of homelessness in a permanent, humane way. The City of Irvine is eager to be a part of that solution."
Besides the Irvine location, the county may also choose to open two additional temporary homeless shelter locations in Laguna Niguel and Huntington Beach.
SAN DIEGO PAYS HOMELESS PEOPLE TO PICK UP TRASH IN NEW PROGRAM
During a court hearing last week, U.S. District Judge David O. Carter said he won't constrain the county to three locations in the proposed plan, but wants to see officials create emergency shelters, the Orange County Register reported. Carter is overseeing a lawsuit against the county from seven homeless plaintiffs over the action to clear the tent city on the Santa Ana riverbed.
While the county may scrap the proposal later this week, Orange County Supervisor Shawn Nelson told FOX11 that without a homeless plan in place, the judge may not allow any city in Orange County to enforce their overnight camping or trespassing laws, which could lead to homeless people being allowed to have their choice of locations to start a new encampment.