Hawaii volcano's 'explosive' eruption sends ash plume soaring, prompts warning
HILO, Hawaii – An "explosive" eruption from Hawaii's Kilauea summit sent a plume of ash soaring 30,000 feet into the air Thursday morning, filling the air with the stench of sulfur dioxide as residents nearby are being urged to shelter in place.
The National Weather Service issued an ashfall advisory in effect until 8 a.m. Friday. USGS Volcanoes reported the explosion around 5 a.m. local time, showing photos at the Halemaumau crater that captured volcanic ash billowing out.
Local residents on the Big Island told Fox News they heard a loud explosion just before dawn.
Connie Carter, who lives near Pahoa told Fox News her mother "felt tiny pebbles hitting the roof."
"She thought it was the rain at first."
Carter called the eruption "explosive" but warned that "it wasn't the big one - the biblical one, that one is coming."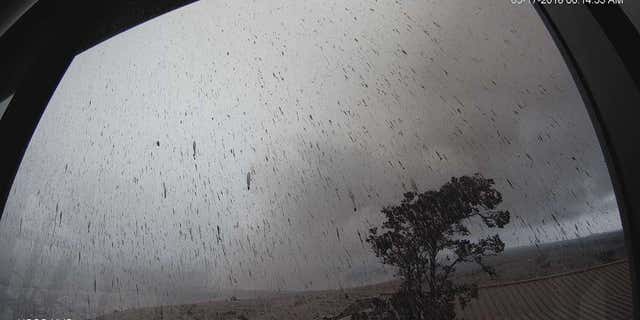 Officials said wind could carry the ash toward the southeast and told residents to shelter in place and avoid driving, due to low visibility and slick roads. The ash dusted the area surrounding Volcano National Park, which has been closed since May 11, with rain and vog -- ash combined with volcanic smoke -- making it hard to see.
Hawaii officials and residents have been bracing for the potential for "larger explosions" to come nearly two weeks after one of the world's most active volcanoes began erupting. The volcano summit and neighboring communities were hit on Wednesday with at least 125 shallow quakes that caused minor road and building damage.
Michelle Coombs, of the Hawaiian Volcano Observatory, said the explosion, though powerful, was short-lived. She also stressed the possibility of steam-induced eruptions in the coming days.
"It's a real dynamic situation up there," Coombs told reporters Thursday. "The one this morning is definitely the biggest we've seen so far."
USGS on Tuesday updated its previous volcano warning from "orange" to "red" to signify an imminent eruption was forecast "with significant emission of ash into the atmosphere likely." On Tuesday, a large ash plume was also captured filling the sky as people were seen on the golf course teeing off.
HAWAII VOLCANO ERUPTION INTENSIFIES, TRIGGERING 'RED' WARNING
Sandra Barnes, in Hilo, told Fox News she had to stop to take a picture of the mesmerizing ash cloud Wednesday.
"That was a few hours ago. God knows what it looks like now. My kids and my mother are up there now," Barnes said.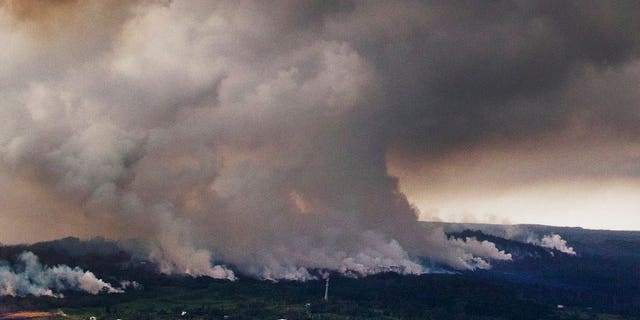 "We're not sure if it's safe, but it's amazing," Paul Rodaeo, a visitor from Oregon, said. "There really isn't much more that's open."
The Hawaii Volcano Observatory also reported "dense ballistic blocks" up to 2 feet across were found in the parking lot a few hundred yards from the Halemaumau pit crater. "These reflect the most energetic explosions yet observed and could reflect the onset of steam-driven explosive activity," it explained.
"Deflation is ongoing," scientists added, referring to the "deflation" of Kilauea's caldera, or "lava bowl." A BBC report noted this causes stress on the volcano's base, fueling eruptions.
On Monday, another fissure spewing lava and unhealthy gas opened up, and a crack in the Earth that emerged a day earlier was sending molten rock on a slow run for the ocean, officials said.
The bright-red lava spewing from the volcano has destroyed at least 36 structures, including 26 homes. Nearly 20 fissures have opened, prompting hundreds to evacuate the area in the last 14 days.
The Associated Press contributed to this report.