Hawaii volcano generates fast-moving lava causing new evacuations, shuts major road
NEWYou can now listen to Fox News articles!
Hawaii's Kilauea volcano generated a fast-moving lava flow that shut down a major road on Tuesday, leaving only one way out of the area and spurring a new round of evacuation orders.
Hawaii Civil Defense said that Highway 132 has been being shut down between Lava Tree State Park to Four Corners, due to a "fast moving lava" flow approaching the highway. The closure now means that there is only way to access the lower Puna area of the island.
A separate lava flow from fissure 8 is also "advancing rapidly" towards an older lava flow heading towards the Puna Geothermal Venture access road.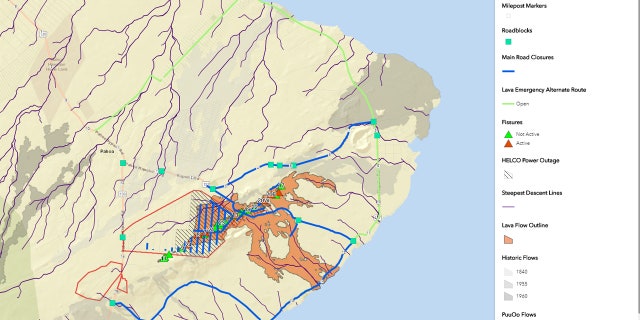 The lava flows on Tuesday came a day after Hawaii County officials knocked on doors on several streets in the Leilani Estates subdivision alerting residents to flee. Evacuation orders were issued Monday evening for anyone in the area east of Pomaikai Street to avoid being isolated by the flow.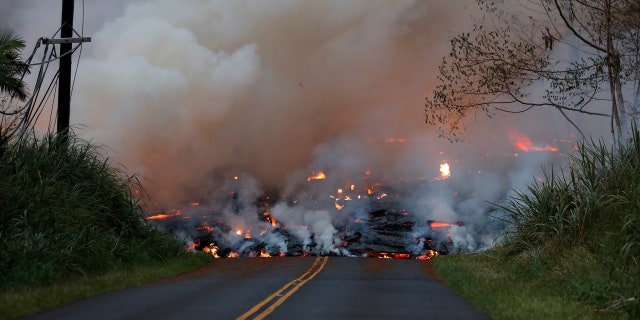 Firefighters had to rescue a man whose driveway was covered by the fast-moving lava flow and had to be guided out on foot using a back way, Hawaii News Now reported.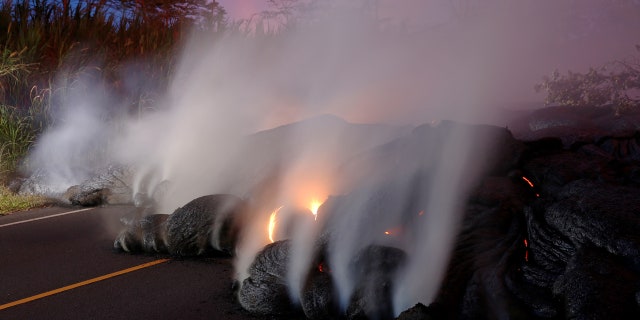 "His only way out was through his back door and through the forest," Hawaii County Civil Defense administrator Talmadge Magno told Hawaii News Now. "Kind of disturbingly, some people just refused to leave and so it kind of gives us terrifying insight into what's going on out there."
HAWAII VOLCANO 'NOT SAFE' TO ROAST MARSHMALLOWS OVER, USGS SAYS
Magno said the incident showed why residents in the area needed to heed evacuation orders. The man reported no injuries, and turned down medical treatment, authorities told the news outlet.
The Pacific Tsunami Warning Center on Oahu reported that a 4.4 magnitude earthquake shook the Hilina region of Kilauea volcano, southwest of the estates, but was not strong enough to generate a tsunami.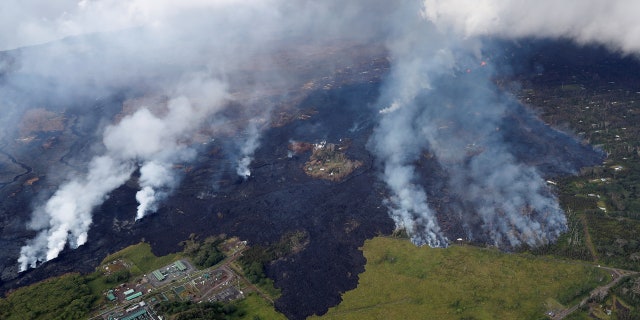 Lava has oozed over two wells at the Puna geothermal power plant, but county officials said the flow stopped. Officials said there was no release of any dangerous hydrogen sulfide gas after lava crept over the plugged wells.
As of Friday, officials said that the lava has destroyed 82 structures, including 37 homes.
The Associated Press contributed to this report.