Hawaii volcano eruption spews lava across Big Island: What to know about fissures, evacuations and more
Fiery rivers of black, chunky lava continue to creep across Hawaii's Big Island after the eruption of the Kilauea volcano -- a blast responsible for the destruction of more than two dozen homes and the evacuation of hundreds of people.
According to Hawaiian officials, there's no indication when the lava flow will stop.
"There's no sign of slowing down," Hawaii County Civil Defense Administrator Talmadge Magno said Sunday. "We had some pauses yesterday, but it seems like there's a lot of magma under the ground."
So far, lava has spread around 387,500 square feet surrounding the most active fissure.
HAWAII VOLCANO SHOWS 'NO SIGN OF SLOWING DOWN,' DESTROYS DOZENS OF HOMES
"There's more magma in the system to be erupted. As long as that supply is there, the eruption will continue," U.S. Geological Survey volcanologist Wendy Stovall said.
Here's everything we know about the Hawaii volcano eruption.
When did the eruption start?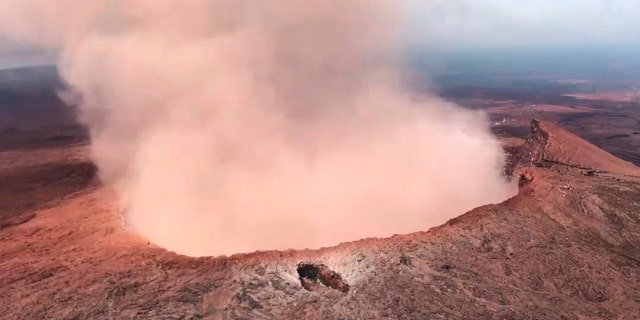 The Kilauea volcano erupted May 3 — days after earthquakes rocked the Puna district of the Big Island.
The crater floor began to collapse April 30, triggering earthquakes and pushing lava into new underground chambers that carried it toward nearby communities. A magnitude-6.9 earthquake — Hawaii's largest in more than 40 years — hit the area on May 4.
Lava then began to slowly flow through the Leilani Estates subdivision, destroying dozens of homes. There are about 770 structures in the neighborhood.
What do we know about the Kilauea volcano?
Kilauea is one of five volcanoes on Hawaii. It's the youngest, southernmost and among the most active volcanoes on the island, according to the USGS.
For a while, some thought the volcano was just a part of the Mauna Loa volcano.
"However, research over the past few decades shows clearly that Kīlauea has its own magma-plumbing system, extending to the surface from more than" 37 miles deep, the USGS explains on its website.
HAWAII'S VOLCANIC ERUPTION HAS DESTROYED AT LEAST 26 HOMES, OFFICIALS SAY
In the past 66 years, the volcano has erupted a shocking 34 times. Most of Kilauea's activity has been nonexplosive, but a 1924 eruption spewed ash and 10-ton rocks into the sky, leaving one man dead.
What are volcanic fissures?
At least 11 fissures have opened up since Kilauea started spilling out lava.
So, what exactly is a fissure? A fissure is an opening or crack in the ground that's created by the volcano, allowing molten rock, toxic gas and steam to burst through the opening.
"On volcanoes, a fissure is an elongate fracture or crack at the surface from which lava erupts. Fissure eruptions typically dwindle to a central vent after a period of hours or days," the USGS says.
How many people have been evacuated?
More than 1,700 residents living in Leilani Estates have been evacuated. Hawaii Gov. David Ige also mobilized the Hawaii National Guard to assist with evacuations and security.
"Authorities on scene will determine what areas will be safe for [residents] to enter. Please be aware that because of unstable conditions that involve toxic gas, earthquakes and lava activities, lines of safety can change at any time," the Hawaii County Civil Defense said in an online statement May 6.
VOLCANIC ERUPTIONS LIKE THE ONE IN HAWAII, ARE NOT NATURAL DISASTERS -- WITHOUT THEM THE EARTH WOULD EXPLODE
Residents can stay up-to-date with warnings, closures and other information by signing up for alerts here.
How long will the eruption continue?
Volcano officials in Hawaii say there is no way to predict how long this latest eruption on Kilauea volcano will continue. Asta Miklius, a geophysicist with the U.S. Geological Survey Hawaiian Volcanoes Observatory, says how long it will last will depend on whether the summit magma reservoir gets involved.
How can I help?
Instead of dropping off food or other items in-person at local shelters, officials ask you to call the Salvation Army to see what residents need and how to help: 808-756-0306
The American Red Cross of Hawaii is also accepting donations and explains how you can help on its website. The Red Cross said on Twitter that it has opened a shelter at Keaau Community Center.
According to Hawaii News Now, locals have also set up a makeshift shelter along Highway 130 for those who wish to drop off products for evacuees.
The Associated Press contributed to this report.