Hawaii lawmaker pounded for taking sledgehammer to homelessness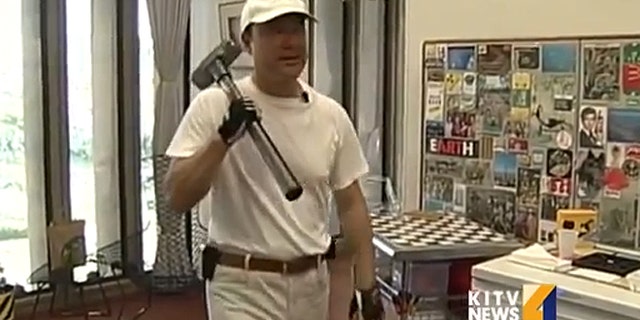 NEWYou can now listen to Fox News articles!
A Hawaii lawmaker whose solution to dealing with the state's homeless problem was to take a sledgehammer to shopping carts says he's putting aside the hammer -- for now.
State Rep. Tom Brower, a five-term Democrat who represents Waikiki and Ala Moana, had been going block by block during his spare time in search of stray shopping carts used by the state's estimated 17,000 homeless people, smashing them to pieces. The tool-toting legislator, who says he's "disgusted" with people who live on the street, reportedly smashed 30 carts in the past two weeks.
But after the lawmaker began receiving complaints about the practice, he agreed to hold off on the hammering, Hawaii News Now reports.
[pullquote]
"I guess I shouldn't use the sledgehammer because it's a really loaded image," he told the outlet.
Incredulous advocates of the homeless say simply hating on them won't solve the problem — and speaks volumes about the man swinging the hammer.
"It comes from a sense of discomfort and a fear of are we, ourselves, at risk of falling into destitution?" said Jerry Jones, executive director of the National Coalition for the Homeless. "Poverty and destitution make average people like you and me uncomfortable."
Brower, who did not respond to several messages from FoxNews.com seeking comment early Wednesday, insists he doesn't want to threaten anyone, however.
"I think it's threatening to steal things and then walk around with them like it's their own," he told UPI.
The longtime lawmaker said he also has been known to awaken homeless people he catches sleeping during daytime hours.
"If someone is sleeping at night on the bus stop, I don't do anything," Brower told the Honolulu Star-Advertiser. "But if they are sleeping during the day, I'll walk up and say, 'Get your a-- moving.'"
His methods may have lacked compassion, but Brower is right about one thing: Hawaii has a big homeless problem. The state Department of Human Services tried a different approach earlier this year, with an offer to buy one-way tickets to the mainland for homeless people from out of state. But the plan was scrapped in August, deeming it too costly.
In 2012, five states accounted for nearly half of the United States homeless population, led by California (20.7 percent), New York (11 percent) and Florida (8.7 percent), according to according to the National Alliance to End Homelessness. But on a per capita basis, Hawaii is second only to the nation's Capitol, with a rate of 45.4 homeless people per 10,000.
Nan Roman, president and CEO of the National Alliance to End Homelessness, called Brower's approach unacceptable, and questioned his legal authority to destroy shopping carts and the possessions in them.
But Honolulu Police spokeswoman Michelle Yu said Wednesday that no reports involving Brower had been received to date.
"If someone did call 911, we would send an officer and he or she would assess the situation and determine what criminal case, if any, should be made," Yu told FoxNews.com.