Hand of Lincoln: Abe's note saving teen soldier up for sale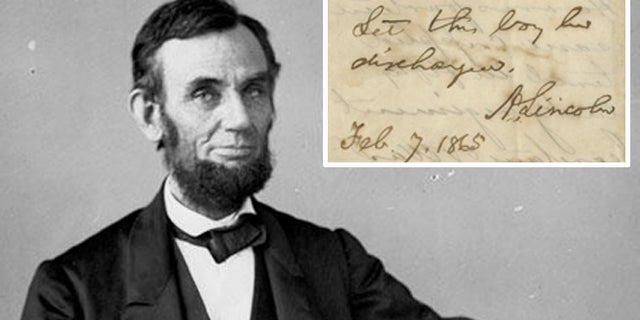 A hastily scrawled note by President Abraham Lincoln just two months before his assassination ordering a disabled 14-year-old boy released from the Army in response to a plea from the boy's father went on sale Thursday in Philadelphia.
The message saying "Let this boy be discharged," and signed A. Lincoln was written on a telegram from Col. Thomas W. Harris about his son, Perry. It had been in a private collection and was valued at $15,000 by Nathan Raab of the Raab Collection, which offered the previously unknown document for sale.
The letter is considered rare because there are few Lincoln documents relating to children.
Lincoln's order came just two months before he was assassinated by John Wilkes Booth at Ford's Theatre on April 15, 1865. Ironically, Perry Harris was discharged from the Army the same day.
"It shows the type of person [Lincoln] was and how he was defined by clemency," Raab told FoxNews.com. "When you see it's involving a father and his son, it strikes a personal chord and likely did for Lincoln. He was a father of four who lost all but one of his sons."
Harris sent his telegram on Feb. 6, 1865, to Illinois Sen. Lyman Trumbull and Gen. John M. Palmer, pleading, "My son Perry Harris 14 years old insane crippled has been mustered in 55th Kentucky regiment. Please have Secretary of War order him discharged. Col. Thos. W. Harris of Shelbyville, Ill."
[pullquote]
Perry had enlisted in the Union Army one month earlier without his parents' blessing. The nature of his disability was not clear, but the minimum enlistment age during the Civil War was 18. Many boys, however, lied about their ages to join the army.
Harris' request wound up on Palmer's desk, and he passed it along to Lincoln with his personal endorsement, writing on the telegram, "I have no doubt of the truth of this statement. John M. Palmer."
Lincoln responded by writing on the telegram, "Let this boy be discharged."
"Compassion in a leader is a rare quality, especially during a horrific war," Edward Steers Jr., a historian who has written extensively on Lincoln and his assassination, told Fox News.
"Lincoln had lost his mother when he was 9 years old, his only sister and close friend when he was 20, his son Eddie in 1850, and his son Willie within a year of occupying the White House. Feeling grief so many times, Lincoln came to understand it better than most people."
"Lincoln's compassion during the Civil War is legendary, as are stories about him showing it toward soldiers, many of whom were little more than children," Raab said. "This stems from his great empathy, but also from his own experience. Nowhere is Lincoln's character on more vivid display than in his leniency toward the boys who had enlisted in the war."
While today there seems little chance of getting a letter directly to the president's desk, Lincoln made himself available to constituents.
"It's hard to imagine sending a letter to the offices of Bush or Obama," Raab said. "But letters often reached Lincoln's desk. He also had office hours and the people could go right in and see him. They were different times."
FoxNews.com's Jana Winter contributed to this story.