Hallmark nixes 'gay' from Christmas carol lyric on ornament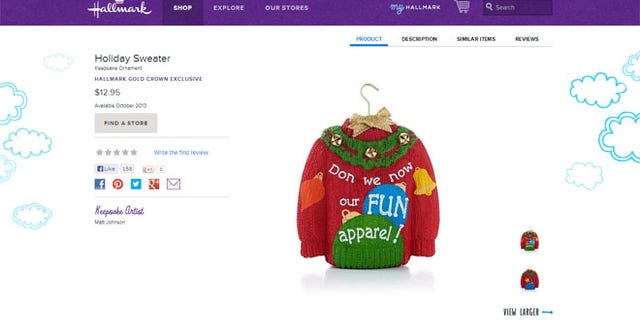 Hallmark, the Kansas City greeting card company, edited the lyrics of "Deck the Halls" on one of its 2013 ornaments to omit the word 'gay' and has received criticism on its Facebook page that puts the company in an unfamiliar position of defending a product.
The original carol verse goes: "Don we now our gay apparel." But Hallmark's version, which appears on a Christmas ornament designed as an ugly Christmas sweater goes: "Don we now our FUN apparel."
[pullquote]
The company's Facebook page has received posts criticizing the decision to change the lyric. One post read, "Hallmark is insinuating that gay people dress differently than anyone else. If I were gay, I would be more upset with that."
A woman who described herself as a Gold Crown Rewards member, posted that by changing the lyric, the company made an unnecessary political statement.
The ornament, which was reportedly designed by Matt Johnson, a keepsake artist, was described on Hallmark's website as an ornament that can "make your tree's outfit complete."
"With its catchy phrase, Don we now our FUN apparel! everyone will be in on the joke," the website's description reads.
The company, which is more known for apolitical greeting cards wishing a boss a happy retirement, issued a statement to media outlets explaining the history of the song dating back to the 1880s, a time "when "gay" meant festive or merry."
"Today it has multiple meanings, which we thought could leave our intent open to misinterpretation," the statement said. "The trend of wearing festively decorated Christmas sweaters to parties is all about fun, and this ornament is intended to play into that, so the planning team decided to say what we meant: "fun." That's the spirit we intended and the spirit in which we hope ornament buyers will take it."