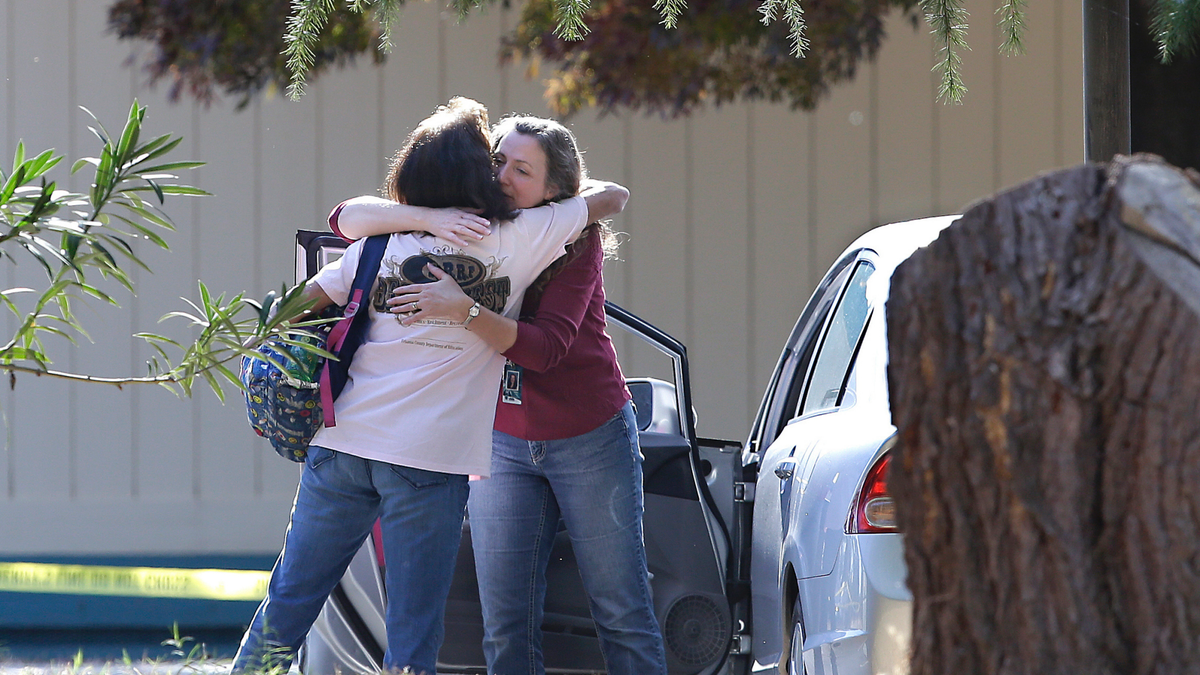 RANCHO TEHAMA RESERVE, Calif. – A Northern California man killed two neighbors with whom he had been feuding before he went on a shooting rampage Tuesday at apparent random sites — including an elementary school that successfully locked him out — in a series of attacks where he killed two more people and injured 10 before police fatally shot him, officials said.
Police said surveillance video shows the shooter unsuccessfully trying to enter a nearby elementary school after quick-thinking staff members locked the outside doors and barricaded themselves inside when they heard gunshots.
Tehama County Assistant Sheriff Phil Johnston said the gunman spent about six minutes shooting into Rancho Tehama Elementary School before driving off to continue shooting elsewhere. Johnston said one student was shot and injured and is expected to survive.
"It was a bizarre and murderous rampage," Johnston said.
He said the 45-minute spree ended when a patrol car rammed the stolen vehicle the shooter was driving and killed him in a shootout. Johnston said the shooter was facing charges of assaulting one of the feuding neighbors in January and that she had a restraining order against him.
"I think the motive of getting even with his neighbors and when it went that far — he just went on a rampage," Johnston said. He said there was a "domestic violence" report Monday involving the gunman, but didn't provide any further details.
At least one of the victims has life-threatening injuries, he said.
Johnston declined to identify the shooter until his relatives were notified, but he confirmed the gunman was charged with assault in January and had a restraining order placed against him. The district attorney, Gregg Cohen, told the Sacramento Bee he is prosecuting a man named Kevin Neal in that case.
Neal's mother told The Associated Press he was in a long-running dispute with neighbors he believed were cooking methamphetamine.
The mother, who spoke on condition she be named only as Anne, lives in Raleigh, North Carolina, where she raised Neal. She said she posted his $160,000 bail and spent $10,000 on a lawyer after he was arrested in January for stabbing a neighbor. Neal's mother said the neighbor was slightly cut after Neal grabbed a steak knife out of the hand of the neighbor who was threatening him with it.
She wept as she told The Associated Press she spoke to Neal on the phone on Monday.
"Mom it's all over now," she said he told her. "I have done everything I could do and I am fighting against everyone who lives in this area."
She said Neal apologized to her during their brief conversation, she thought for all the money she had spent.
He also told her that "Mom you know what, my whole life you gave me such a good happy life and nobody could have a better mother than I had."
Then he said:
"All of a sudden, now I'm on a cliff and there's nowhere to go. No matter where I go for help here I get nobody who will help me. All they are doing is trying to execute me here."
She said until recently Neal seemed content living in the rural neighborhood of modest homes and trailers and he grew marijuana on his property. Recently she said he began complaining about failing health he attributed to the nearby methamphetamine labs.
Neal's sister, Sheridan Orr, said the family was trying to reach the sheriff's department Tuesday evening but still had not been notified. She said her brother had struggled with mental illness throughout his life and at times had a violent temper.
"We're stunned and we're appalled that this is a person who has no business with firearms whatsoever," Orr said. "Our deep, deep sympathy for the victims and it sounds trite but our hearts are breaking for them."
Brian Flint told the Record Searchlight newspaper Tuesday that his neighbor, whom he knew only as Kevin, was the gunman and that his roommate was among the victims. He said the shooter stole his truck.
"The crazy thing is that the neighbor has been shooting a lot of bullets lately, hundreds of rounds, large magazines," Flint said. "We made it aware that this guy is crazy and he's been threatening us."
The shootings occurred in the rural community of Rancho Tehama Reserve, a homeowners association in a sparsely populated area of rolling oak woodlands dotted with grazing cattle about 130 miles north of Sacramento described on its website as a "quiet private country community" where "the people are friendly and the pace is relaxed."
Johnston said officials received multiple 911 calls about gunfire at an intersection of two dirt roads. Minutes later, more calls reporting shots flooded in from different locations, including the school.
Witnesses reported hearing gunshots and children screaming at the school, which has one class of students from kindergarten through fifth grade.
Johnston said the shooter was armed with a semiautomatic rifle and two handguns at seven locations. He said another weapon was seen in one of the vehicles he drove but hadn't been recovered yet.
Salvador Tello said the gunman fired at a truck in front of him as he went to drop off his three children at school. Tello said he was about three blocks from the school when bullets made "big holes" in the truck.
He said he forced his children to duck down, slammed his vehicle into reverse and headed to the children's grandmother's house.
"I put my kids down and put my truck in reverse and went out," he said. "I don't believe it, because I wake up, take my kids, feed them cereal and put them in the truck and say, 'Let's go to school like a normal day.'"
___
Elias reported from San Francisco. Associated Press writers Jocelyn Gecker, Janie Har and Olga Rodriguez in San Francisco, Michael Balsamo in Los Angeles and researcher Rhonda Shafner in New York also contributed to this story.