Gulf Shrimp Called Safe to Eat, But Fears Linger That Oil Spill May Hurt Seafood's Future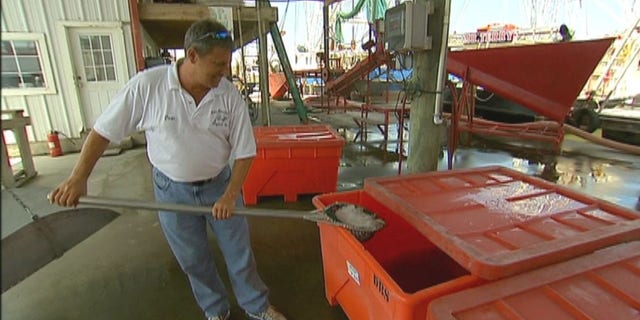 NEWYou can now listen to Fox News articles!
More fresh shrimp from the Gulf of Mexico is ready to be served in kitchens across the country, according to a federal agency that has opened thousands of square miles of water it deems free of contaminants from last year's oil spill.
"We are trying to get the message out. It's easy to damage consumer confidence, and it's hard to rebuild that," said Christine Patrick, a spokeswoman for the National Oceanic and Atmospheric Administration (NOAA), which opened up 4,123 square miles of federal water for the harvesting of one particular type of shrimp, Royal Red.
Gulf shrimpers say the reopening won't make much of a splash in their sales, with Royal Red accounting for less than 2 percent of all shrimp caught in the region. A much bigger concern for many shrimpers is the possible longer-term contamination of shrimp and fish populations.
Safe shrimp today doesn't necessarily mean safe shrimp tomorrow, many believe.
"You don't know what to think, you don't know what to do, this thing has never happened before," said Dean Blanchard, owner of Dean Blanchard Seafood Company, one of the largest buyers of shrimp in the United States. Blanchard's sales dropped 90 percent after the Gulf spill. He said there's nothing he can do now but wait. "We're just hanging in there and trying to see what happens."
The BP oil spill that left at least 205 million gallons of oil in Gulf waters devastated the fish and shrimp industry, and caused concern for fish lovers across the nation. Patrick maintained that concern may be overstated. "Testing is showing that the seafood from all over the Gulf, all species, all from the water column are testing clean, not by a small margin -- by a huge margin."
Others still question just how safe fish will be in the future.
"Sure, this year's crop might be fine and safe. But these could've hatched before the oil spill happened. But who knows what the next crop will be," said Marilyn Solorzano, owner of Miss Marilyn Louise Shrimp Company.
Dr. Julie Olson, at the University of Alabama's Department of Biological Sciences, agreed there are many questions about the future of Gulf shrimp: Will they have effectively reproduced healthy shrimp? Will that offspring be as capable of surviving and reproducing? Will they have some type of genetic defect? But the biggest question remains: Will they be safe to eat?
Dr. Olson is not convinced. "I'm still not convinced that there are not some longer-term health effects, and that I would say don't completely avoid seafood, but I would probably recommend to eat in moderation."
And what about the millions of gallons of oil remaining in the Gulf after cleanup efforts? "The jury is still out, at least in my particular opinion, as what happened to all of that oil. The government has said that it's gone. I'm not comfortable with the data suggesting that it's all gone," Dr. Olson said.
There are plenty of questions about the Gulf's future; and business owners, like Dean Blanchard, are left restlessly waiting for answers. "Every night when you go to bed, it's what you think about. How you're going to support your family, how you're going to support your workers, it's all you think about."