Guide to fatal shooting of unarmed black man by Tulsa police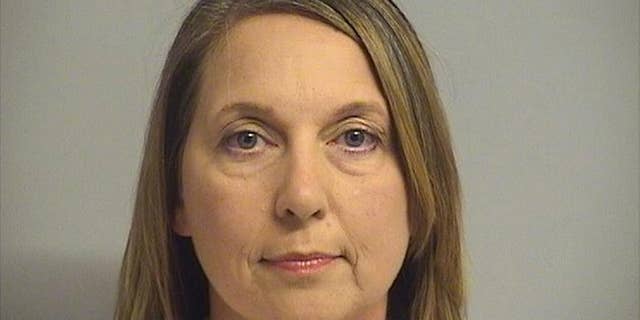 NEWYou can now listen to Fox News articles!
TULSA, Okla. – A white Oklahoma police officer has been charged with manslaughter in the fatal shooting of an unarmed black man whose vehicle broke down in the middle of a Tulsa street. If convicted, Betty Shelby faces a minimum of four years in prison.
Prosecutors allege that Shelby "reacted unreasonably" when she opened fire Sept. 16 on 40-year-old Terence Crutcher. The charges were filed just days after the release of dashcam and aerial footage, 911 calls and police radio traffic. Here's a look at key elements of the case:
___
THE VIDEOS
Authorities provided two videos — one from a police helicopter and the other from another officer's dashboard camera. Both show Crutcher walking with his hands in the air toward his stopped SUV, which is straddling the center line. A female officer is following him.
As Crutcher approaches the driver's side, more officers walk up and Crutcher appears to lower his hands and place them on the vehicle. A man inside a police helicopter overhead says: "That looks like a bad dude, too. Probably on something."
The officers surround Crutcher and he suddenly drops to the ground. Someone on the police radio says, "I think he may have just been tasered." Almost immediately, a woman's voice yells on the radio, "Shots fired!" Crutcher is left lying on the pavement.
The officers slowly back away. Crutcher, his white shirt stained with blood, lies on the ground for nearly two minutes before an officer begins to examine him. Emergency medical responders arrive about four minutes after the gunfire.
A preliminary autopsy report showed that Crutcher died from a gunshot wound to the chest. Toxicology results are not yet complete, according to the state medical examiner.
___
THE OFFICER'S ACCOUNT
Shelby, who is free on bond, has not spoken publicly about the shooting. Her attorney, Scott Wood, has said Crutcher repeatedly ignored Shelby's commands and did not respond to her questions.
Wood said Shelby, who has completed drug-recognition training, thought Crutcher might be under the influence of PCP. The officer was also concerned about Crutcher repeatedly reaching toward his pockets because a person with a weapon often touches it to make sure it's still there, Wood said.
The attorney said the officer drew her handgun after Crutcher walked toward the police car's passenger side and started to put his hand in his left pocket.
Another officer arrived and drew his stun gun, the lawyer said, adding that the stun gun and handgun were fired simultaneously because both officers perceived the same threat.
Wood said Crutcher's head was tilted but his eyes were on Shelby. She opened fire when Crutcher's "left hand goes through" the SUV window, he said.
___
THE CRIMINAL CHARGES
Shelby was charged with first-degree manslaughter. She surrendered early Friday and was released on $50,000 bond. An affidavit alleges that she became "emotionally involved to the point that she overreacted" and escalated the situation with Crutcher.
"I do not know why things happen in this world the way they do," Tulsa County District Attorney Steve Kunzweiler said. "We need to pray for wisdom and guidance."
First-degree manslaughter covers killings that happen in the "heat of passion." In a separate case, a Tulsa reserve deputy who last year killed an unarmed suspect after mistaking his handgun for his stun gun was charged with second-degree manslaughter, which addresses "culpable negligence." Robert Bates is serving a four-year prison term.
___
THE POLICE STATEMENTS
Tulsa Police Chief Chuck Jordan has said that Crutcher did not have a gun on his body or in his SUV. A police spokeswoman initially told reporters that Crutcher refused requests to put his hands in the air. After the footage suggesting otherwise was released, spokeswoman Jeanne MacKenzie said she was relying on reports from officers.
Authorities have held back many details, citing the investigation, but police confirmed the discovery of PCP in Crutcher's vehicle and that Shelby was carrying a stun gun but did not use it.
___
THE FAMILY'S POSITION
The family and their attorneys say the video clearly shows Crutcher wasn't threatening the officers. The attorneys also provided an enlarged photo from the police footage that appears to show the SUV's window rolled up, which would contradict Shelby's claim that Crutcher was reaching inside his vehicle.
Whether Crutcher possessed or used drugs is also irrelevant, the lawyers said.
"If a case like this with clear video can't be appropriately dealt with justly, then what case can be?" attorney Damario Solomon-Simmons has said. "Once people lose hope in our justice system, everything else falls down."
___
THE CONTRAST WITH CHARLOTTE
The swift action in Tulsa stands in contrast to Charlotte, North Carolina, where police have refused to release video of the fatal shooting of Keith Lamont Scott, another black man, and the National Guard was called in after violent protests. Demonstrations in Tulsa since Crutcher's death have been consistently peaceful.
Tulsa Mayor Dewey Bartlett praised the police department for quickly providing evidence to the district attorney.
"These are important steps to ensure that justice and accountability prevails," Bartlett said.