EXCLUSIVE - Guccifer, the Romanian hacker who first revealed to the world that Hillary Clinton used a non-secure private email address while serving as secretary of state, has reached out to Fox News from behind prison bars in Arad, Romania to argue that he shouldn't be sent back to the U.S. to serve another jail sentence.
Marcel Lehel Lazar, 45, known by his famous moniker "Guccifer," told Fox he wants to stay in a Romanian prison and not be returned to America to serve his 52-month sentence for U.S. computer hacking crimes involving unauthorized access to a protected computer and aggravated identity theft.
Lazar made a series of calls to Fox Senior Executive Producer Pamela Browne from the prison where he is finishing his seven-year sentence for hacking crimes committed in his native country. After giving permission to be recorded by Fox, Lazar said he has an upcoming mid-August court hearing in Timisoara, the third largest city in western Romania, and will ask judiciary authorities to allow him to serve his U.S. and Romanian sentences concurrently in his country.
His wife and family live near the prison.
Lazar does not deny he hacked over 100 Americans, including Clinton confidant Sidney Blumenthal, former Secretary of State Colin Powell, and members of the Bush family using Russian proxy servers because they were "the fastest."
In the midst of the highly contentious U.S. presidential campaign, on March 31, 2016, Lazar was extradited to the U.S. from his Romanian cell. Meanwhile, the FBI was pursuing its criminal investigation into Hillary Clinton's use of a non-secure private server and multiple non-government issued devices while she served as secretary of state. The timing for Lazar's extradition remains striking in the overlap of the cases.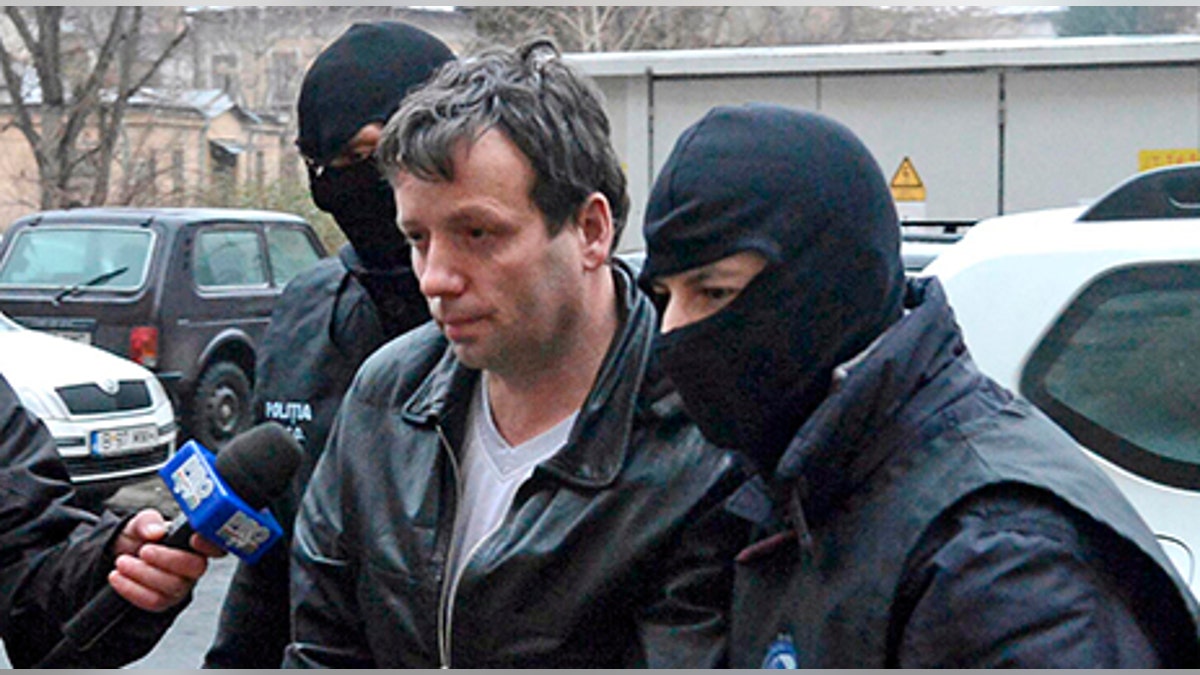 Indeed, the summer of 2016 was a 'summer of hacking' and to this day, Guccifer's hacking remains at the epicenter.
After he pled guilty to two of the nine counts against him, Lazar was sentenced on September 1, 2016 to 52 months by U. S. District Court Judge James C. Cacheris, who noted that Lazar was cooperative with U.S. government officials, including the FBI. Still, the judge imposed a harsh sentence, citing escalated cyberattacks against Americans, the hacking of the Democratic National Committee (DNC), and other revelations by WikiLeaks.
During Lazar's sentencing, Cacheris specifically noted that Romanian prison conditions are much "worse" than in the U.S.
In his wide-ranging new interview, Lazar weighed in on several current events, including a bombshell claim as to why he believes the hackers behind "Guccifer 2.0," who claimed to have hacked into the DNC computer network, are not "the Russians" but instead the "U.S. government." Lazar told Fox the idea came from one his handlers assigned to the State Department during his extradition plane ride to the U.S. in spring 2016.
"Ok, so now, now I think that it is maybe Guccifer two-zero, the State Department, or this guy from the State Department, who is handling my case," he said. "I think it was more like they were planning this. I mean they, this guy from the State Department."
"So I think Guccifer two-zero is an inside job," Lazar added. "I think Guccifer two-zero is something made from some guys at the State Department. Some guys from the cyber command of the NSA, and some guys from the Vault, Vault 7 of the CIA. So there are these guys, you know Pam, I'm in this business for sort of 15 years now, this is my take on this whole. They were setting up something of Guccifer two-zero. Because the State Department guy was asking me, 'What is your opinion,' or something like this, 'what do you say if another Guccifer is showing up?'
"And I said, 'You know something, I expect that not one, but one hundred Guccifers will show up.'"
Lazar has made repeated claims to Fox News that he had successfully breached Clinton's private server. In May 2016, he made the same claims to NBC News. Today, Lazar still adamantly maintains that he breached Clinton's server in Chappaqua, New York despite a denial by former FBI Director James Comey. In a House hearing on July 7, 2016, Comey, responded to a question from Rep. Blake Farenthold, R-Texas, that Lazar lied about hacking into Clinton's server. Comey said, "He did not. He admitted that was a lie," but added: "We do assess that hostile actors gained access to the private commercial email accounts of people with whom Secretary Clinton was in regular contact from her personal account."
The FBI's files on the case showed that Clinton's private server was targeted immediately after "IP addresses from Russia and Ukraine attempted to scan the server on March 15, 2013, the day after the Blumenthal compromise, and on March 19 and March 21, 2013."
According to Lazar's highly redacted FBI 302 witness summary, reviewed by Fox News, Lazar hacked Blumenthal in March 2013. He said it only took him 20 minutes to get inside Blumenthal's AOL account. Once inside, "Lazar recalled that Blumenthal's account contained approximately 30,000 emails, which took him approximately six to seven hours to sort and review. Lazar downloaded approximately 25 attachments that were contained in the emails, including memorandums and briefing documents. He recalled that some of those attachments were official memos between Blumenthal and Clinton. Additionally, Lazar took screenshots of other items in the account that he deemed to be of interest. Lazar recalled taking a screenshot of an email that contained information related to the Benghazi incident." On Page 32 Lazar noted, "One of the screenshots captured a list of 19 foreign policy and intelligence memos authored by Blumenthal for Clinton."
It was Lazar's 2013 compromise of Blumenthal's email accounts that sent Clinton's aides into a frenzy of reaction, hammering non-secure Blackberrys. Blumenthal, although not listed by name, was Victim No. 5 in the (Plea Agreement) federal court proceedings against Lazar. The hacking of Blumenthal's account, although not listed by name, was part of Lazar's criminal conviction.
In a controversial July 2016 press conference, the former FBI Director declared that Hillary Clinton and her colleagues were "extremely careless in their handling of very sensitive, highly classified information" and had sent seven e-mail chains which concerned "matters that were classified at the Top Secret/Special Access Program level when they were sent and received." However, Comey said that Clinton's email practices were not criminal.
Lazar also offered Fox a new theory that Clinton's server was compromised as early as 2012 by multiple countries.
"Look, about the server in Chappaqua, in New York state," he said. "That server was scanned well before me. It was scanned 2012, from IP numbers in Serbia, Belgrade, it was scanned again in 2013 from IPs in Ukraine and Russia. The point is, somebody had mirrored, had copied, mirrored the whole server of Hillary Clinton, the question is how many countries. One, two or three? At one point, it was the whole server. I just think, I'm sure some people, I can say some people, I'm sure some people have the server contents."
"It's not the case that it was or it was not mirrored, her server," he said. "The case is how many people did this. How many countries?
Asked if he thought there had been at least three intrusions between 2012 and 2013, Lazar replied, "Yeah. Yeah. In 2012, it was, there were from Serbia, in '13, they were from Ukraine and Russia. I mean this is information from all sources."
Morgan Wright, cybersecurity analyst and senior fellow at the Center for Digital Government, told Fox News, "There is nothing inconsistent about Lazar's statement, given the facts that Mrs. Clinton had a third rate homebrew setup while serving as secretary of state." As a security expert, he added, 'I would have expected it. Mrs. Clinton visited hostile countries with her unsecure devices--including Blackberrys and iPads--and her communications would have been targeted by foreign intelligence agencies."
Fox News spoke to both Romanian and U.S. authorities associated with Lazar's case and upcoming August court hearing. No one would comment on the record, with a State Department spokesman saying to contact the FBI, who declined to comment as did a spokesman for the Eastern District Department of Justice.
Fox was told by multiple sources that there are still outstanding legal matters in Lazar's case.
Recently returning from Romania, Father Chris Terhes, a dual Romanian and American citizen and president of the Romanian Community Coalition in California, said, "Marcel Lazar's attorney contacted us to look into his case."
Terhes was referring to the nearly six months Lazar was held at the William G. Truesdale Adult Detention center in Alexandria, Virginia after his 2016 extradition to the U.S.
He told Fox in email and phone conversations that "Romania refuses to acknowledge the sentence he (Lazar) received in the United States, which is violating his rights and the law. As far as the pretrial detention time he spent in a U.S....this period of time is not acknowledged by either the U.S. or Romania, so he has to serve this time again, which is absurd."
Referring to the Romanian justice system, he added, "what we saw in his (Lazar's) court case in Romania is another proof of how the rights and the law means nothing to many Romanian judges."
Meanwhile, in the U.S. as Special Counsel Robert Mueller expands his investigation into possible ties between President Trump's campaign and Russia, Lazar still remains the only person behind bars who has been connected to the Clinton email affair. Lazar does not believe a Russian connection will be found because, "the Russians are more skillful than this, to let the tracks saved in the documents point to them. So, this is made by the other guys who want to put and point to the Russians."
And as for how President Donald Trump is doing? "People don't give him enough credit...understand-- the guy is not a politician, but he wants the good of his country. Ok."