Group Calls for Libyan Envoy's Removal From Post as U.N. Investigator of Human Rights Violations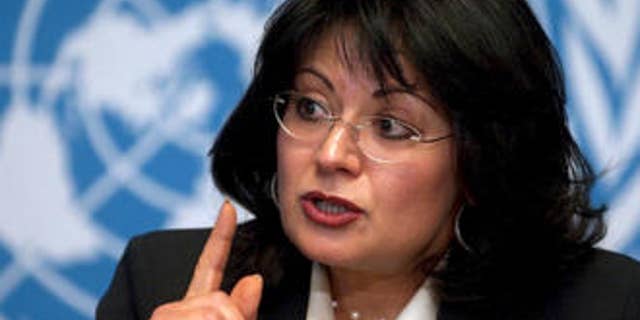 NEWYou can now listen to Fox News articles!
A watchdog group is asking the U.N. to immediately remove a Libyan envoy from her post as an investigator on human rights violations by mercenaries, saying that as a mouthpiece for a regime that's "deploying hired guns to massacre its own people" it's "outrageous" to have her in that position.
Najat Al-Hajjaji has been one of five members of "The Working Group on the use of mercenaries as a means of violating human rights and impeding the exercise of the rights of peoples to self-determination" since its inception in 2005.
Among other things, the group was established to monitor mercenaries and mercenary-related activities around the world, study their impact on human rights, create proposals to further the protection of human rights against threats posed by mercenaries and draft international principles to encourage respect for human rights by companies offering mercenary services, according to the Office of the United Nations High Commissioner for Human Rights website.
But U.N. Watch, an organization that monitors the performance of the United Nations, says Al-Hajjaji should be the "last person" charged with any of those duties – especially now.
"At a time when [Libyan leader Muammar] Qaddafi is using mercenaries to kill his own people, it is outrageous that one of his long-time representatives would sit on the world's highest human rights body as a supposed defender of human rights -- and, of all things, as a defender of victims of mercenaries," U.N. Watch Executive Director Hillel Neuer told FoxNews.com.
But it's not the first time Al-Hajjaji's been in a controversial post.
In 2003 she was elected president of the Human Rights Commission against objections from human rights groups and the U.S.
"It is not appropriate for a nation under U.N. sanctions -- a nation with the horrible human rights record that Libya has -- to be chairman of this commission," then U.S. ambassador, Kevin Moley, said at the time.
As someone who "whitewashed the crimes of the Qaddafi regime" for more than a decade, "she also shouldn't have been the head of the world conference on racism, the Durban II conference, which she chaired for two years," Neuer added.
But Neuer said it would be hard to imagine a position that would be more of an "obscene irony" than her current one.
"Everybody knew she was sitting on this mercenary group and no one said a thing…and the question is why not?"
In a letter sent Monday to UN chief Ban Ki-moon, U.N. rights commissioner Navi Pillay, and UNHRC president Sihasak Phuangketkeow, U.N. Watch demanded that the officials take immediate action to expel Al-Hajjaji. Neuer also urged action in letters sent to U.S. Secretary of State Hillary Clinton and EU Foreign Minister Catherine Ashton.
The Working Group on the use of mercenaries and the Libyan Commission to the U.N. did not respond to requests for comment from FoxNews.com.
Just last week, Libya became the first country ever suspended from the Human Rights Council since it was formed in 2006 for committing "gross and systematic violations of human rights." Neuer said he hopes Al-Hajjaji's role in the mercenary group will meet a similar fate as soon as possible.
"This particular issue underscores a pathology at the U.N. Human Rights Council, where abusers are given the reins of power," Neuer said. "The worst violators of human rights are made the arbiters and world judges of human rights and that's something that's just got to end."