Grand Canyon's North Rim faces limited services at reopening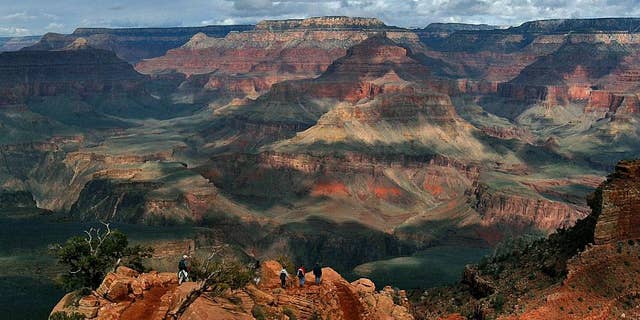 Heavy damage to a pipeline supplying water to lodges, campgrounds and employee housing on the North Rim of the Grand Canyon will limit some services to the landmark's less popular side when it opens later this month, officials said Wednesday.
A natural spring below the North Rim brings water to both sides of the Arizona canyon but through different pipelines. The problems do not affect the South Rim, which is more heavily visited and open year-round.
The North Rim, which closes over the winter because of heavy snow, is set to reopen May 15 despite the water pipeline receiving the worst damage in more than 20 years from rockslides triggered by unusually heavy winter storms, park officials said.
Crews working in steep, rugged terrain have repaired one major break in the line and are making other fixes, though park officials say more breaks could turn up once it's back in use.
Officials said a contractor is using trucks to haul thousands of gallons of water a day from a source in Kanab, Utah, to storage tanks on the North Rim for consumption and a firefighting reserve.
The rim's campground will reopen with potable water and portable toilets and the concessionaire will begin providing limited food and beverage services, park spokeswoman Emily Davis said.
Overnight accommodations normally open at the same time but were pushed back to May 26 because of the pipeline situation, Davis said.
Until it's fully repaired, "there may still be some water conservation measures in effect," Davis said.
Those have not been determined yet but might include no available public laundry facilities, she said.
Maintenance crews discovered that a rockslide on March 14 had taken out more than 300 feet of the pipeline as well as 800 feet of the North Kaibab Trail.
Once that break was repaired, testing of the pipeline uncovered an additional 60 feet missing higher in the canyon.
Helicopters are flying in equipment and replacement piping that crew members assemble into new sections and weld together in rugged terrain, including on the sides of steep cliffs.