Gov. Colyer promises 'new day' for Kansas after taking oath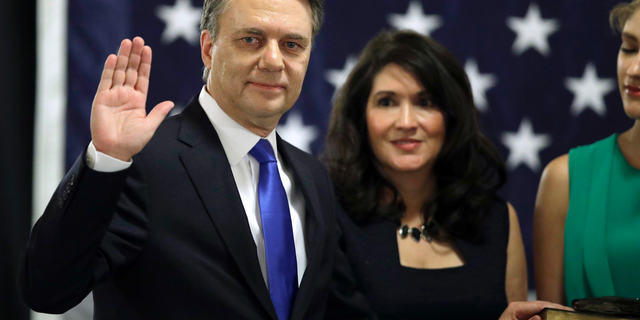 TOPEKA, Kan. – Republican Jeff Colyer promised a "new day" of openness shortly after taking the oath Wednesday as Kansas' governor, addressing the public and a GOP-controlled Legislature that is deeply divided over a court order to increase state spending on public schools.
Colyer, the state's longest-serving lieutenant governor, replaced former GOP Gov. Sam Brownback immediately after Brownback stepped down to become U.S. ambassador-at-large for international religious freedom. Colyer, a 57-year-old surgeon, took the oath for his new office in a ceremony inside the Statehouse.
"We will set a tone and insist on an environment of openness, honesty and respect and without harassment, especially in this building," Colyer said. "When others blame and complain, I'll be busy working for you and finding solutions."
Colyer largely avoided policy issues in his inaugural address, which included a call to the state's residents to "give yourself to your fellow man." He is expected to give a longer and more detailed speech to a joint session of the Legislature in the near future.
But ahead of the ceremony, a top Republican lawmaker urged him to push for a long-term settlement of ongoing legal battles over education funding that led to the Kansas Supreme Court's mandate.
Senate Majority Leader Jim Denning, who is influential among GOP conservatives, said Colyer should either support rewriting the state constitution or initiate settlement talks with four school districts suing the state.
"That's the No. 1 priority," said Denning, a Kansas City-area Republican. "We have to settle it this year."
The Supreme Court ruled in October that funding for public schools remains constitutionally inadequate, despite an increase approved last year. The decision came in a lawsuit filed by the four districts in 2010, but the state has been in and out of education funding lawsuits for decades.
Denning and other conservative Republicans favor rewriting the state constitution to curb the court's power over school funding issues, but they have been unable to muster the two-thirds majorities in both chambers that they'd need to get a measure on the ballot. The state also has had unsuccessful settlement talks with the aggrieved school districts, as well as successful negotiations in the past about some issues over how dollars are distributed.
Alan Rupe, the lead attorney for the school districts, said he's open to new settlement talks: "We know what the ballpark is, and we'd welcome a discussion."
Brownback proposed phasing in an additional $513 million increase over five years, relying only on the annual growth in state revenues to pay for it. The plan angered many Republicans, who viewed it as fiscally reckless and undercutting a push for a constitutional amendment.
Lawmakers are waiting to see whether Colyer breaks with Brownback's policies or modifies the school funding plan.
He remained a loyal No. 2 during seven years as Brownback's lieutenant governor, even as Kansas voters turned on Brownback because of the persistent budget problems that followed aggressive income tax cuts the governor championed in 2012 and 2013. Lawmakers last year rolled back most of the cuts.
And the Kansas Democratic Party launched www.BrownbackClone.com Wednesday ahead of Colyer's swearing-in to remind voters of his ties to Brownback.
Colyer is a Kansas City-area plastic surgeon who does both cosmetic and reconstructive procedures. He's been associated with the International Medical Corps for three decades and has continued during regular medical relief missions as lieutenant governor.
He spoke about his experiences on a relief mission to Rwanda during its genocide in the 1990s and said he will continue to see patients a few hours a week while serving as governor.
He served two years in the Kansas House and another two years in the state Senate before being elected on Brownback's ticket in 2010. They were re-elected in 2014.
Colyer made three $500,000 loans to Brownback's and his re-election campaign in 2013 and 2014 that were highly unusual for their size and timing, with two paid back within days and the third over 16 months. Federal prosecutors ended a grand jury investigation in 2015 without plans for criminal charges.
___
Follow John Hanna on Twitter: https://twitter.com/apjdhanna