GOP Battle for Future of Party; Trump & Women; Clinton vs Sanders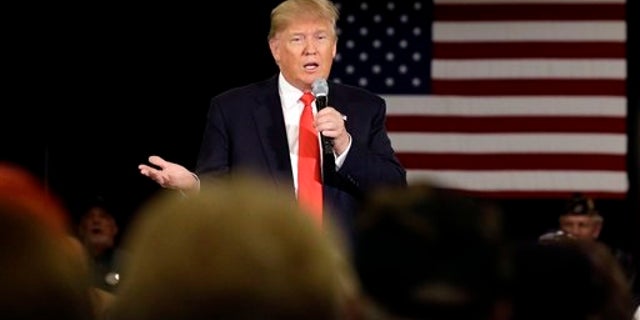 A huge controversy emerged yesterday after Donald Trump told Chris Matthews not only was he anti-abortion, but he believed women who have abortions should be punished. His campaign later walked back those comments, but not before some damage was done with women's groups condemning the comments. Ted Cruz and John Kasich slammed Trump. Hillary Clinton told Rachel Maddow on MSNBC that it was outrageous and dangerous. Trump later said it is doctors not women who should be punished for abortion.
Wisconsin is turning into a real test for Mister Trump. New Marquette polls have Ted Cruz widening his lead over Mister Trump in the Badger State.
The Wall Street Journal reporters Reid J. Epstein and Janet Hook today report on the Wisconsin primary's importance:
Wisconsin's presidential primary next Tuesday represents the biggest test yet of Donald Trump's ability to triumph over Republican state leaders united against him.
Top Wisconsin GOP players, from Gov. Scott Walker to state legislators to the powerful conservative Milwaukee talk-radio hosts, have been winning pitched battles in defense of conservative ideas since Republicans took over state government in 2011. They are united against Mr. Trump in a way he hasn't seen before, even in states where he faced millions of dollars in attack ads.
The anti-Trump forces have largely aligned with Texas Sen. Ted Cruz, who vaulted to the lead in a statewide poll released Wednesday. That has left Mr. Trump flat-footed in his first entry into Wisconsin politics. He appeared surprised during a round of radio interviews, telling Charlie Sykes in Milwaukee that he didn't know the host had vowed never to support him.
If the GOP forces keep Mr. Trump from winning more than a handful of the state's 42 delegates, they would hamper his argument that he's the party's consensus choice and damage his path to the 1,237 delegates necessary to win the nomination. Three delegates will go to the winner of each of Wisconsin's eight congressional districts. First place statewide is worth another 15 delegates. Three more are unbound.
Meantime, there's new reporting today suggesting Donald Trump would be a weak general election candidate:
New Larry Sabato predictions in the University of Virginia's Crystal Ball today. They take a look at the electoral college and suggest Clinton would crush Trump in a general election. We'll talk with Larry Sabato.
Still new polls suggest despite some bad news for Trump, he has a great shot at taking New York's primary battle that takes place on April 19th.
The Quinnipiac University polling has Trump getting 56% in New York, Ted Cruz with 20% and John Kasich with 19%.
On the Democratic side, Hillary Clinton leads Bernie Sanders in New York 54 to 42%.
The WSJ reports today that Bernie Sanders is intensifying a campaign targeting Clinton's super delegates trying to sow doubt about her electability. On Maddow last night Clinton said she was ahead in the popular vote, delegates and super delegates. She suggested Bernie Sanders would need to fall in line behind her by the convention.
Dan Henninger has a new column suggesting "destroying the GOP could be President Obama's greatest legacy."
A new column in the National Review says, "Trump Supporters are foolish idiots on the Titanic." Ouch.
There's also new reporting in Vanity Fair suggesting that Paul Ryan could end up stealing the GOP nomination at the convention as a delegate win before the convention appears increasingly unlikely.
The Governor of Alabama is involved in a major sex scandal and could be impeached.
The Wall Street Journal is reporting that the accused Paris terrorist Salah Abdeslam taken in Belgium on March 18th wants to cooperate with French officials. He's accused of being a key player in the terror attacks in Paris that left 130 dead back in November.
Meantime, a man arrested on terror charges last week had amassed a huge stash of guns and bomb-making equipment and was preparing an attack raising fears another attack may be imminent.
Severe weather hurt seven people in Oklahoma. There were reports of several tornadoes. Tulsa saw damage that is still being assessed. Air raid sirens sounded several times.
Stocks struggling today worldwide on lower oil prices, but it comes after a string of solid gains. Today is the last day of the first quarter.
Some workers on strike at JFK and Newark airports today.
Citigroup is warning that 2 million retail bank jobs could go away as more and more gets automated.
Tesla unveils its much-awaited cheaper electric car today. It's called the Model 3, and will retail for about 30,000 after rebates. Tesla believes it's the car that will allow them to compete with the Big 3 automakers.
A new report using advanced computer modelling suggests the West Antarctic ice sheet may melt in the next few decades raising sea levels by three feet by the end of the century.
President Obama continues talks today with world leaders about Nuclear security. Fears are growing that terrorists might be able to get their hands on nuclear material to make small nuclear devices or dirty bombs. The two day summit begins today and will likely also focus on the increasingly aggressive nuclear threat from North Korea.
For more news, follow me on Twitter: @ClintPHenderson