Gas explosion kills woman, injures 7 at NJ condo complex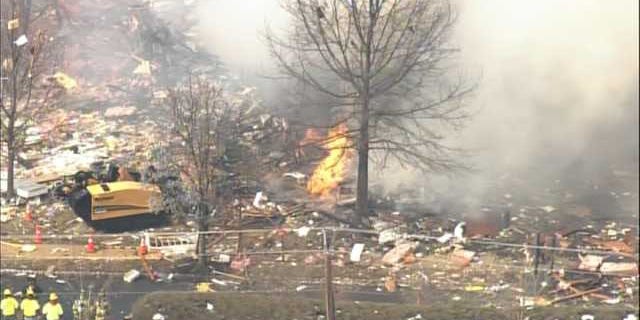 NEWYou can now listen to Fox News articles!
One woman was killed and seven utility workers were injured in an explosion and fire Tuesday afternoon at a Mercer County, N.J. condo complex after a gas line was struck by a contractor, officials say.
The woman's body was found on the hood of a parked car late in the day, after authorities had thought the neighborhood had escaped the blast without any deaths. Ewing Township Police Department Lt. Ron Lunetta told the Associated Press officials were not able to identify the victim and will await an autopsy for positive ID and cause of death. He added that no one else was believed to be missing.
The "ignition" occurred around 1 p.m. Tuesday in the South Fork at Ewing condominium complex in the Mountainview area of the township. Witnesses compared the sound the explosion made to that of a bomb going off or an earthquake. Others thought a jet might have crashed at a nearby airport.
Lunetta said earlier Tuesday that officials were calling hospitals to see if any more patients walked in, adding, "It is a pretty horrific scene down there."
At least 55 units in the complex were damaged, police said, including at 10 that were destroyed. Officials were hoping that some of the displaced residents would be able to return to their homes by late Tuesday night, but said the majority of them would not be able to go home until Wednesday morning at the earliest.
Many of the displaced residents were being sheltered at a local fire house, while others were staying with family and friends. Officials said they would try to accommodate residents who were being kept out of their homes but wanted to briefly return there so they could get their pets or important items, such as medications.
Ewing police said they would be at the site overnight to secure the area and continue the investigation where possible, noting that those efforts would be hampered by the darkness and the large amounts of debris.
The events leading to the explosion began with a contractor working to replace electric service to the house that later blew up, officials from the utility PSE&G said. Around noon, the utility got a call that the contractor had damaged a gas line.
Crews were repairing the line about an hour later when, PSE&G spokeswoman Lindsey Puliti said, "there was an ignition."
Resident Marsha Brown ran to the town house complex, saw a home engulfed in flames and two utility workers on the lawn with injuries that apparently included broken bones. She said she saw another worker on a sidewalk crying, being held by a woman.
At least one home was a blackened pile of rubble, and others had damage, including windows that were blown out. Debris was widely scattered, with insulation hanging in some tree branches.
"My body was shaking. I like to say I am calm, but I was shaking," said Brown, who had a day off from her job as an infant hearing screener at a hospital. "You could feel the flames, everything."
A resident of the complex, Bryan Gentry, drove home minutes after he heard an explosion and as he got closer, saw a black smoke cloud. The fire was intensely hot, he said, and he saw one person walking away from the fire who appeared to be stunned.
"It was just unreal," he said, adding that emergency crews responded "really fast."
The seven people injured were all utility workers, authorities said. Just three of those victims, all close to the blast, had to be hospitalized and none of those injuries was considered life-threatening, said Dr. Louis D'Amelio, trauma chief at Capital Regional Medical Center in Trenton. They included concussions, broken bones and minor shrapnel wounds, he said.
Normally during that time of day, most people in the neighborhood are at work and their kids are at school, Gentry said.
Though the damage to the pipeline caused a gas leak that could lead to an explosion, the pipeline itself did not explode, a spokesman for the utility said.
The Associated Press contributed to this report.
Click for more from MyFoxPhilly.com