FOX NEWS FIRST: Trump tension coming to G7; Ex-security officer charged in leak probe; Singapore summit countdown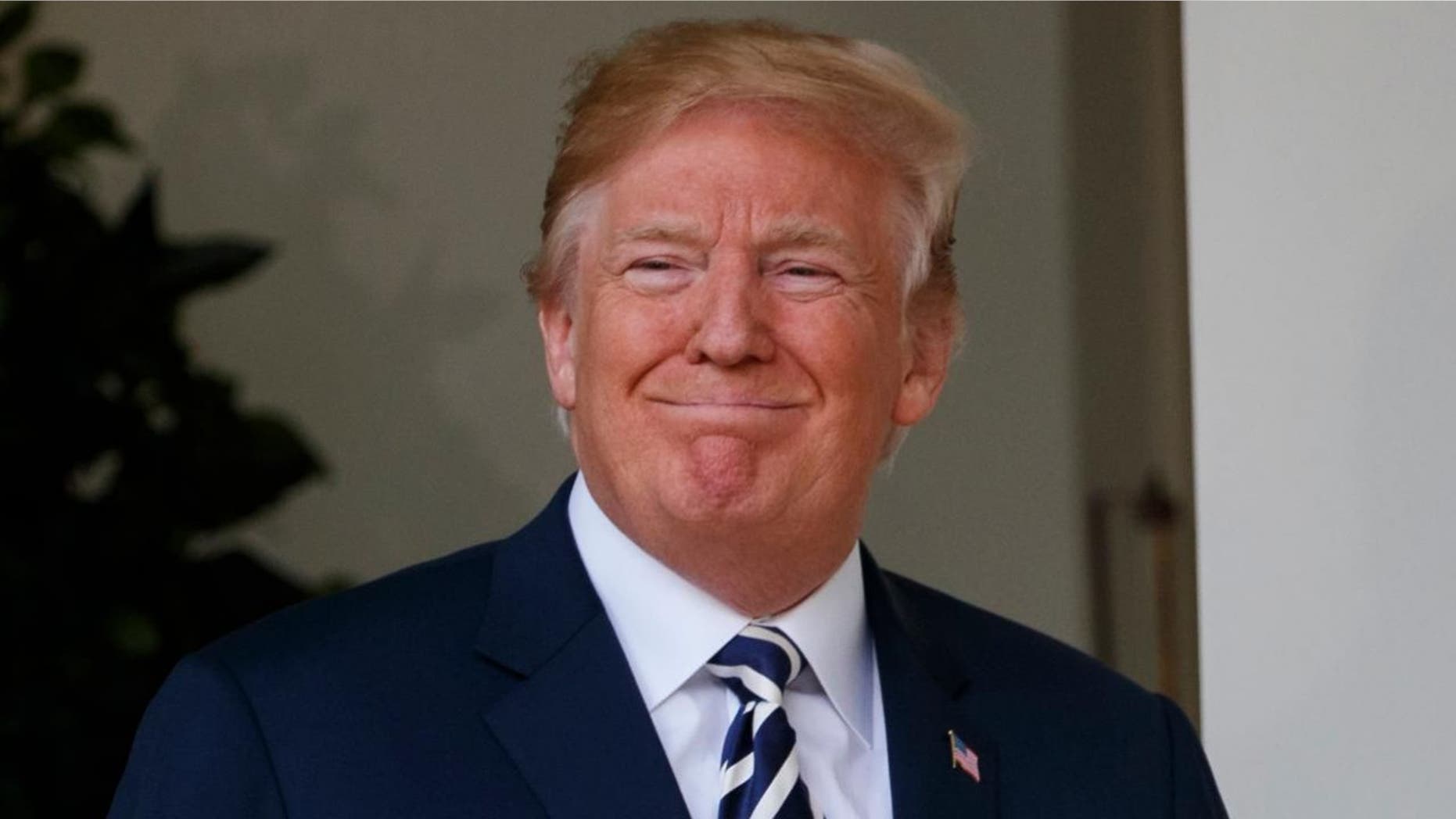 Welcome to FOX News First. Not signed up yet? Click here.
Developing now, Friday, June 8, 2018
President Trump heads to potentially tense talks at the G7 summit in Quebec City on Friday after accusing allies Canada and France of putting heavy economic burdens on the U.S.
A former security director for the Senate Intelligence Committee was indicted Thursday, charged with lying to the FBI about possible leaks of classified information
A much-anticipated report on the FBI's handling of the Hillary Clinton email probe will be released June 14, the Justice Department inspector general announces
FOX News Exclusive: The woman whose life sentence was commuted after Kim Kardashian West championed her cause thanks President Trump and vows she will not let him down
The Washington Capitals win the Stanley Cup for the first time in franchise history, beating the Vegas Golden Knights 4-3 in Game 5 of their best-of-seven series.
THE LEAD STORY - TRUMP FACING CHILLING RECEPTION AT G7: On the eve of Friday's G7 summit in Quebec City, President Trump publicly took aim at Canadian Prime Minister Justin Trudeau and French President Emmanuel Macron for imposing "massive" economic burdens on the United States ... "Please tell Prime Minister Trudeau and President Macron that they are charging the U.S. massive tariffs and create non-monetary barriers," Trump tweeted Thursday. "The EU trade surplus with the U.S. is $151 Billion, and Canada keeps our farmers and others out. Look forward to seeing them tomorrow." With his new tariffs increasing U.S. isolation, Trump heads to Canada on Friday for a meeting of the Group of Seven industrialized nations. The White House is expecting a chilly reception from Canada and West European countries, already frustrated over Trump's withdrawal from the Paris climate accord and the Iran nuclear agreement.
German Chancellor Angela Merkel previewed the dynamics on Wednesday, telling the German parliament that "it is apparent that we have a serious problem with multilateral agreements here, and so there will be contentious discussions."
SEX, LIES AND CLASSIFIED INFO: A former security director for the Senate Intelligence Committee -- who was in charge of maintaining all classified information from the Executive Office to the panel -- was indicted for allegedly giving false statements to FBI agents looking into possible leaks to reporters, the Justice Department announced Thursday night ... James A. Wolfe, 58, served as the panel's security director for 29 years, according to the feds. Prosecutors said Wolfe lied to the FBI in December 2017 about contacts he had with three reporters. Prosecutors say he also lied about giving two reporters non-public information about committee matters. Earlier Thursday, the New York Times revealed that federal investigators had seized years' worth of email and phone records relating to one of its reporters, Ali Watkins. She previously had a three-year romantic relationship with Wolfe, the Times reported, adding that the records covered a period of time before she joined the paper.
MARK YOUR CALENDARS: The long-awaited watchdog report on the FBI and DOJ's Hillary Clinton investigation during the 2016 presidential campaign will be released next Thursday, Justice Department Inspector General Michael Horowitz said ... In a letter to the Senate Judiciary Committee, Horowitz said "we anticipate releasing the report on June 14, 2018." That day is also President Trump's birthday. The inspector general also told committee chairman Sen. Chuck Grassley, R-Iowa, in the letter that he has accepted the invitation to testify about the report on June 18, meaning his scheduled appearance before the committee is being delayed again. Washington has been on edge since last month, when Horowitz told lawmakers the draft report was done. Congressional committees have scheduled, and then postponed, hearings with Horowitz while waiting for the report to be released.
'THANK YOU, PRESIDENT TRUMP': Alice Marie Johnson, the woman whose life sentence President Trump commuted this week, promised the commander in chief: "I will make you proud" ... Johnson, 63, had been serving a life sentence without the possibility of parole after she was convicted of a first-time nonviolent drug offense and charges related to money laundering. Reality TV icon Kim Kardashian West took up her case, even meeting with Trump at the White House to plead for clemency. In an exclusive interview Thursday night with Fox News' Martha MacCallum on "The Story," Johnson expressed her gratitude for Trump's decision the day before to commute her sentence. "Thank you so much, President Trump, for taking the time to look at my case and to really look at me," she said. "I promise you, President Trump, I will make you proud that you gave me that second chance." Johnson spent 22 years in prison, a third of her life, and said that it was her faith and her optimism that allowed her to carry on.
FIRST IN WAR, FIRST IN PEACE, FIRST IN HOCKEY: For the first time in franchise history, the NHL's Washington Capitals have won the Stanley Cup ... The Caps took the Stanley Cup Final four games to one, with a 4-3 victory Thursday night in Las Vegas over the Vegas Golden Knights, a first-year expansion team that made a stunning run to the championship round. "We did it," said Caps captain Alex Ovechkin, whose 15 playoff goals set a franchise record and helped him win the Conn Smythe Trophy as this year's playoff MVP. "That's all that matters. Look at the smiles on my teammates. This is something you'll never forget. This moment, I'll remember for the rest of my life. I'm so happy. It's unbelievable."
__________________________________________________________
Consider yourself an Influencer? Become a trusted adviser in our FOX News community and help guide our brand's future. Click here to find out how.
Members of FOX News Influencers:
Have the opportunity to be heard
Be part of a special network of peers
Get to influence new ideas and initiatives 
Receive updates on what we've learned and how your input has made impact 
Fill out our qualification survey and join us. Thank you for your continued support in our company's growth.
__________________________________________________________
AS SEEN ON FOX NEWS
SELECTIVE INDIGNATION: "The selective outrage and twisted morality of the Left never fails to amaze. But through all this the Democrats have revealed themselves. With nothing else to run on, they have now become the party of MS-13, transgender bathrooms, open borders, NFL protesters, filthy comedians, abortion, pot --- and now the porn industry. We'll see how that plays in November."  – Laura Ingraham, in her monologue on "The Ingraham Angle," arguing that Democrats "revealed" that they have nothing to campaign because Trump has reduced unemployment and boosted the economy, including when it comes to traditionally Democratic minorities. WATCH
COMEY, 'THE DOMESTIC ENEMY': "Donald Trump gave me my life back. I'm [now] fighting for equal justice for everybody. These people aren't above the law." – Kristian Saucier, a former Navy sailor who was jailed for one year after being convicted of mishandling classified information, on "The Story," blasting fired FBI Director James Comey for allegedly showing that Hillary Clinton is "above the law" in a similar case. WATCH
TRENDING
Lawmakers demand answers at hearing over how VA is helping tens of thousands of burn pit victims.
Terrell Owens makes unprecedented choice not to attend his Hall of Fame induction ceremony.
George Soros owns stake in Justify, Triple Crown contender.
Police seek customers who smoked weed, walked out on $420 restaurant bill.
Bison gores California woman at Yellowstone National Park, officials say.
THE SWAMP
Amazon, Apple should avoid North Carolina over 'racist' voter ID plan, advocacy group says.
House approves bill to cancel $15B in spending at Trump's request.
Tentative GOP deal on visas for 'Dreamers' throws talks on immigration bill into chaos.
White House slams Philadelphia mayor for 'disgusting' victory dance over sanctuary city ruling.
FOX NEWS POLLS
Record approval of Trump on economy, optimism on North Korea.
Views remain split over whether Trump coordinated with Russia.
Democrats gain in congressional vote test.
ACROSS THE NATION
Hawaii volcano's toll nears 600 homes destroyed by lava; no end in sight.
ICE to transfer 1,600 immigrant detainees to federal prisons, report says.
Jonestown survivor recalls cult's mass suicide: 'This was murder.'
Mom of 'affluenza teen' faces arrest warrant after allegedly failing drug test.
MINDING YOUR BUSINESS
Millions of Americans don't think they will ever retire.
200 CEOs – including Dimon, Buffett – urge companies to make this change.
Starbucks hikes coffee prices, but why?
McDonald's U.S. turnaround plan may include layoffs.
How the truck driver shortage impacts you.
FOX NEWS OPINION
Ethan Blevins: Seattle cracks down on renters, free speech – and common sense. Good luck trying to rent an apartment.
Tammy Bruce: Will California's new water rules push people out of the Golden State?
Dan Gainor: IHOP becomes IHOb -- Who doesn't want their breakfast served with a side of bad marketing?
HOLLYWOOD SQUARED
'Sons of Anarchy' actor Alan O'Neill dies at 47.
Chris Rock hits Obama Netflix deal.
'Friends' co-creator David Crane gives update on characters, addresses reunion rumors.
DID YOU HEAR ABOUT THIS?
Massive Mars discovery: Organic molecules 'fundamental to our search for life' found by NASA rover.
F-35 to 2070? Air Force says 'software' will decide who wins future wars.
Giant gators surround couple during 'snappy' proposal at Florida theme park.
STAY TUNED
On FOX News: 
FOX & Friends, 6 a.m. ET: Dr. Marc Siegel shares insight after consulate workers in China are afflicted by a mysterious medical ailment. Grover Norquist discusses the impact of GOP tax cuts. Janice Dean speaks with the owner of Justify, who is vying for the Triple Crown. Insight from Judge Jeanine Pirro and Diamond & Silk. MercyMe performs in the next edition of the All-American Summer concert series.
The Story, 7 p.m. ET: Frank Riccio II, the lawyer representing the two Sacred Heart University football players who were falsely accused of rape by a student, talks to Martha and tells her whether his clients are considering a lawsuit against Nikki Yovino.
On FOX Business:
Lou Dobbs Tonight, 7 p.m. ET: Special guest includes Ann Coulter.
On FOX News Radio:
The FOX News Rundown podcast: President Trump travels to Canada to join other allied nations at the G7 summit, where they'll talk foreign trade, climate change and international peace. This comes before next week's summit in Singapore with North Korean leader Kim Jong Un. FOX News White House correspondent Jon Decker is traveling to Singapore and previews the summit. NASA announced its latest discovery Thursday in the ongoing search for extraterrestrial life in the solar system. Paul Mahaffey, planetary scientist for NASA's Goddard Space Flight Center, discusses why this matters. FOX News' Tonya J. Powers has your good news of the day. Plus, commentary from Judge Andrew Napolitano.
Want the FOX News Rundown sent straight to your mobile device? Subscribe through Apple Podcasts, Google Play, and Stitcher.
The Brian Kilmeade Show, 9 a.m. ET: Hans A. von Spakovsky asks why should states that protect illegal immigrants be rewarded with more political power. Shannon Bream and Kevin Corke tackle the hot topics of the day.
On FOX News Weekend: 
Cavuto Live, Saturday, 10 a.m. ET: Former U.S. Ambassador to the U.N. Bill Richardson on the upcoming North Korea summit; Interior Secretary Ryan Zinke on sending U.S. Park Police to the border and the Opioid Reduction Task Force; LaVar Ball on the national anthem protests, the NBA finals and his newly-launched Junior Basketball Association; Chris Mara, Justify co-owner and New York Giants senior vice president, on the Belmont Stakes.
Fox News Sunday, Sunday, 2 p.m. and 7 p.m. ET:  "FOX News Sunday" will kick off the channel's coverage from the Singapore summit with a top White House official to preview the meeting and reports from Chief White House Correspondent John Roberts and Senior Foreign Affairs Correspondent Greg Palkot in Seoul. Chris Wallace will be joined by Amb. Robert Gallucci, chief negotiator during the North Korean nuclear crisis of 1994; Gordon Chang, author of "Nuclear Showdown: North Korea Takes On the World"; Washington Post White House correspondent David Nakamura and a panel back in D.C. that includes Jason Chaffetz, Jonah Goldberg and more.
Special Report with Bret Baier, Sunday, 6 p.m. ET - Live from Singapore: As the world watches to see if the North Korea nuclear stand-off yields to diplomacy and if President Trump can cut a deal with Kim Jong Un, "Special Report" counts down to the historic summit live from Singapore. With live reports from Chief White House Correspondent John Roberts and Senior Foreign Affairs Correspondent Greg Palkot and in-depth analysis from regional experts and news-making interviews, "Special Report" will cover all the angles.
Legends & Lies: The Civil War, Sunday, 8 p.m. ET: "Brother vs. Brother" - The defeated South attempts to rewrite history by denying slavery was the root cause of the Civil War.
Life, Liberty & Levin, Sunday, 10 p.m. ET: This week, host Mark Levin and Reps. Ron DeSantis and Lee Zeldin break down the upcoming North Korea summit, China's global infiltration and the breaking news that Iran was allowed access to the American banking system as part of the Iran nuclear deal
#OnThisDay
2017: Former FBI Director James Comey, testifying before Congress, asserts that President Trump fired him to interfere with his investigation of Russia's ties to the Trump campaign.
1998: The National Rifle Association elects actor Charlton Heston to be its president.
1968: Authorities announce the capture in London of James Earl Ray, the suspected assassin of Dr. Martin Luther King Jr.
Fox News First is compiled by Fox News' Bryan Robinson. Thank you for joining us! Enjoy your day and weekend! We'll see you in your inbox first thing Monday morning.