FOX NEWS FIRST: Trump making final pitch for GOP candidates before midterms; Sanctions reimposed on Iran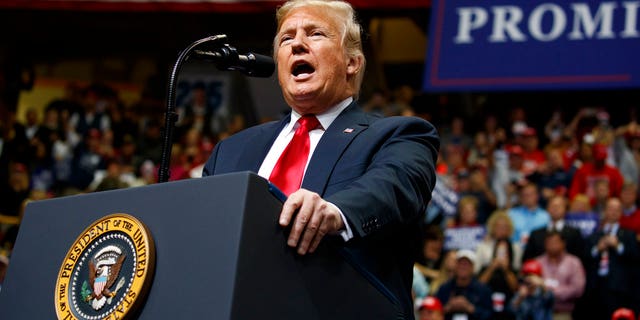 Welcome to FOX News First. Not signed up yet? Click here.

Developing now, Monday, Nov. 5, 2018
THE LEAD STORY - THE FINAL COUNTDOWN: Republican and Democratic candidates and incumbents nationwide will be making their closing arguments to voters on Monday before the most-watched - and perhaps the most-pivotal - midterm elections in a generation ... All 435 seats in the U.S. House are up for re-election; 35 Senate seats, 40 governorships and the balance of power in virtually every state legislature are also up for grabs.
While he is not on the ballot, President Trump himself has acknowledged that the 2018 midterms represent a referendum on his presidency. And he has campaigned as if he were on the ballot, crisscrossing the country the last few weeks in series of rallies for various GOP candidates. The president knows Democrats could block his legislative agenda for the next two years of his first term if they win control of the House. They could also win subpoena power and call for (and reopen) a series of investigations on alleged Russia collision, new Supreme Court Justice Brett Kavanaugh and more. A month ago, pundits were predicting a "blue wave" of Democratic victories at the midterms. Those expectations have been lowered in recent weeks. 2016 proved that polls can't always be believed and that anything can happen.
Trump will attempt to give a final boost to GOP candidates up to almost the very end. On Monday, he is scheduled to attend rallies in Cleveland, Fort Wayne, Ind., and Cape Girardeau, Mo., where he will also give an exclusive interview to FOX News' Sean Hannity.
TRUMP, OBAMA AND A TALE OF TWO AMERICAS: President Trump and former President Obama offered very different messages in campaign rallies on Sunday, but they agreed on one thing: Tuesday's midterm elections will be a turning point for the country ... President Trump warned Georgia and Tennessee voters against allowing "radical Democrats" to turn back economic recovery in America, in back-to-back rallies for Republican candidates Sunday.
Earlier in the afternoon, Trump said that Democratic gubernatorial hopeful Stacey Abrams would turn the state "into Venezuela" and "make your jobs disappear like magic" if she defeats Republican Brian Kemp in Tuesday's election. Trump campaigned for Kemp in Macon, and then went to Chattanooga, Tenn., to hold an evening rally on behalf of Republican Senate candidate Marsha Blackburn.
Obama spoke Sunday in Gary, Ind. and at a second rally in Chicago, delivered a closing argument for Democrats aiming to put a firm check on President Trump's policies in Tuesday's midterm elections. Speaking on behalf of Sen. Joe Donnelly, D-Ind., who faces a stiff challenge from Republican businessman Mike Braun, Obama said the vote on Tuesday is for the character of the nation. The former president also campaigned in his hometown of Chicago for businessman J.B. Pritzker, Democrats' nominee for Illinois governor in his race against Republican Gov. Bruce Rauner, who came into office an outsider promising responsibly spending, lower taxes and clean government. - Reported by Samuel Chamberlain (@SChamberlainFOXSChamberlainFOX on Twitter, Frank Miles, and Gregg Re (@gregg_re on Twitter)
NOT-SO-FAST, NANCY: Eddie Edwards claims Nancy Pelosi is getting scared ... "They've been nervous since day one. Since I declared my candidacy in April 2017, they've been nervous. And it shows right now. Nancy Pelosi has spent well over half-a-million dollars in the last week to try and distort my campaign," the Republican nominee in New Hampshire's 1st Congressional District said Saturday. While Pelosi might not actually be losing sleep over Edwards' candidacy, his race does represent somewhat of a wild card among the dozens of competitive House contests being held Tuesday.
It's one of the precious few Democrat-held seats Republicans have a chance at flipping, from blue to red. Those open races include battles for Minnesota's 8th District seat, held by a retiring Democratic incumbent; Minnesota's 1st, where incumbent Democrat Tim Walz is running for governor; and Nevada's 3rd, where incumbent Democrat Jacky Rosen is running for Senate. Minnesota's 8th, where Republican Pete Stauber faces Democrat Joe Radinovich, is considered perhaps the GOP's best shot to swipe a seat, but a strong performance in the others would give the party at least a chance to defy the odds and hold the chamber. - Reported by Paul Steinhauser
'THE TOUGHEST SANCTIONS EVER': Iran remained defiant Monday as the re-imposition of sanctions took hold in the Islamic Republic ... Iranian state television aired footage of defense drills taking place in the country's north through Tuesday as President Hassan Rouhani said the nation faces a "war situation" against a "bullying enemy." Secretary of State Mike Pompeo on Sunday defended the White House's move last week to reimpose sanctions against Iran amid criticism from some conservatives that the action does not go far enough to cripple the country's economy. "The sanctions that will be reimposed tomorrow are the toughest sanctions ever put in place on the Islamic Republic of Iran," Pompeo said during an appearance on "FOX News Sunday." "They're aimed at a single purpose -- denying the world's largest state sponsor of terror the capacity to do things like the things they've done in the past few weeks." While Trump removed the United States from the 2015 Iran nuclear deal earlier this year and sanctions are set to be imposed Monday, some critics are upset that some countries received waivers from the sanctions to continue importing Iranian oil. - Reported by Bradford Betz (@bradford_betz on Twitter) and Andrew O'Reilly
BARBED WIRE AT THE BORDER: U.S. troops, along with Customs and Border Protection officers, have been working to secure sections of the Texas-Mexico border, in part by laying down barbed-wire fencing, as new photos show ... The protection reportedly includes roughly 1,000 feet of fencing along the Rio Grande. The barrier was installed near the Hidalgo Texas Port of Entry, underneath the McAllen-Hidalgo International Bridge, which crosses the river from Texas into Mexico. A Border Patrol spokesperson said the fencing was being used as part of "necessary preparations" as four caravans, which have grown to include some 12,000 Central American migrants in all, head toward the U.S. border. - Reported by Nicole Darrah (@nicoledarrah on Twitter) and William La Jeunesse
AN ELECTION 'EXPERIENCE' ON FOX SQUARE: FOX News Channel is America's Election Headquarters and the place to be for comprehensive coverage of the midterms on election night ... Starting at 6 p.m. ET Tuesday, anchors Bret Baier and Martha MacCallum will watch all of the key races that will decide which party controls the House and Senate. As race calls stream in from the FOX News Decision Desk, viewers will see live updates on the projections for the balance of power in Congress. Bill Hemmer will break down the vote totals as the returns come in from the electronic "Bill-board," while Harris Faulkner will keep track of the critical battles on the data-driven "Key Race Tracker." In addition, Shannon Bream will debut the Fox News Voter Analysis, a survey of early and Election Day voters conducted in all 50 states.
Plus, FOX News will boost its coverage with the following: An interactive viewing party outside the studio at "FOX Square," where fans will be able to watch and interact with the latest coverage alongside FOX News reporter Carley Shimkus, who will get reaction from the crowd. And, starting at 9:00am ET on Election Day, "The FOX Nation Election Experience" will offer viewers a sneak peek at the new, on-demand subscription-based streaming service. Those who attend can meet the FOX Nation stars and enjoy live music, book signings, food and premium giveaways.

AS SEEN ON FOX NEWS WEEKEND
JUDGE JEANINE'S CLOSING ARGUMENT ON THE MIDTERMS - "If you like the direction this country is on, put the pedal to the medal and get you and everyone you know out to vote. Vote for the America that is great again." – Judge Jeanine Pirro, in her "Opening Statement" on "Justice with Judge Jeanine." WATCH

2018 MIDTERMS
Hunting, fishing rights on the ballot in North Carolina.
Author Stephen King asks Iowans to vote against Steve King, calls GOP congressman 'racist dumbbell.'
FOX News Full Coverage: 2018 Midterms.
TRENDING
Ex-Navy SEAL blasts 'SNL' joke, criticizes culture of apologies.
Twitter removed over 10,000 bots that pretended to be Democrats, tried to discourage voting.
Woman serves as 'ring' for cousin's engagement photo in viral moment.
ACROSS THE NATION
Newlywed couple killed in helicopter crash less than two hours after getting married.
North Carolina woman seen in viral racist rant faces 911 violation charge.
Man removed from flight over sleeping pill: 'It was so humiliating.'
MINDING YOUR BUSINESS
Saudi crown prince's efforts to reform kingdom are 'real,' Prince Alwaleed says.
Oil prices fall as U.S. grants Iran sanctions waivers to major importers.
Trump could make China trade deal; U.S. interests a priority: Larry Kudlow.
Warren Buffett's Berkshire Hathaway profit nearly doubles in third quarter.
Sears, chairman, lenders seek bankruptcy loan breakthrough: Report.
Amazon in 'advanced talks' to put second headquarters in Northern Virginia: report.
FOX NEWS OPINION
Greg Gutfeld: Dems, Kavanaugh's false accuser and what voters should remember on Tuesday.
Deroy Murdock: Republicans, yet again, do right by black Americans.
Lauren DeBellis Appell: Dear Melania, it's been two years since your husband was elected -- An open letter to our first lady.
HOLLYWOOD SQUARED
ABC journalist says Alec Baldwin once told her: 'I hope you choke to death.'
'Fantastic Beasts: The Crimes of Grindelwald' cast says Johnny Depp's villain is similar to Donald Trump.
'Master of Arms' hopes to showcase the history and artistry in firearms craftsmanship.
DID YOU HEAR ABOUT THIS?
Neil Armstrong's Apollo 11 spacecraft ID plate sells for $468G in auction.
Facing iPhone troubles, Apple tries to change the story.
Thanksgiving turkey: Tips to cut costs before buying.
STAY TUNED
FOX Nation is coming! - Sign up now and find out more about its exciting launch on Nov. 27!
DETAILS: How to sign up now to become a FOX Nation Founding Member!
On Facebook:
Check out 'FOX News Update,' our Facebook-exclusive news program!
On FOX News:

FOX & Friends, 6 a.m. ET: Special guests include: GOP Florida gubernatorial candidate Ron DeSantis; White House press secretary Sarah Sanders; U.S. Sen. Lindsey Graham, R-S.C.
Hannity, 9 p.m. ET: Don't miss Sean Hannity's exclusive interview with President Trump!
On FOX Business:
Mornings with Maria, 6 a.m. ET: Special guests include: National Security Adviser John Bolton; Brian Moynihan, CEO of Bank of America; Bill Richardson, former U.S. ambassador to the U.N.; Sean Spicer, former White House press secretary; U.S. Rep. Sean Duffy, R-Wis.; U.S. Rep. Carolyn Maloney, D-N.Y.
Varney & Co., 9 a.m. ET: David Avella, GOPAC chairman; Ronna McDaniel, RNC chairwoman; John Sandweg, former acting ICE director; U.S. Rep. Jeb Hensarling, R-Texas; Blaise Ingoglia, Florida GOP chairman; Arkansas Lt. Gov. Tim Griffin.
Cavuto: Coast to Coast, Noon ET: Amb. Max Baucus, former U.S. ambassador to China; Ken Paxton, Texas attorney general.
On FOX News Radio:
The FOX News Rundown podcast: On the eve of one of the most highly contested midterms in history, FOX News Rundown focuses on two important races. FOX News' Alicia Acuna has the latest from the tight Senate race in Arizona between Republican Martha McSally and Democrat Kyrsten Sinema. FOX News' Jessica Rosenthal speaks with Republican Dana Rohrabacher, who is battling Democrat Harley Rouda in Southern California for a House seat. Plus, commentary by Van Hipp, chairman of American Defense International and former deputy assistant secretary of the U.S. Army.
Want the FOX News Rundown sent straight to your mobile device? Subscribe through Apple Podcasts, Google Play, and Stitcher.
The Brian Kilmeade Show, 9 a.m. ET: the final countdown to the midterms with the following guests: Bret Baier; New York Post columnist Michael Goodwin; David Avella, GOPAC chairman; David Byler; John James; Dennis Miller.
#OnThisDay

2009: A shooting rampage at the Fort Hood Army post in Texas leaves13 people dead; Maj. Nidal Hasan, an Army psychiatrist, was later convicted of murder and sentenced to death.
1994: Former President Ronald Reagan discloses he has Alzheimer's disease.
1968: Republican Richard M. Nixon wins the presidency, defeating Democratic Vice President Hubert H. Humphrey and American Independent candidate George C. Wallace.
FOX News First is compiled by FOX News' Bryan Robinson. Thank you for joining us! Enjoy your Monday! We'll see you in your inbox first thing Tuesday morning.