Pete Davidson doesn't owe me an apology, Crenshaw says
Dan Crenshaw, a Texas Republican congressional candidate, took the high road Sunday after "Saturday Night Live" actor Pete Davidson joked that the former Navy SEAL's eye patch made him look like a "hit man in a porno movie."
Davidson stirred up controversy during SNL's "Weekend Update" when he said Crenshaw's photo was "kinda cool," but that viewers might be "surprised he's a congressional candidate from Texas and not a hitman in a porno movie." He added, "I'm sorry, I know he lost his eye in the war or whatever."
Crenshaw wears an eyepatch because he was badly wounded during his third tour in Afghanistan as a Navy SEAL.
PETE DAVIDSON MOCKS REPUBLICAN CONGRESSIONAL CANDIDATE, FORMER NAVY SEAL WHO LOST AN EYE IN AFGHANISTAN
The National Republican Congressional Committee tweeted Sunday morning that Davidson and NBC "should immediately apologize to Dan and to the millions of veterans and military families who tune in every weekend — because they're not laughing."
But Crenshaw backed away from demanding an apology from either Davidson or NBC. He said the "real atrocity" was Davidson's attempt at a joke, which he called "not funny" and "mean-spirited."
"[I]t wasn't even funny. Right? It was not original, it was not funny, it was just mean-spirited and that's how I feel about it," Crenshaw told TMZ.
"I want us to get away from this culture where we demand apologies everytime someone misspeaks," Crenshaw said. "I think that would be very healthy for our nation to go in that direction."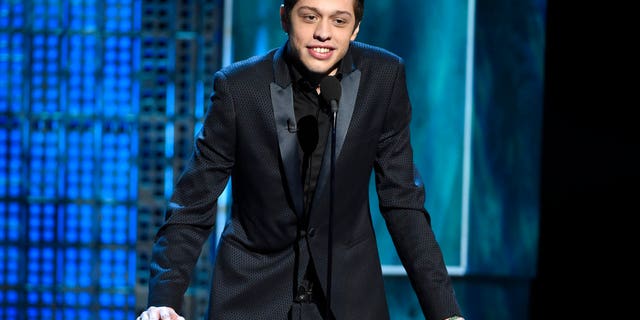 "We don't need to be outwardly outraged. I don't need to demand apologies from them. They can do whatever they want." He acknowledged that Davidson and NBC are likely "feeling the heat from around the country right now."
'THANK U, NEXT' -- ARIANA GRANDE DROPS NEW SONG BEFORE 'SNL,' NAME-CHECKS PETE DAVIDSON, MAC MILLER
"But I would like him and 'Saturday Night Live' to recognize something, which is that veterans across the country probably don't feel as though their wounds they received in battle should be the subject of a bad punchline for a bad joke," Crenshaw said.
Neither representatives for Davidson nor NBC immediately responded to Fox News' request for comment.
Fox News' Tyler McCarthy and The Associated Press contributed to this report.