FOX NEWS FIRST: Search for clues in gaming tournament shooting; New McCain burial details; Lewandowski rips Cohen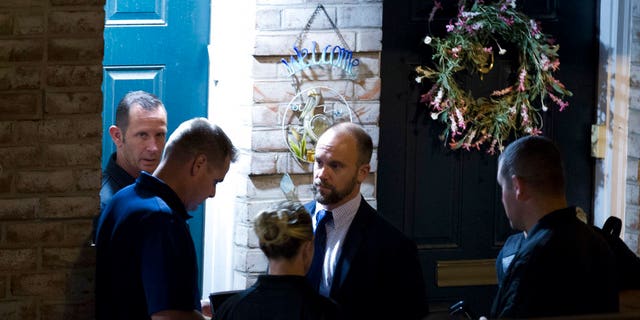 Welcome to FOX News First. Not signed up yet? Click here.
Developing now, Monday, August 27, 2018
FBI agents searched the Baltimore family home of the suspected gunman who opened fire at a Florida gaming tournament Sunday, killing two before turning the gun on himself and dying from a self-inflicted wound
Sen. John McCain will be buried at the U.S. Naval Academy in Annapolis, Md. on Sept. 2 after a week of memorial services, his family announced. McCain died Saturday after a yearlong battle with brain cancer.
The United States and Mexico may be close to reaching a deal on NAFTA as early as Monday, according to a report
In an interview with FOX News, former Trump campaign manager Corey Lewandowski said he warned then-candidate Donald Trump and his aides that his longtime personal lawyer Michael Cohen would become a problem
Hundreds of well-wishers attended the funeral for Iowa student Mollie Tibbetts Sunday as her father said it was time for the community to heal and his daughter was 'nobody's victim'
THE LEAD STORY - A DEADLY GAME: Armed FBI agents searched the Baltimore townhouse home of the father of the suspect in a deadly shooting at a Florida video game tournament as they looked for a possible motive in the attack ... Witnesses said the suspected gunman, David Katz, 24, of Baltimore, was angry after losing at a Madden 19 NFL tournament at a restaurant in Jacksonville, Fla. He is believed to have opened fire event at the Chicago Pizza restaurant and bar in The Jacksonville Landing, killing two people before turning the gun on himself and dying from a self-inflicted wound. In addition to the dead, 11 other people were injured — nine of them with gunshot wounds. Katz, whose vehicle was located and impounded by investigators, is believed to have stayed somewhere locally on Saturday night before the shooting.
A WEEK OF TRIBUTES TO SEN. JOHN MCCAIN: Sen. John McCain will be laid to rest on Sunday, Sept. 2 at the U.S. Naval Academy in Annapolis, Md. after a week of services celebrating his life and legacy ... McCain died at age 81 on Saturday after a yearlong battle with brain cancer. He will be buried next to Naval Academy classmate and close friend Admiral Chuck Larson. The Arizona senator is scheduled to lie state in the Arizona State Capitol on Wednesday and Capitol Rotunda on Friday. Before his burial and Annapolis, McCain will be celebrated at a national memorial service at Washington National Cathedral in Washington, D.C., that Saturday.
POTENTIAL NAFTA BREAKTHROUGH: The United States and Mexico look close to resolving key differences on the North American Free Trade Agreement and may have a complete deal worked out by as early as Monday, according to sources close to the talks ...Three people familiar with the progress told Bloomberg that there have been significant breakthroughs over the past few days on issues ranging from automobiles to energy, although it is unclear if any of the progress will be made public as Mexico's Economy Minister Ildefonso Guajardo has said the country won't make an announcement on NAFTA until Canada also signs on to a new deal. White House
Press Secretary Sarah Sanders said Sunday morning that the administration has "no announcements or anything finalized at this time," despite President Trump's enthusiastic tweet on Saturday that there could be a "big Trade Agreement" soon.
'I WARNED EVERYBODY': President Trump's former campaign manager Corey Lewandowski slammed Trump's former personal attorney, Michael Cohen, after he pleaded guilty last week to federal charges and implicating the president in a crime ... Cohen pleaded guilty to tax evasion, campaign finance violations and bank fraud. Speaking on "FOX News Sunday," Lewandowski sought to distance Trump from his former attorney and denied that Cohen played any significant role in Trump's 2016 presidential campaign.
"I was very clear when I was in charge of the campaign, Michael was not somebody who we wanted at the campaign," Lewandowski said. "He would go out and make statements that we had to walk back afterwards because he would say things which were factually untrue. I warned everybody at the organization that Michael was going to become a problem."
'TURN THE PAGE' IN MOLLIE'S HONOR: The father of Mollie Tibbetts, the Iowa college student whose disappearance caught the nation's attention, told members of the small community where she lived and studied to "turn toward the light" at his daughter's funeral Mass Sunday afternoon ... "Today, we need to turn the page," Rob Tibbetts said, according to the Des Moines Register. "We're at the end of a long ordeal, but we need to turn toward life — Mollie's life — because Mollie's nobody's victim." Tibbetts, a student at the University of Iowa, was found dead in a cornfield Aug. 21 by investigators who were led there by farmworker Cristhian Bahena Rivera. Rivera, 24, has been charged with first-degree murder in Tibbetts' death; investigators have said he is in the U.S. illegally and lived in Iowa for 4-7 years.
AS SEEN ON FOX NEWS WEEKEND
THE TRUTH ABOUT THE LEFT AND MINORITIES: "The left believes that black people and Hispanic people are stupid. That is the truth. They believe that we are stupid." – Candace Owens, communications director for Turning Point USA, on "Life, Liberty, & Levin," discussing how racism, journalism, feminism and socialism interconnect in today's political environment. WATCH
SOCIALISM IN THE CLASSROOM - "They can't win in the battle of ideas ... They've got to indoctrinate an ideology rather than educate in history because if they teach history, they're going to lose." – Radio host Michael Knowles, on "FOX & Friends Weekend" saying that Democratic Socialists are urging Socialists to become teachers because they can't win a "fair fight." WATCH
TRENDING
Tiger Woods says 'you have to respect the office' of president after questions about his relationship with Trump.
Trump-hating Jemele Hill, ESPN parting ways: reports.
Striking a sour note: California man arrested with 800 pounds of stolen lemons, cops say.
THE SWAMP
Kaine worries progressives with reluctance to confirm 'no' vote on Kavanaugh.
Kelli Ward criticized for suggesting McCain pre-timed announcement to damage her campaign.
Maine Gov. Paul LePage hospitalized after 'discomfort.'
ACROSS THE NATION
Pope refuses to comment on claims he ignored McCarrick abuse accusations.
Two linked to 'extremist Muslim' New Mexico compound wanted to attack hospital, prosecutors say.
High school wrestling coach sought, believed to be traveling with missing teen, police say.
Hawaii shuts out South Korea to win Little League World Series title.
MINDING YOUR BUSINESS
Tesla will remain a public company, Elon Musk says.
Iconic New York City coffee shop closes after rent, higher wages take a toll.
Here's how Chicago plans to fix its $28B pension deficit.
FOX NEWS OPINION
Michael Goodwin: Here's how Trump can survive the fierce attack against his presidency.
Catharine Bond Hill, John Sexton: College dropouts in U.S. surpass those heading back to school -- it's time we fix that.
Ann Voskamp: When you need new habits for a new season: A survival guide for the soul.
HOLLYWOOD SQUARED
Sacha Baron Cohen character interviews OJ Simpson on 'Who is America' and jokes about killing women.
Roseanne Barr reveals she has a new doctor, says she's 'doing better now.'
DID YOU HEAR ABOUT THIS?
Florida authorities consider possibility of super snake emerging in Everglades.
Rare 1962 Ferrari 250 GTO sold for world-record $48.4 million.
No level of alcohol consumption is healthy, scientists say.
STAY TUNED
On Facebook:
Check out 'FOX News Update,' our new Facebook-exclusive news program!
On FOX News:
FOX & Friends, 6 a.m. ET: "FOX & Friends" will have reaction after the DNC votes to change super delegate rules. Janice Dean gets a look at Hurricane Harvey recovery efforts one year later. Other guests include: Dan Bongino; House Majority Leader Kevin McCarthy; Florida Attorney General Pam Bondi; Turning Point USA founder Charlie Kirk.
Your World with Neil Cavuto, 4 p.m. ET: A tribute to Sen. John McCain with former Sen. Kelly Ayotte, Carly Fiorina and more.
FOX News@Night, 11 p.m. ET: Special guests include: Pastor Robert Jeffress.
On FOX Business:
Cavuto: Coast to Coast, Noon ET: Special guests include: David Stockman, former director of the Office of Management and Budget under President Reagan.
Countdown to the Closing Bell, 3 p.m. ET: Sun Microsystems co-founder Scott McNealy.
On FOX News Radio:
The FOX News Rundown podcast: Sen. John McCain died over the weekend at age 81. FOX News Radio White House correspondent Jon Decker reflects on McCain's life and legacy. The midterm elections are less than 80 days away and there is a lot for voters to consider. As voters head to the polls, many are wondering how secure their vote will be. Cybersecurity analyst and lawyer Shawn Tuma explains what the government is doing to help safeguard voters come November. Plus, commentary from Marc Lotter, former press secretary for Vice President Mike Pence.
Want the FOX News Rundown sent straight to your mobile device? Subscribe through Apple Podcasts, Google Play, and Stitcher.
The Brian Kilmeade Show, 9 a.m. ET: A look back at the life and times of John McCain. Plus, New York Post columnist Michael Goodwin on how Trump cam survive the onslaught against his presidency; former Clinton aide Mark Penn and RNC spokeswoman Kayleigh McEnany look ahead to the November midterms; Victor Davis Hanson on the top political headlines of the day.
The Tom Shillue Show, 3 p.m. ET: "Dear Reader" author Michael Malice and Fox Business Network producer Jennifer Eckhart join Tom Shillue's nightly panel to discuss Sen. John McCain's legacy and the latest news of the day.
#OnThisDay
2017: Hurricane Harvey sends devastating floods into Houston, with rising water chasing thousands of people to rooftops or higher ground; streets become rivers navigable only by boat.
2008: Barack Obama is nominated for president by the Democratic National Convention in Denver.
1964: "Mary Poppins," starring Julie Andrews and Dick Van Dyke, premieres at Grauman's Chinese Theater in Hollywood.
FOX News First is compiled by FOX News' Bryan Robinson. Thank you for joining us! Enjoy your Monday! We'll see you in your inbox first thing Tuesday morning.