FOX NEWS FIRST: Roseanne apologizes, rips ABC; Pompeo has key N. Korea meeting; Team Trump wants 'spygate' docs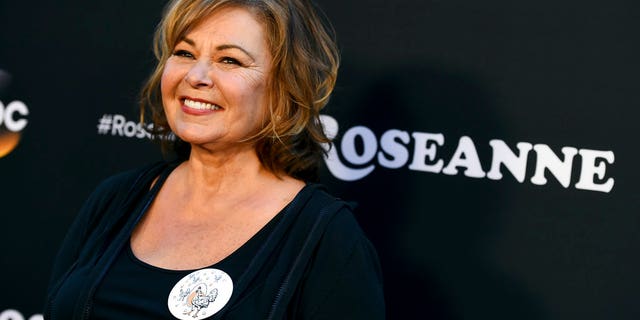 Welcome to Fox News First. Not signed up yet? Click here.
Developing now, Wednesday, May 30, 2018
Roseanne Barr apologizes to 'Roseanne' cast and crew and rips ABC in late-night tweets after her show was canceled following a racist Twitter post
President Trump slams 'MS-13 lover' Nancy Pelosi and other Democrats at a rally in support of GOP Senate hopeful, Rep. Marsha Blackburn
Secretary of State Mike Pompeo will meet with a top North Korean official on Wednesday in hopes of reviving a Trump-Kim summit
Trump will not meet with Special Counsel Robert Mueller's team until after White House sees all 'spygate' documents, Rudy Giuliani says
The Justice Department's inspector general and key FBI officials set to testify on Capitol Hill on the FBI's handling of the Hillary Clinton emails
THE LEAD STORY - 'AMBIEN TWEETING': Less than 14 hours after quitting Twitter following a racist "joke" that led to the cancellation of her hit TV show, Roseanne Barr returned to tweet an apology to her supporters and suddenly unemployed staff ... In a series of late-night tweets, Barr appeared to blame the prescription sleeping pill Ambien for the racist tweet that led to her show's cancellation Tuesday. She also repeatedly criticized ABC for what she implied is the network's hypocrisy. "guys I did something unforgiveable so do not defend me," she wrote in one post. "It was 2 in the morning and I was ambien tweeting-it was memorial day too-i went 2 far & do not want it defended-it was egregious Indefensible. I made a mistake I wish I hadn't but...don't defend it please. ty."
ABC on Tuesday canceled Barr's widely popular reboot of "Roseanne," her hit 1988-1997 comedy series, shortly after the star posted a racist tweet about former President Barack Obama's aide Valerie Jarrett. "Don't feel sorry for me, guys!!" Barr also tweeted. "I just want to apologize to the hundreds of people, and wonderful writers (all liberal) and talented actors who lost their jobs on my show due to my stupid tweet. I will be on Joe Rogan's podcast friday."
TRUMP ON THE MIDTERM STUMP: President Trump slammed Democratic leaders at a Tennessee rally Tuesday night, labeling former Gov. Phil Bredesen, a Democrat in the running to replace retiring Sen. Bob Corker, as an "absolute total tool of Chuck Schumer and, of course, the MS-13 lover Nancy Pelosi" ... Trump, who defended labeling members of the MS-13 gang as "animals," hit the House minority leader for taking exception with the classification. "They're more interested in taking care of criminals than they are in taking care of you," Trump said of Democrats as the crowd booed. The president said Bredesen, whom he claimed he had never even heard of, "donated a lot of money to the campaigns of Barack Obama and Hillary Clinton." The president's fiery comments were intended to boost GOP Senate hopeful Marsha Blackburn, a Republican congresswoman vying for her party's nomination to replace retiring Corker. Blackburn and Bredesen are expected to face off in a general election that is considered a toss-up by Fox News.
SALVAGING THE SUMMIT: North Korean dictator Kim Jong Un has dispatched his infamous right-hand man on a rare mission to the U.S. amid a diplomatic flurry aimed at salvaging a stalled peace summit ... Kim Yong Chol, Pyongyang's longtime spy chief and a vice chairman of the ruling Workers' Party, will meet with Secretary of State Mike Pompeo Wednesday in New York, the White House said. Their talks will largely focus on rescheduling the summit between the North Korean despot and President Trump, who canceled the June 12 summit in Singapore last week after hostile rhetoric from North Korea. Trump has since opened the door for putting the meeting back on track.
TRUMP TEAM WANTS FBI INFORMANT INFO: President Trump's attorney, Rudy Giuliani, says the president will not sit down with Special Counsel Robert Mueller's team until he has all the information related to the FBI's use of an informant in the 2016 presidential election ... "We need all the documents before we can decide whether we are going to do an interview," Giuliani told the Washington Post. Trump, his legal team and allies have raised concern recently about the FBI's use of a secret informant who met with three of Trump's campaign advisers in 2016 during a counterintelligence investigation into Russia's role in the election. Trump has said the FBI planted a mole in his presidential campaign for political purposes.
BUZZ SURROUNDING CLINTON REPORT: Justice Department Inspector General Michael Horowitz is slated to testify before congressional committees next week, presumably after the release of his long-awaited report on the FBI's Hillary Clinton investigation during the 2016 presidential campaign, Fox News has learned ... Both the Senate Judiciary Committee and the House Oversight Committee are preparing to have Horowitz appear before them in early June, according to a congressional source. On Tuesday, Senate Judiciary Chairman Chuck Grassley, R-Iowa, said his committee would hold a hearing titled "Examining the Inspector General's First Report on Justice Department Decisions Regarding the 2016 Presidential Election" on June 5. In June, House Republicans also plan to interview three FBI officials linked to the agency's handling of the Clinton email probe, part of an ongoing joint investigation by the House Judiciary and Oversight and Government Reform committees.
AS SEEN ON FOX NEWS
CREATING A NARRATIVE, FACTS BE DAMNED: "If you want to know why this anti-Trump media narrative is being advanced at this time, it is because Trump is close to making good on his promise to transform our immigration laws for the better. Even the left realizes this issue is a winner for Republicans." – Laura Ingraham, in her opening monologue for "The Ingraham Angle," slamming the mainstream media's reporting on illegal immigrant children allegedly "lost" by the Trump administration. WATCH
FBI DOING WHAT THEY WERE TOLD ON RUSSIA?: ""I am even more convinced that the FBI did exactly what my fellow citizens would want them to do when they got the information they got, and that it has nothing to do with Donald Trump... It was Trump himself who said, 'I didn't collude with Russia but if anyone did, I want the FBI to find that out.'" – Rep. Trey Gowdy, on "The Story with Martha MacCallum," arguing that the FBI is "doing what [President Trump] told them to do" on the suspicions about Russia and that the real source of Trump's frustrations is not the agency, but Democrats and Obama White House officials who have regularly blasted him over the Russia probe. WATCH
THE SWAMP
Missouri Gov. Greitens resigning amid sexual misconduct scandal.
California's top campaign watchdog quits | Calif. Senate OKs bill raising age to buy rifles, shotguns from 18 to 21.
California must push against 'blue wall,' Franklin Graham says.
Phoenix Mayor Greg Stanton, a Trump critic, resigns to run for Congress.
Deported immigrant's wife: 'I can't be mad at Trump for doing his job.'
ACROSS THE NATION
Man burns American flag blanket, starts 5-acre wildfire, authorities say.
NBA Finals or 'NRA' Finals? Championship caps have design flaw, some say.
Legoland face-painting caused significant skin reaction to boy's face, lawsuit claims.
CRIME STORY
Mary Kay Letourneau relives 'brutal' time in prison after student-teacher romance in new doc.
Scott Peterson's latest mugshot released by San Quentin State Prison.
Oregon man stabbed 17 times after telling homeless man to move, daughter says.
MINDING YOUR BUSINESS
Disney tumbles as 'Roseanne' canceled, 'Solo' flops.
Stocks plunge on Italy's political uncertainty.
Why Wall Street should be bullish on Ford.
Here's what more U.S. auto loan delinquencies means for the economy.
George Soros says Trump's actions could spark the next 'major financial crisis.'
FOX NEWS OPINION
John Stossel: What everyone's afraid to say about college and jobs.
Dr. Marc Siegel: How Medicare-Medicaid chief Seema Verma's taking steps to sink drug prices under Trump's plan.
Todd Starnes: Remember when Starbucks just served over-priced, burnt coffee?
HOLLYWOOD SQUARED
Andrew Lincoln reportedly leaving 'The Walking Dead.'
Alan Rickman's frustrations with 'Harry Potter' character Snape revealed in personal letters.
Woody Allen's daughter with Soon-Yi defends him against sex abuse claims.
DID YOU HEAR ABOUT THIS?
WATCH: Whale's breathtaking 360-degree breach spin off New Jersey coast captured on video.
Digital license plates that change displays and track your car being tested in California.
Exceptionally rare 1,000-year-old mummy found in Peru.
STAY TUNED
On Fox News:
Fox & Friends, 6 a.m. ET: House Majority Leader Kevin McCarthy on the GOP's agenda before the midterms. Will President Trump be able to reform the VA and improve veteran care? "Fox & Friends" takes a closer look. And an explosive new report claims big pharma knew its opioids were widely abused.
On Fox Business:
Mornings with Maria, 6 a.m. ET: Guests include: Kevin Johnson, Starbucks CEO; Peter Navarro, director of the White House National Trade Council; Richard Edelman, Edelman president and CEO; John Negroponte, former U.S. ambassador to the U.N.
Varney & Co., 9 a.m. ET: Rep. Carlos Curbelo; Sebastian Gorka, former adviser to President Trump; Kevin Hassett, chair of the Council of Economic Advisors.
Cavuto: Coast to Coast, Noon ET: Paul Bonicelli, former foreign policy adviser to President George W. Bush.
The Intelligence Report, 2 p.m. ET: Gordon Chang, author of "The Coming Collapse of China"; Corey Lewandowski, former Trump campaign manager.
On Fox News Radio:
The Fox News Rundown podcast: Starbucks shut down its 8,000 company owned stores for anti-bias training Tuesday afternoon. Fox Business' Kristina Partsinevelos describes the change the corporation is hoping to achieve and why they did this. More than 10 years after the 2008 financial crisis, the housing market is beginning to struggle again. Lawrence Yun, chief economist for the National Association of Realtors, explains the cause of the decline. Plus, commentary by Howard Kurtz, host of MediaBuzz.
Want the Fox News Rundown sent straight to your mobile device? Subscribe through Apple Podcasts, Google Play, and Stitcher.
The Brian Kilmeade Show, 9 a.m. ET: Peter Navarro, director of the White House National Trade Council, on the White House's decision to move forward with its threat to apply tariffs on Chinese imports and other actions; Michael Loftus on the cancellation of "Roseanne"; Sen. Mike Lee on DACA, the November midterms and his book out on paperback; Howard Kittell, president and CEO of Andrew Jackson's Hermitage, on repairs to Jackson's gravesite after it was vandalized in April.
#OnThisDay
1996: Britain's Prince Andrew and the former Sarah Ferguson are granted an uncontested decree ending their 10-year marriage.
1958: Unidentified American service members killed in World War II and the Korean War are interred in the Tomb of the Unknowns at Arlington National Cemetery.
1911: The first Indy 500 takes place at the Indianapolis Motor Speedway; Ray Harroun, driving a Marmon Wasp for more than 6 1/2 hours at an average speed of 74.6 mph, wins and collects a $10,000 prize.
Fox News First is compiled by Fox News' Bryan Robinson. Thank you for joining us! Enjoy your day! We'll see you in your inbox first thing Thursday morning.