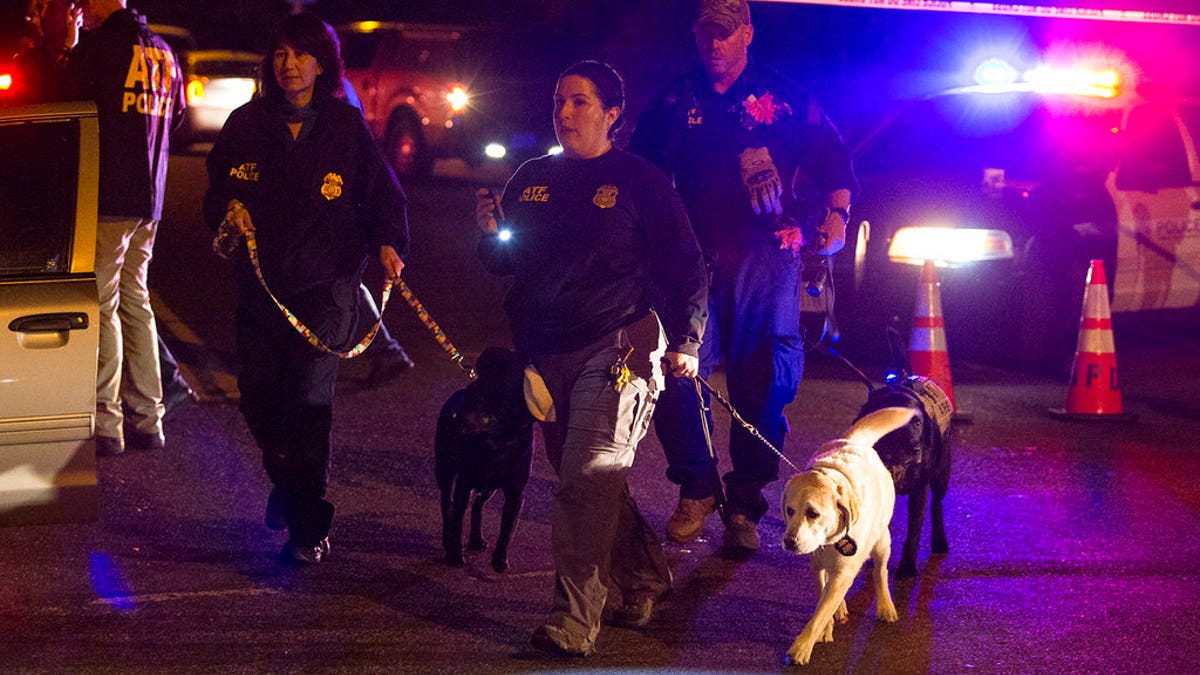 Welcome to Fox News First. Not signed up yet? Click here.
Developing now, Monday, March 19, 2018
Austin, Texas residents are on edge after a blast leaves two people injured; it is unclear whether it is related to the three package bomb incidents earlier this month
President Trump's attorney denies he is considering firing Robert Mueller after Trump's recent series of tweets criticizing the special counsel's probe on Russian collusion
Former FBI Deputy Director Andrew McCabe is reportedly 'considering all options' after being fired Friday
The first lawsuit in last week's deadly Florida bridge collapse is expected to be filed Monday
Hillary Clinton tries to explain her controversial comments about Trump voters made during a trip to India
THE LEAD STORY - FEAR OF A POSSIBLE SERIAL BOMBER STRIKING AGAIN: Austin, Texas was on edge early Monday as an explosion injured two people and left police wondering whether the blast was related to three others that have already gripped the city in fear ... The latest blast occurred Sunday night in a suburban neighborhood known as Travis Country in southwest Austin. Authorities said the explosion may have been triggered by a tripwire, but cautioned that they were still processing the scene. Austin police Chief Brian Manley said early Monday that based on the evidence that had been seen they believe a bomb did detonate. He said that police were "working under the belief" that the explosion was related to the three others, but investigators still had yet to process the entire scene. Residents within a half-a-mile of the blast were urged to stay in their homes until at least 10 a.m. local time.
Sunday's explosion was the fourth to rock Austin less than three weeks. However, the three previous blasts occurred on the east side of the city. On March 2, a package bomb exploded at an east Austin home, killing a 39-year-old man. Then, 10 days later, on March 12, two package bombs in other parts of the city exploded, killing a 17-year-old, wounding his mother and injuring a 75-year-old woman.
TEAM TRUMP ATTEMPTS TO DEFUSE MUELLER FIRING SPECULATION: An attorney for President Trump said the president "is not considering or discussing" firing Special Counsel Robert Mueller after Trump fired off a series of tweets criticizing the investigation into Russian actions during the 2016 presidential election ... "In response to media speculation and related questions being posed to the Administration, the White House yet again confirms that the President is not considering or discussing the firing of the Special Counsel, Robert Mueller," read the statement from Ty Cobb. Cobb's remarks came one day after Trump's personal lawyer, John Dowd, called on Deputy Attorney General Rod Rosenstein to "bring an end" to the Mueller inquiry. On Saturday evening, hours after Dowd's statement, Trump tweeted: "The Mueller probe should never have been started in that there was no collusion and there was no crime. It was based on fraudulent activities and a Fake Dossier paid for by Crooked Hillary and the DNC, and improperly used in FISA COURT for surveillance of my campaign. WITCH HUNT!"
DEMOCRATS TO MCCABE'S RESCUE: Former FBI Deputy Director Andrew McCabe is reportedly "considering all options" to save his government pension as various Democrats extend job offers following his firing last Friday ... Attorney General Jeff Sessions fired McCabe just days before he would have been eligible for a lifetime pension after it was determined that he lied to investigators reviewing the bureau's probe of Hillary Clinton's email server. McCabe blasted his firing as part of an ongoing war with the FBI and an attempt to undermine Russia Special Counsel Mueller's investigation. "This attack on my credibility is one part of a larger effort not just to slander me personally, but to taint the FBI, law enforcement, and intelligence professionals more generally," he said in a statement. "It is part of this Administration's ongoing war on the FBI and the efforts of the Special Counsel investigation, which continue to this day. Their persistence in this campaign only highlights the importance of the Special Counsel's work." McCabe has received job offers from Democratic Reps. Mark Pocan, Jamie Raskin and Luis Gutiérrez.
SEEKING JUSTICE IN FLORIDA BRIDGE COLLAPSE: The first lawsuit following last week's deadly bridge collapse at Florida International University is expected to be filed on Monday ... "I will be filing the first civil lawsuit related to the #FIUBridgeCollapse tomorrow morning," Matt Morgan, of the Morgan & Morgan law firm, tweeted. "It is imperative we act quickly to secure critical documentation & data. Thoughts & prayers to all the families impacted by this tragedy." Attorneys with the firm are scheduled to hold a press conference on Monday afternoon in Orlando regarding the suit. They said it would be filed on behalf of someone who was injured in the collapse, but did not specify which person.
HILLARY: I 'MEANT NO DISRESPECT': Hillary Clinton attempted to explain her comments about American voters and the 2016 election during a recent trip to India in a lengthy Facebook post that claimed she "meant no disrespect to any individual or group." ... Clinton told attendees at a conference in Mumbai that Americans did not "deserve" a Trump presidency, said she won the states "that are optimistic, diverse, dynamic, moving forward," and said that Trump's campaign was "looking backwards." Clinton summed up Trump's message as "you know, you didn't like black people getting rights, you don't like women, you know, getting jobs. You don't want, you know, to see that Indian American succeeding more than you are." In her Facebook message, Clinton said she understood the uproar over her comments, but she did not back away from them. "I understand how some of what I said upset people and can be misinterpreted," she wrote. "I meant no disrespect to any individual or group. And I want to look to the future as much as anybody."
AS SEEN ON FOX NEWS
LONG-TERM TRUMP VERSUS ' HALF-A-PLANNERS' DEMS: "If you look at what Trump's doing, all of these things are kind of long-term solutions to problems that we kind of live with. [Trump] is always thinking about the future."– Greg Gutfeld, on "The Greg Gutfeld Show," comparing Trump's style of governing with Democrats who don't follow-through on their promises. WATCH
THE FBI CRIME FAMILY, ACCORDING TO JUDGE JEANINE: "You should have been fired a long time ago. You should lose your law license and you should have been taken out in cuffs." – Judge Jeanine Pirro, in her "Opening Statement" on "Justice with Judge Jeanine," comparing the firing of FBI Deputy Director Andrew McCabe to a "classic crime family take-down." WATCH
THE SWAMP
Trump to seek death penalty for some drug traffickers in plan to fight opioid crisis.
Rep. Keith Ellison, under fire for Farrakhan ties, claims he hasn't seen the controversial leader since 2013.
Democratic New York lawmaker to introduce bill to protect pets flying on airplanes.
Zinke defends 'konnichiwa' comment to Japanese-American lawmaker.
ACROSS THE NATION
Some officials wanted Parkland suspect Nikolas Cruz committed in 2016, documents show.
DC council member apologizes after blaming snowfall on Jewish bankers controlling climate.
Uproar after New Jersey high school allegedly suspends students over gun-range photo.
Mississippi boy, 9, fatally shoots sister in head over video game controller, police say.
MINDING YOUR BUSINESS
Fed's thinking on future rate increases will come into focus this week.
U.S. tariffs to be in spotlight at G-20 summit.
401(k) taxes in 2018: What you need to know.
FOX NEWS OPINION
Ted Olson: Why won't the Trump administration defend a key anti-terrorism law?
Janice Dean: This is #MS -- My journey with multiple sclerosis.
Online abuse of women in politics undermines both them and our democracy.
HOLLYWOOD SQUARED
Katy Perry legal battle has left me broke, nun says.
Jim Carrey slammed for 'disgraceful,' garish portrait of Sarah Sanders.
Driver tries to fool traffic cop with Homer Simpson's license.
DID YOU HEAR ABOUT THIS?
Teen loaning out prom dress on Twitter sparks a social media movement.
WATCH: A germophobe gorilla? Philadelphia Zoo primate walks upright so he won't get his hands dirty.
Explorers find 119-year-old shipwreck at the bottom of Lake Erie.'
STAY TUNED
On Fox News:
Fox & Friends, 6 a.m. ET: Law professor Jonathan Turley provides insight on the firing of FBI Deputy Director Andrew McCabe; HHS Secretary Alex Azar discusses the administration's efforts to fight the opioid crisis; Stuart Varney weighs in on the debate over fines that are scaled to income; Karen and Charlotte Pence share their new children's book about "Marlon Bundo." Plus, Sean Hannity on President Trump's ongoing battle with the mainstream media.
Tucker Carlson Tonight, 8 p.m. ET: Tucker takes a closer look at why Americans hold more credit card debt than ever and why a "major tipping point" is coming.
On Fox Business:
Mornings with Maria, 6 a.m. ET: Guests include: Sen. Chuck Grassley; Rep. Marsha Blackburn; Alan Dershowitz; Judge Andrew Napolitano; Christopher Bedford, editor-in-chief of The Daily Caller News Foundation; Lee Carter, president of Maslansky and Partners; Patrick DeHaan, head of petroleum analysis at GasBuddy; Jeffrey D. Sachs, director of the Center for Sustainable Development at Columbia University; Hugo Gurdon, editorial director of the Washington Examiner.
On Fox News Radio:
The Fox News Rundown podcast: New sanctions have been slapped on Russia by the Trump administration as Vladimir Putin looks towards a fourth term as president. Former U.S. Ambassador to the United Nations John Bolton weighs in. Plus, commentary from former State Department spokeswoman Marie Harf.
Want the Fox News Rundown sent straight to your mobile device? Subscribe through Apple Podcasts, Google Play, and Stitcher.
The Brian Kilmeade Show, 9 a.m. ET: New York Post columnist Michael Goodwin on why a second special counsel should be appointed to investigate FBI leaks; Andrew Pollack, father of Parkland massacre victim, on new gun legislation proposals and the latest new revelations about suspect Nikolas Cruz; Kevin Sorbo reveals the story behind his new movie.
#OnThisDay
2013: Pope Francis officially begins his ministry as the 266th pope, receiving the ring symbolizing the papacy and a wool stole exemplifying his role as shepherd of his 1.2-billion strong flock during a Mass at the Vatican.
2003: President George W. Bush orders the start of war against Iraq. (Because of the time difference, it was early March 20 in Iraq.)
1918: Congress passes the first law establishing daylight saving time in the United States, with clocks to be moved forward one hour from the last Sunday in March to the last Sunday in October. (This law was repealed in August 1919.)
Fox News First is compiled by Fox News' Bryan Robinson. Thank you for joining us! Enjoy your day, and we'll see you in your inbox first thing Tuesday morning.