FOX NEWS FIRST: Dem hypocrisy on display as Trump targets birthright citizenship; Kanye feels 'used'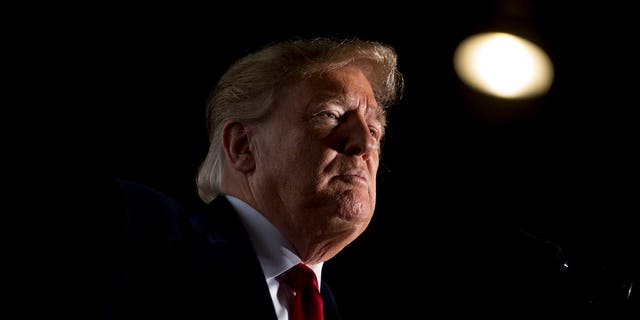 Happy Halloween! Welcome to FOX News First. Not signed up yet? Click here.

Developing now, Wednesday, Oct. 31, 2018
THE LEAD STORY - DEMOCRATIC HYPOCRISY ON BIRTHRIGHT CITIZENSHIP EXPOSED: President Trump ignited a national debate when, while speaking to "Axios on HBO," he announced his intention to use an executive order to end birthright citizenship, which he called "ridiculous" ... However, top Republicans are pointing to a 1993 speech by then-Nevada Sen. Harry Reid, in which the future Democratic Senate majority leader argued that "no sane country" would award citizenship to children of illegal immigrants born on its soil and promoted his own legislation to end the practice. In his speech, Reid advocated passing a law that would grant citizenship only to the children of mothers in the U.S. legally. Reid reversed his position in 1999, shortly after the powerful union group AFL-CIO changed its position to support birthright citizenship.
Within hours of the Reid clip surfacing Tuesday, Republican leaders were quick to highlight Democrats' changing tune on immigration. "Stopping the flow of illegal immigration used to be a bipartisan issue," Ronna McDaniel, RNC chairwoman, wrote on Twitter. "But the Democrat leaders of today want to abolish ICE and open our borders." Former GOP vice presidential candidate Sarah Palin reposted an article about Reid's speech. - Reported by Gregg Re. Follow him on Twitter @gregg_re.
'POSSIBLE ARMED CIVILIANS' AT THE BORDER: The U.S. Border Patrol this week reportedly told Texas landowners along the U.S.-Mexico border to prepare for a possible influx of "armed civilians" on their property as the migrant caravan moves closer to the U.S., a report said ... The Associated Press reported that these civilians say they intend to support the National Guard and Border Patrol to prevent the illegal migrants from crossing into the U.S. But some see the move as a negative, arguing that the armed civilians' presence would add even more tension should there be a confrontation. - Reported by Edmund Demarche. Follow him on Twitter @EDeMarche.
REPORTER'S NOTEBOOK: TRUMP PAYS RESPECT IN PITTSBURGH, BUT IS NOT WELCOME - President Trump visited the Pittsburgh synagogue where 11 people were killed and six others were injured in a mass shooting Saturday over the objections of local officials who said this was not the time for him to come to the city ... Trump, his wife Melania, daughter Ivanka and son-in-law Jared Kushner arrived Tuesday afternoon. No local dignitaries met them at the airport. A spokesman for Pittsburgh's Democratic mayor, Bill Peduto, claimed that the city did not have enough police to "provide enough protection at the funerals and to be able at the same time draw attention to a potential presidential visit."
Two large demonstrations coincided with Trump's visit to the Tree of Life synagogue in the Squirrel Hill neighborhood of Pittsburgh, where Saturday's massacre unfolded. One of the groups organizing the protest said they had three primary goals: educating the public on the Jewish grieving process, demonstrating that anti-Semitism is not acceptable in Pittsburgh and sending a message that President Trump is not welcome in the city. - Reported by Barnini Chakraborty. Follow her on Twitter @Barnini.
CNN'S NEW LOWS: CNN and anchor Jake Tapper are under fire for remaining silent when a guest on his program declared that President Trump had radicalized more people than ISIS ... Hours later, CNN's Don Lemon drew the ire of Majority Whip Steve Scalise by declaring that Democrats don't kill people, completing a 24-hour span being labeled CNN's "new low" by critics. CNN has preached a call for civility since its New York headquarters was evacuated when a pipe bomb was found in the mailroom last week. But critics feel the network only cares about hate speech when it comes from the right.
This theory came to a head when controversial GQ Magazine columnist Julia Ioffe was on Tapper's show, "The Lead," on Monday during a heated debate about hateful rhetoric. "I think this president, one of the things that he really launched his presidential run on is talking about Islamic radicalization and this president has radicalized so many more people than ISIS ever did," Ioffe said. Tapper did not chime in, but David Urban, the panel's token conservative, didn't appreciate the remark. - Reported by Brian Flood. Follow him on Twitter at @briansflood.
YE 'DISTANCING' HIMSELF: Kanye West took to Twitter on Tuesday to reveal he's had enough of politics ... The outspoken fan of President Trump tweeted: "My eyes are now wide open and now realize I've been used to spread messages I don't believe in. I am distancing myself from politics and completely focusing on being creative !!!" What caused the change of heart? It's not entirely clear. In another tweet, he referenced "Blexit" – a campaign developed by conservative activist Candace Owens aiming to move African-American voters away from the Democratic Party. Owens is communications director for the right-leaning Turning Point USA. In a tweet, the rapper insisted that he hadn't wanted any involvement with Blexit, and didn't design the logo on its clothing, despite her claims that he did. - Reported by Elizabeth Zwirz.
CRASHED PLANE MAY BE FOUND: Indonesian military officials say the Lion Air jet that crashed Monday with 189 people aboard may have been found in the Java Sea ... Hadi Tjahjanto, the armed forces chief, said a search and rescue team had identified the possible seabed location of the jet. Navy officer Harris Djoko Nugroho said the 72-foot long object is at a depth of 105 feet. He said divers will be deployed after side-scan sonar has produced more detailed images. The team had previously found debris and some human remains from the wreckage but not the main fuselage and the black boxes. - Reported by Bradford Betz. Follow him on Twitter @bradford_betz.
AS SEEN ON FOX NEWS
DEMS' NEW HOPE IN 2020? - "Clearly for the Democrats, the bar has become very, very low. It's so low [that] it's on the floor." – Tammy Bruce, on "Tucker Carlson Tonight," on reports that high-profile Democrats are advising porn star Stormy Daniels' attorney, Michael Avenatti, on a possible presidential run in 2020. WATCH
2018 MIDTERMS
Biden, stumping for Dems, says he's 'sick and tired' of Trump White House.
U.S. Rep. Mia Love, R-Utah, faces tough re-election fight.
FOX News Full Coverage: 2018 Midterms
TRENDING
Special counsel notifies FBI of alleged scheme to pay women for false allegations against Mueller.
ICYMI: Hillary Clinton jokes 'they all look alike' after interviewer mixes up Cory Booker and Eric Holder.
Human bones found near Vatican Embassy, reviving decades-old mystery of missing teen girl: report.
FRIGHT FEST
Teenager praised for 'perfect' tired mom costume.
Bought a haunted house? Join the club.
The world's creepiest jobs and what they pay.
ACROSS THE NATION
'Whitey' Bulger beaten to death by West Virginia prison inmates with possible mob ties, report says.
Couple who plunged to their deaths at Yosemite National Park was taking selfie, relative says.
Humans have killed 60 percent of world's wildlife since 1970, World Wildlife Fund says.
MINDING YOUR BUSINESS
Stocks higher ahead of Facebook, Apple earnings.
Stu Varney: Trump isn't falling into the 'Merkel trap.'
Bank of Japan keeps policy steady, cuts inflation forecast.
Kennedy: The unholy alliance between state and tech.
Apple unveils new iPad Pro, Macs.
Ben & Jerry's launches anti-Trump ice cream flavor 'Pecan Resist.'
FOX NEWS OPINION
Marc Thiessen: Don't blame Trump, Dems started dragging us into the political gutter long ago.
John Yoo: Trump is wrong to want to end birthright citizenship – conservatives should preserve it.
Hans von Spakovsky: Trump is right – ending birthright citizenship is constitutional.
HOLLYWOOD SQUARED
Suzanne Somers weighs in on Roseanne Barr's firing: 'The anti-Trumps won in this case.'
Megyn Kelly won't sign non-disclosure agreement 'if NBC News keeps spreading lies,' friend says.
FOX News Channel beats MSNBC, CNN combined in October viewership.
DID YOU HEAR ABOUT THIS?
Hawaii Supreme Court upholds permit for controversial giant telescope.
Giant 5,655-carat emerald crystal with 'golden green hue' discovered by miners.
Cluster of 1,000 octopuses discovered during California deep-sea expedition.

STAY TUNED
FOX Nation is coming! - Sign up now and find out more about its exciting launch on Nov. 27!
DETAILS: How to sign up now to become a FOX Nation Founding Member!
On Facebook:
Check out 'FOX News Update,' our Facebook-exclusive news program!
On FOX News:

FOX & Friends, 6 a.m. ET: The latest on the migrant caravan from Central America as it moves through Mexico toward the U.S. border. Special guests include: Constitutional law professor Jonathan Turley; RNC Chair Ronna McDaniel; White House press secretary Sarah Sanders; New York Post columnist Michael Goodwin. Plus, tune in for the "FOX & Friends" annual Halloween costume parade!
The Daily Briefing, 2 p.m. ET: Dana Perino will be live in Indianapolis taking the pulse of voters with the midterms less than one week away!
On FOX Business:
Mornings with Maria, 6 a.m. ET: Special guests include: Jack Ablin, Cresset Wealth Advisors chief investment officer; "Dilbert" creator Scott Adams; Kayleigh McEnany, RNC spokeswoman; Sam Stovall, CFRA Research chief investment strategist.
Varney & Co., 9 a.m. ET: Ronna McDaniel, RNC chairwoman; Brandon Judd, National Border Patrol Council president; Nigel Farage, former leader of the UK Independence Party.
Cavuto: Coast to Coast, Noon ET: Ron DeSantis, Republican running for governor of Florida.
Making Money with Charles Payne, 2 p.m. ET: U.S. Rep. Kevin Yoder, R-Kan.; Robin Biro, Democratic strategist; Shah Gilani, Capital Wave Forecast editor; Robert Wolf, founder and CEO of 32 Advisors; Gary Kaltbaum, president of Kaltbaum Capital Management; David Bahnsen managing partner and founder of the Bahnsen Group; Lawrence Jones, editor-in-chief of CampusReform.org; Michael Pillsbury, director of the Center on Chinese Strategy at the Hudson Institute.
On FOX News Radio:
The FOX News Rundown podcast: In an interview with "Axios on HBO," President Trump announced a plan to unilaterally end birthright citizenship with an executive order, but critics say the Constitution can't be applied this way. Andrew McCarthy, National Review columnist and a former U.S. attorney, discusses the problems with the plan. The Missouri Senate race between incumbent Democrat Sen. Claire McCaskill and Republican challenger Josh Hawley is one of the closest and most watched races in the country. Jason Hancock, the lead political reporter for the Kansas City Star, discusses the race. Plus, commentary by "Media Buzz" host Howard Kurtz.
Want the FOX News Rundown sent straight to your mobile device? Subscribe through Apple Podcasts, Google Play, and Stitcher.
The Brian Kilmeade Show, 9 a.m. ET: Secretary of State Mike Pompeo on the state of U.S relations with Saudi Arabia, Iran and North Korea. Additional guests include: Karl Rove; Chris Stirewalt; Martha MacCallum; and Ainsley Earnhardt.

#OnThisDay
2013: The Federal Aviation Administration issues new guidelines allowing airline passengers to keep their electronic devices activated throughout the entire flight, but not to talk on their cellphones.
1984: Indian Prime Minister Indira Gandhi is assassinated by two Sikh security guards.
1975: The Queen single "Bohemian Rhapsody" is released in the United Kingdom by EMI Records.
FOX News First is compiled by FOX News' Bryan Robinson. Thank you for joining us! Enjoy your day! We'll see you in your inbox first thing Thursday morning.