What is Blexit? Candace Owens explains plan to lead 'black exit' from Democratic Party, impact 2020
Conservative activist Candace Owens says she wants to "free" black voters from the decades-long grip of the Democratic Party – and is urging them to support a new movement she's calling "Blexit."
"Blexit is a Renaissance," Owens told Fox News, giving the backstory behind the campaign she launched over the weekend. "Blexit is the black exit from the Democratic Party. It's the black exit from permanent victimhood, the black exit from the false idea that we are somehow separate from the rest of America."
The campaign made headlines recently after it was revealed Kanye West helped her design the Blexit logo. "Kanye saw my original design, and said, 'I can do it better,'" Owens recalled. "It certainly was. He redesigned the logo with vibrant colors inspired by his trip to Uganda."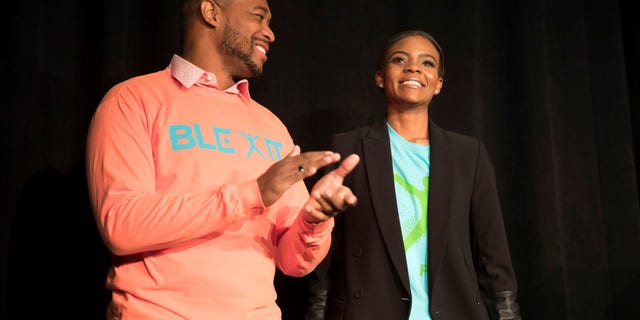 Despite the recent attention, Owens told Fox News the concept of Blexit developed over time. As for the name, she recalled, it formed almost by accident. She was at the Conservative Political Action Conference in February 2017 and a radio interview had gone long, coinciding with President Trump's speech at the event.
YOUNG BLACK CONSERVATIVES UNITE AROUND PRESIDENT TRUMP
"The doors had closed, so I ran into a room where panelists could watch the speakers on this small TV," Owens said. "I looked up and Nigel Farage of the Brexit movement was there. I thought, here in America we need a 'Blexit'."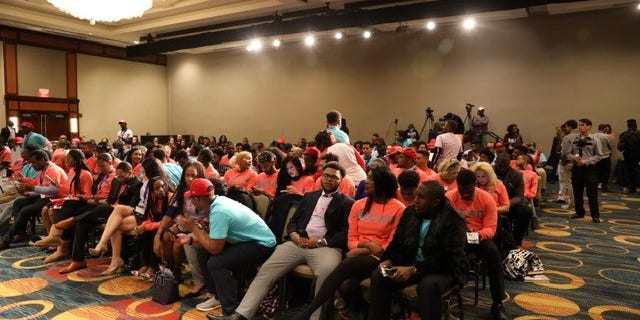 Owens then purchased the "Blexit" domain, and started garnering support.
Fast forward to today, and she's added "Founder of the Blexit Movement" to her resume, next to communications director at Turning Point USA.
KANYE WEST DESIGNS T-SHIRTS MEANT TO CONVINCE BLACK VOTERS TO BREAK FROM DEMOCRATIC PARTY
The movement is geared toward the next election cycle, not the midterms. Owens said she is focused on the 2020 elections and plans to hold rallies in every major American city she claims has been hurt by Democratic policies including Chicago, Philadelphia and Detroit.
"There are people that want to change their lives that have been lied to by the media," Owens said. "There should be something waiting for them when they make that decision, and, now, Blexit will be there."
Owens came under fire last week when she tweeted her doubts that the person behind a spate of mail bombs sent to Democrats was a conservative. Cesar Sayoc has been charged in the case and is an avowed supporter of President Trump.
To see more of Blexit founder Candace Owens, watch the full video above.