FOX NEWS FIRST: Deadly airstrike at Assad air base after suspected chemical attack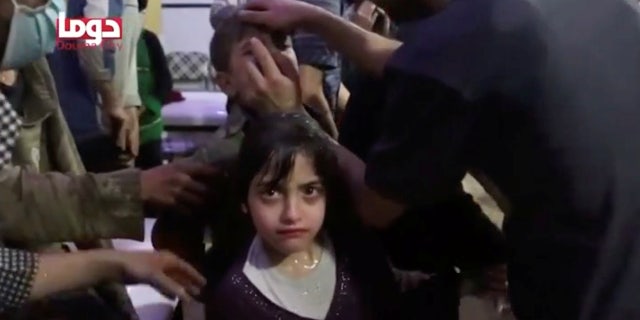 Welcome to Fox News First. Not signed up yet? Click here.
Developing now, Monday, April 9, 2018
An airstrike hit an Assad air base in Syria shortly after a suspected chemical attack killed 40 in a suburb of Damascus. Russia blames Israel.
Survivors of suspected Syria chemical attack 'forced to leave or die'
Pharmaceutical giant Novartis to buy AveXis for $8.7B
Patrick Reed holds off golf's best to win Masters
Airstrikes on Monday reportedly killed 14 people, including Iranians, at a military airport near the city of Homs shortly after a suspected chemical attack that killed at least 40 people in a suburb of the capital city, Damascus, over the weekend.
Rami Abdurrahman, who heads the Britain-based Syrian Observatory for Human Rights, says most of the 14 killed were either Iranians or members of Iran-backed groups.
It was not immediately clear which country launched the strikes, but Russia and Syria blame Israel.
Survivors described the earlier chemical attack as something akin to a horror movie: babies foaming at the mouth, children choking and victims wailing as their eyes burned.
Those in the rebel-held Syrian enclave of Douma say they immediately knew their region had again been assaulted by chemical weapons -- and something stronger than just chlorine.
HARRY J. KAZIANIS writes that the attack shows the world now considers chemical attacks OK.
GEN. JACK KEANE: Take out Assad's entire airpower
MEGA-PHARMA DEAL: Novartis reportedly plans to buy AveXis for $218 per share in a $8.7 billion cash deal, Reuters reported Sunday. Novartis Chief Executive Vas Narasimhan, who took over on Feb. 1, is flush with cash, having just agreed to sell his company's stake in a consumer healthcare joint venture for $13 billion to GlaxoSmithKline.
NEW MASTERS CHAMPION: Patrick Reed held off Sunday charges by Rickie Fowler and Jordan Spieth to win his first major championship at the Masters. Reed, a 27-year-old Texan better known for his match-play performances at the Ryder Cup, shot a final-round 71 to finish with a 15-under 273, one shot ahead of Fowler and two shots ahead of Spieth on a dramatic final day at Augusta National Golf Club.
AS SEEN ON FOX NEWS
'I'M AN ACTION GUY': "I want to get things fixed. Let's not label it a Democrat idea or a Republican idea, let's just get it fixed," Arnold Schwarzenegger, the former California governor, told Steve Hilton on "The Next Revolution," in response to Washington gridlock.
'WE HAVE A PROBLEM ON THE BORDER: "They need to step up and they need to do their jobs. People need to know that our borders are sovereign and our country is safe," Jan Brewer, the former governor of Arizona, said on Fox News, responding to reports some governors are opposed to sending troops to the border.
'THE TRADE WAR HAS GONE ON FOR A VERY LONG TIME': "For decades, but certainly it's the beginning of that 'tit-for-tat' phase of the trade war," Gordon Chang, the author of "The Coming Collapse of China" told "Sunday Morning Futures," in response to recent tariff threats between Washington and Beijing.
THE SWAMP
Trump national security spokesman Michael Anton to leave White House
Pruitt slammed as unfit to lead EPA by 2 GOP senators; one calls him 'chucklehead'
ACROSS THE NATION
Manhunt for Tennessee man who allegedly admits to killing mom in Facebook post
Moose kicks man in Alaska—after he kicked first
Arizona mom arrested after toddler ate THC-laced mac and cheese, cops say
MINDING YOUR BUSINESS
Stocks look to rebound from Friday's pounding
Americans face highest pump prices in years
FOX NEWS OPINION
California may elect a Republican governor -- Incredible as that sounds
US sanctions on Russia are a welcome response to Russian aggression
HOLLYWOOD SQUARED
Dwayne 'The Rock' Johnson to give away largest HQ Trivia prize ever
NY Times Op-Ed slamming 'Chappaquiddick' film as 'character assassination' spurs online outrage
DID YOU HEAR ABOUT THIS?
'Hero' Humbolt Broncos player taken off life support, to donate organs
Man hailed as a 'real life Disney prince' after 70-pound weight loss goes viral on Reddit
Delta passenger suffered 'painful' cartilage damage after child on flight repeatedly kicked her, she claims
STAY TUNED
On Fox News:
Fox & Friends, 6 a.m. ET: Senator Lindsey Graham reacts to apparent chemical weapons attack in Syria. Later, Larry Sabato breaks down 2018 midterm races to watch.
On Fox Business:
Mornings with Maria, 6 a.m. ET: Guests include: Rep. Chris Collins, R-NY; Sen. Mike Rounds, R-S.D.; Sam Moore, the legendary soul man
Cavuto: Coast to Coast, Noon ET: Former Arizona Gov. Jan Brewer
On Fox News Radio:
Want the Fox News Rundown sent straight to your mobile device? Subscribe through Apple Podcasts, Google Play, and Stitcher.
#OnThisDay
1865: Confederate Gen. Robert E. Lee surrendered to Union Gen. Ulysses S. Grant at Appomattox Court House in Virginia
1983: The space shuttle Challenger ended its first mission with a safe landing at Edwards Air Force Base in California.
2003: Jubilant Iraqis celebrated the collapse of Saddam Hussein's regime, beheading a toppled statue of their longtime ruler in downtown Baghdad and embracing American troops as liberators.
Fox News First is compiled by Fox News' Bryan Robinson. Thank you for joining us! Enjoy your day and weekend! We'll see you in your inbox first thing Monday morning.