Fox 5 San Diego photographer witnesses crash, pulls victim from wreckage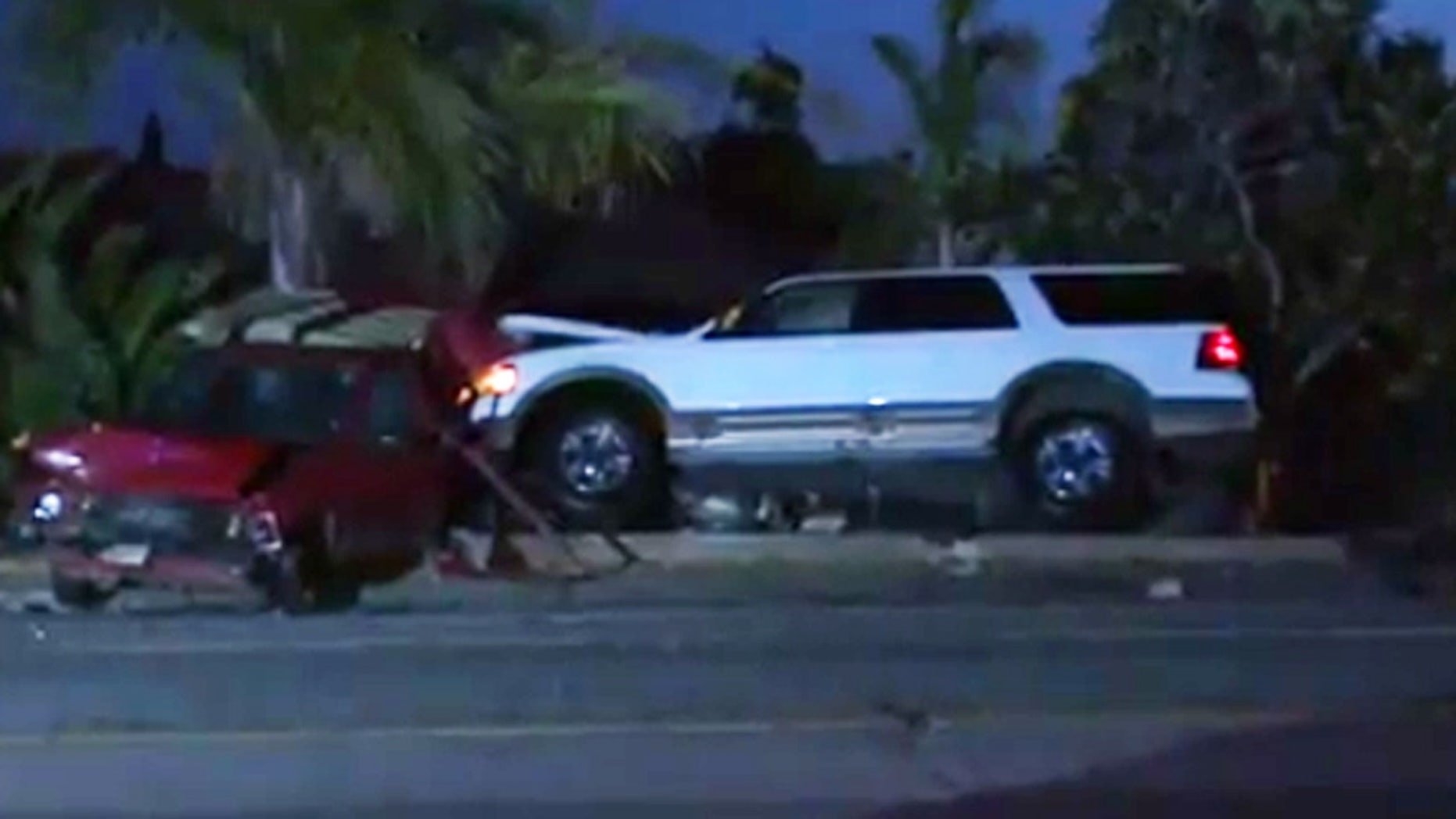 A FOX 5 photographer witnessed an SUV slam into a parked vehicle just hours after a similar accident on the same street in Lemon Grove, California.
The first accident took place on Palm Street and Dennis Lane around 11 p.m. Tuesday. The second crash happened about 6 hours later in front of several news crews getting ready to report live on the earlier collision.
GLIMMER OF HOPE ARISES FROM WRECKAGE AFTER SEVERE STORMS IN GEORGIA
FOX 5 reporter Aric Richards was about 25 yards away and said the crash sounded like an explosion.
Photographer Zak Bartleet saw the crash and ran across the street to help. He saw the man wedged behind the airbag and pulled the victim from the wreckage. The man was visibly shaking, crying and apologized several times for slamming into the parked vehicle.
BORN ON THE BAYOU: NYC FERRY FLEET BUILDS FOR SUMMER LAUNCH
The man told Bartleet and Richards he had been working the night shift at a nearby casino and thought he may have fallen asleep behind the wheel.
"Thank God that guy is alive and not hurt. It's just a miracle that no one else was really injured. And that nothing else really happened - no fire or bystanders standing by," Bartleet said.
The man's parents took him to the hospital. His injuries appeared to be minor.
No arrests have been made and police continue to investigate. Alcohol doesn't appear to be a factor in the crash.
Police don't believe alcohol was a factor in the initial crash. The woman who slammed into three parked cars Tuesday night was taken to the hospital and her injuries didn't appear to be life-threatening.
Neighbors said they have been concerned about speeding drivers on the stretch of road.