Former dominatrix loses her fight to keep job as cop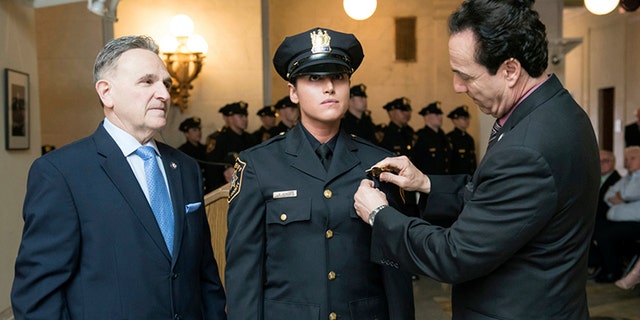 A New Jersey sheriff's officer has lost her job because she previously appeared in bondage films as a dominatrix.
Hudson County Sheriff Frank Schillari told The Jersey Journal a hearing officer made the decision to fire Kristen Hyman on Wednesday, and he agreed with the decision.
A source told The Journal that Hyman was terminated for lying about her prior work on her application, although it's possible she would not have made it into the academy had she been honest about her past.
The sheriff's office characterized Hyman's activities, which took place roughly from 2010 through 2012, as conduct unbecoming for a public employee.
The department suspended her six days before her academy graduation last year, saying she failed to disclose that she appeared in the films and sometimes saw clients privately for money.
As her latex-clad alter-ego, "Domina Nyx Blake," Hyman would humiliate and subjugate naked men — to pay the bills, according to The New York Post.
"I was struggling financially as an actress [and model]," she told The Post. "I had been doing regular catalogs for clothing, small stuff."
She was told that making the kinky videos was a "good wage," and "you didn't have to compromise in any sort of way. … It was a safe thing and a kind of way to explore acting," she said. "It was a totally ridiculous world."
Hyman insisted the gig "was exactly like WWE wrestling. I had a constructed narrative. A constructed character. Anything you read involving 'Domina Nyx Blake, the Greek Goddess of the Night,' is creative writing."
Court documents showed that Hyman told investigators she never appeared naked and didn't perform sex acts in the videos.
A judge rescinded the suspension, and Hyman was sworn in June 8. She then went on paid administrative leave pending the hearing.
A lawyer who previously represented Hyman says he's no longer involved in the case.
The Associated Press contributed to this report.