Florida city orders residents to remove 'God Bless America' signs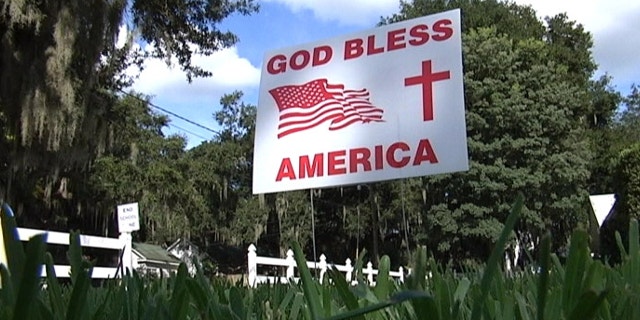 Residents of a Florida city who have had "God Bless America" signs posted on their front lawns for months have been ordered by local officials to remove them.
MyFoxTampaBay.com reports that the First Baptist Church of Bartow distributed some 300 signs to residents following a Fourth of July celebration. The city only permits residents to display signs during major holidays is starting to crack down on the displays.
"Being a veteran, I felt like I was just kicked in the gut. I couldn't believe it, that I couldn't display my love for my nation by putting a sign up that says "God Bless America," Bartow resident Marcus Seger told the station.
The city's code enforcement division recently notified offending residents that its temporary sign ordinance has been in place for 13 years and already allows for some exceptions for yard displays.
"They can have those signs out on holidays that are relevant," ," Bartow Code Enforcement Director Gregg Lamb said. "You can have a temporary sign around Christmas if it's related to Christmas. Or the 4th of July. The sign ordinance has exceptions for that."
Some Bartow residents disagree with the ordinance and have no plans to comply with the city's request. "This is my yard that I'm paying the taxes on. It's my right," Emmett Purvis, an area resident with a sign, told MyFoxTampaBay.com.
Several residents are expected to seek a waiver from the ordinance at an upcoming Bartow City Commission meeting. The city's code enforcement division does not enforce fines or penalties for non-compliance, according to the report.
City Manager George Long released a statement late Friday reminding residents that code enforcement officers are targeting all types of signs, regardless of the message.
"It is clear that some recipients of the notices have interpreted them as an indication that their message of 'God Bless America' is in violation of city code. This interpretation is not the case or the intent of the city. Instead, the issue is and remains the sign type – not the message," Long said.
Click here for more from MyFoxTampaBay.com.