Florida beachgoers form human chain to save stranded swimmers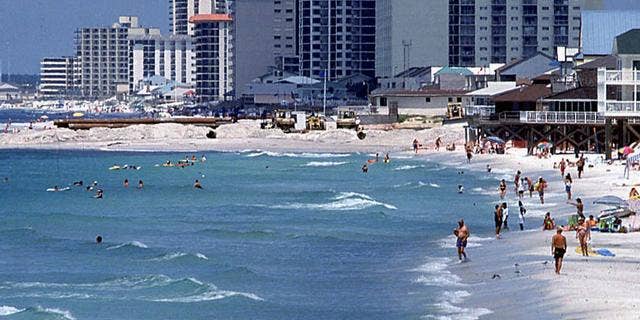 A powerful riptide. A Florida beach full of people. A bunch of stranded swimmers.
Crowds in Panama City Beach jumped into action Saturday evening when they noticed police flashing lights on the boardwalk, and several people screaming for help about 100 yards off shore.
According to the Washington Post, 10 swimmers, including six family members with four adults and two boys, were pulled into the ocean by a riptide.
Without lifeguards or rescue equipment, a group on the beach still decided to jump into action, the Post reported.
"Form a human chain!" they shouted.
It started with five volunteers, then grew to 15 and then to more than 75.
Roberta Ursrey dove in to help her sons, Noah, 11, and Stephen, 8, who got caught in the riptide while riding waves on their boogie boards. Ursrey's 27-year-old nephew, 67-year-old mother and 31-year-old husband were close behind. Soon all of them were stuck, along with another unidentified couple nearby.
Tabatha Monroe and her wife, Brittany, also dove in to reach the boys, but then got caught, too.
"The tide knocked every bit of energy out of us," Ursrey told the Post.
Another couple, Jessica and Derek Simmons swam past the now-80 or so human links, and headed straight for the Ursreys, using surf and boogie boards.
Jessica Simmons told the Panama City News Herald, "I practically lived in a pool. I knew I could get out there and get to them."
They passed Noah and Stephen back along the human chain first. When Jessica Simmons reached Ursrey, the 34-year-old mother was barely hanging on.
"I'm going to die this way," Ursrey thought to herself, she told The Post. "My family is going to die this way. I just can't do it."
But Simmons coaxed her on and Ursrey, who eventually blacked out, woke up on the beach to discover her mother, Barbara Franz, still in the water and having a heart attack.
Her nephew and husband helped get Franz to shore, the Post reported. Nearly an hour after it all started, all of the stranded swimmers were safely back to shore.
The entire beach applauded after the rescue was completed.
Franz and Brittany Monroe were taken to a hospital. Franz suffered a massive heart attack and aortic aneurysm in her stomach, but is considered stable. Monroe was treated for a panic attack and was released.
The Ursreys have a new respect for the water. "She'll take you with her," Ursrey told the Post.