First death reported as California wildfires continue to rage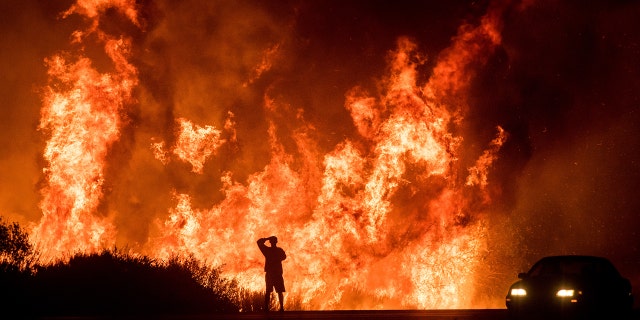 Authorities in Ventura County, Calif., confirmed the first-fire related death Friday as strong winds continued to whip a massive firestorm across South California -- leaving a charred path of destruction.
Virginia Pesola, 70, of Santa Paula, died Wednesday as a result of crash injuries, smoke inhalation and burns, the county medical examiner's office said in a statement. Pesola was found along an evacuation route near a fire northwest of Los Angeles.
Meanwhile, three people were burned Thursday trying to escape a fire that ripped through Fallbrook, and hundreds of racehorses were cut loose from their stables in order to escape the flames that engulfed a training facility in nearby Bosnall.
Staff at the San Luis Rey Downs training facility estimated 30 to 40 horses died in the blaze, and at least two stable workers were injured. Information on their condition was not immediately available.
This week's California wildfires have destroyed more than 700 homes and buildings, and left hundreds of thousands of people fleeing from the infernos, which have burned nearly 260 square miles since Monday.
Firefighters have managed to gain some control over the largest fire, which broke out in Ventura County on Monday, and has since grown to 223 square miles and destroyed 476 homes and buildings. Some of the earliest evacuees who fled from flames Monday were being allowed to return home.
However, new fires continue to ignite and the danger threat still remains as lack of rain has left vegetation extremely dry. Wind gusts of 40mph are expected on Saturday and up to 50 mph on Sunday in the Los Angeles and Ventura areas, the National Weather Service said.
Communities along the Pacific coast between Venutra and Santa Barbara managed to dodge the flames, and although the hills along U.S. Route 101 were blackened, homes went unscathed at La Conchita and Faria Beach.
A fleet of air tankers and helicopters assisted the 1,000 firefighters that have battled the flames, authorities said, and enough progress has been made against other large fires around Los Angeles to lift most evacuation orders.
The Associated Press contributed to this report.