Fire officials say lit menorah sparked fatal Hanukkah blaze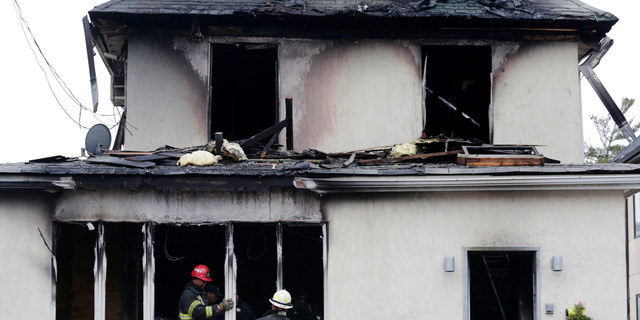 NEW YORK – A fire that roared through a Brooklyn home on the sixth night of Hanukkah, killing a mother and her three young children, was touched off by the family's menorah, fire officials said.
The fire department late Monday released a statement saying fire marshals determined the blaze to be accidental, caused by an "unattended lit menorah."
Neighbors said the family kept the menorah in a living room window throughout the eight-day holiday, also known as the Jewish Festival of Lights.
"So often, tragedy strikes at this time of year, and the holidays make it that much more difficult because our communities should be celebrating, not mourning," fire department Commissioner Daniel Nigro said.
Firefighters said unattended candles, overloaded outlets and power strips "and many of the holiday traditions we all hold dear" often cause fires.
Aliza Azan was found dead on the second floor of the single-family home near the children who perished: 11-year-old Moshe, 7-year-old Yitzah and 3-year-old Henrietta. The children's father and two teenagers were hospitalized in critical condition.
In all, nine people were in the house: the couple, their six children and a cousin. The other two people made it out alive.
The fire was reported around 2:30 a.m. in Brooklyn's Sheepshead Bay neighborhood.
A longtime family friend and neighbor, Morris Levy, said the family had recently moved into the house. He said Azan's father was a rabbi.
"A very nice lady," he told The New York Times . "Such a beautiful family."
Nigro said the children's father saved two of his older children from the fire and was seriously burned trying to get back inside the burning house.
"We believe that he acted very courageously and tried desperately," Nigro said, according to the New York Post . "Hopefully it didn't cost his life also, but it may."
Firefighters arrived within 2 1/2 minutes of the first 911 call, but Nigro said the flames were already "consuming" all three floors of the building. He said that firefighters were met with flames at the front door but "pushed in very aggressively" because they knew people were inside.
Mayor Bill de Blasio urged people to be cautious with decorations, electric lights, candles and space heaters during the winter months and the holidays.
"As a parent, it's impossible for me to imagine what this family is going through right now," said de Blasio, a Democrat.