FBI: California college stabbing suspect may have been self-radicalized, had ISIS propaganda
The California college student who stabbed four people last fall in a campus spree that ended when he was killed by campus police had ISIS propaganda on his laptop and may have been "self-radicalized," the FBI announced Thursday.
Faisal Mohammad, who carried out the attack at the University of California Merced on Nov. 4, 2015, had "pro-ISIL propaganda" on his laptop and "had visited ISIL and other extremist websites in the weeks prior to his attack," according to the FBI's Sacramento office.
"At the time of the stabbings, Mohammad was carrying a backpack which contained a two-page, hand-written plan detailing his intentions to include taking hostages and killing students and police officers. Investigators also found a photocopy of an ISIL flag and a list of items he thought he would need for an attack such as zip ties, glass breaker, and a knife among his belongings," the FBI said in a statement.
During the investigation, officials did not find any evidence showing Mohammad had worked with or been directed by anyone from ISIS.
They did find that he began his preparations for the attack at least one week in advance.
"Every indication is that Mohammad acted on his own; however, it may never be possible to definitively determine why he chose to attack people on the UC Merced campus," the FBI said in a statement.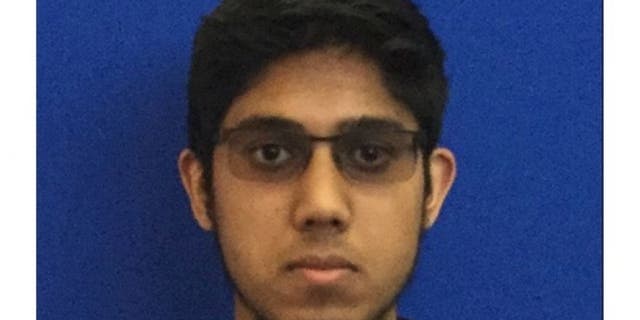 Mohammad, whose victims all survived, left behind a rambling, two-page manifesto in which he instructed himself to "praise Allah" as he worked his way through his hit list, a photocopied ISIS flag and at least one shaken roommate who remembers him as a menacing loner, FoxNews.com reported in December.
"He was a loner and an extreme Muslim," Ali Tarek Elshekh, Mohammad's roommate, told Merced Sheriff's Department Detective Jose Silva in a statement, also noting Mohammad was "way out there."
Elshekh, who is Muslim, told sheriffs that a friend of his had asked Mohammad what would happen if he touched the mat he used for praying, and got a chilling response.
"I will kill you," Mohammad calmly vowed, in what Elshekh said was not a "normal" response for a Muslim.
Elshekh, whose statement was included in a warrant obtained by FoxNews.com through a Freedom of Information Act request from the Merced Superior Court in December, said he last saw Mohammad just minutes before the attack, sitting on his bed in their dorm room, dressed in a hooded sweater, hood over his face, with his backpack on his back, staring straight ahead in silence.
The warrant, which authorized detectives to search Mohammad's dorm, car and other possessions, showed investigators found a second copy of the manifesto in Mohammad's garbage can, along with several discarded petroleum jelly cans, duct tape wrappers, large zip ties, a package that had contained a knife and sharpener, a red prayer rug and a copy of the Koran.
The manifesto authored by the 18-year-old freshman, copies of which were found both on his body during the autopsy and in the trash can in his dorm, bore names of his targets, a vow "to cut someone's head off" and as many as five reminders to "praise Allah."
He detailed how he wanted to behead, stab and shoot his victims, Merced County Sheriff Vern Warnke told FoxNews.com, in an earlier interview.
"No. 27 was to 'make sure people are tied down,' No. 28 was "sit down and praise Allah,'" Warnke said. "I remember seeing four or five times, scribbled on the side of the two-page manifesto, where he wrote something like 'praise Allah.'"
"There was a gruesome statement he made about wanting to cut someone's head off and kill two people with one bullet, and he planned to shoot the police," Warnke said. "He did not have a firearm with him and didn't seem to have a lot of experience with firearms because he thought he could kill two people with one bullet. He reminded himself in the list to raise the gun slowly. He scripted everything out in chronological order."
None of Mohammad's four victims died in the attack. Two students, a female staff member and Byron Price, a 31-year-old construction worker who was credited with slowing Mohammad's onslaught, were injured as the computer science and engineering major slashed away with a 10-inch hunting knife, grinning demonically, according to witnesses.
The rural school is about 120 miles south of Sacramento. The campus in the city of Merced opened a decade ago -- the first new school built in the University of California system since 1965, the university says on its website.
UC Merced Chancellor Dorothy Leland said in statement Thursday the investigation was a "cooperative effort that could not have been as successful without the assistance of the Federal Bureau of Investigation."
"I am proud of the way our campus community came together in the aftermath of this incident, and the kindness displayed by so many only reinforced what I already knew to be true about UC Merced," she said. "Now, we move to the task of further healing and taking care of the needs of our students, staff and faculty."
FoxNews.com's Hollie McKay and Malia Zimmerman contributed to this report